Every year, thousands of kids go without presents. One local organization is rallying against that. The jolly figure behind Jocelyn's Operation Holiday Spirit has a lot in common with Old St. Nick.
Santa Joe is an unlikely name for a Jewish insurance executive. Nonetheless, it's how thousands of children have been referring to Joe Raab since he founded Jocelyn's Operation Holiday Spirit in 2006. The nonprofit is modeled after Operation Santa, which was created by the U.S. Postal Service 100 years ago. The goal is for volunteers to answer children's letters to Santa by fulfilling their holiday wish lists.
"I started with 11 letters 13 years ago through the Post Office," says Raab, a Melville resident who is executive vice president of CBS Coverage Group, Inc., in Plainview. "Then I learned about a teacher in the Bronx who was having her students write letters, so I got my co-workers to answer their letters directly. That year we had to get a pick-up truck to deliver the gifts. It grew from there, so that by the next year we were getting gifts for another class."
By then Raab and his co-workers needed help to fulfill about 400 students' requests. He created Jocelyn's Operation Holiday Spirit, named after a co-worker who had died from breast cancer, and invited other insurance agencies and businesses to participate. There are now more than 30 companies involved. Last year, Raab says they responded to 600 letters and put together 1,400 gift bags—and had to get two 28-foot-long trucks to make their deliveries.
Volunteers—who Raab calls "undercover Santas"—have answered wish lists for students in the Bronx, Queens, Manhattan, and, for the past few years, Jackson Annex Elementary in Hempstead and Phillips Avenue Elementary School in Riverhead. They also bring gifts to other local organizations, such as domestic violence shelters and Momma's House, a shelter for unwed mothers in Wantagh.
Bringing Joy to Riverhead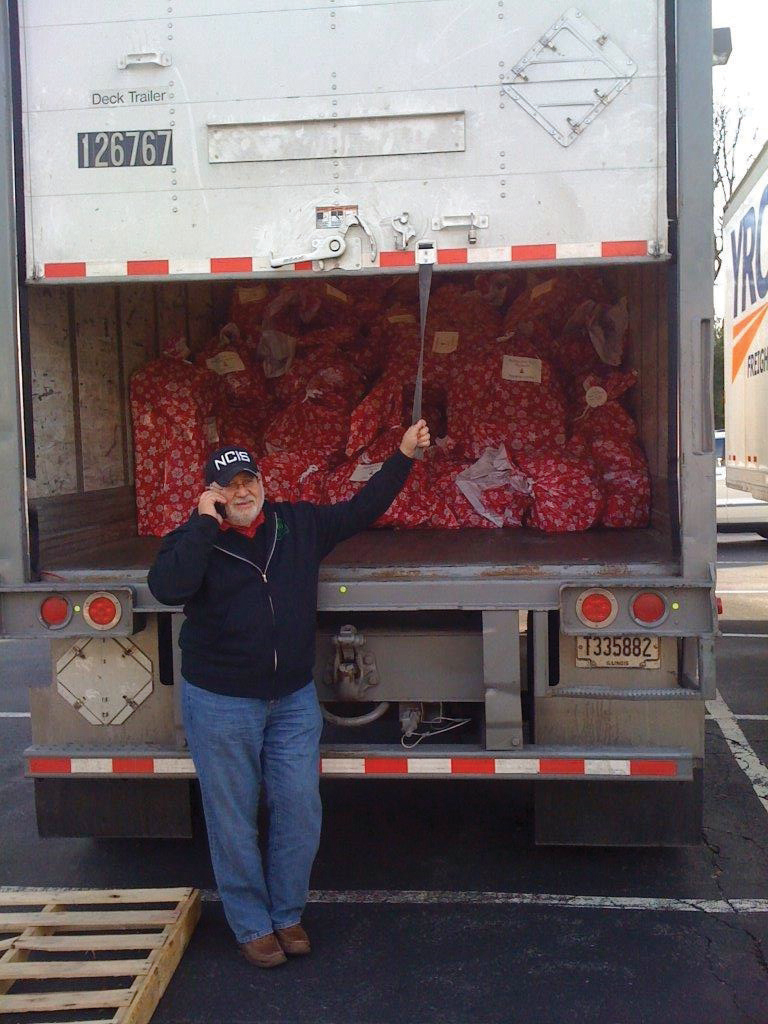 Joe Raab of Melville makes a delivery to Phillips Avenue Elementary School in Riverhead last year.
Jocelyn's Operation Holiday Spirit targets underprivileged children and depends on the cooperation of their teachers. For example, at Phillips Avenue School, which has an 80-percent free or reduced-cost lunch population, teachers help the kindergarteners and first-graders write to Santa and work with parents to include the children's shoe and clothing sizes.
Volunteers are instructed to spend a reasonable amount on the children's gift requests (no one is expected to buy an Xbox, for instance, unless they want to). They are also asked to provide coats, socks, hats, and other cold-weather staples that Raab says a lot of the kids don't have. The gifts are individually wrapped and put in a gym bag, and then a gift bag. Each bag contains about 15 gifts.
"The bags are so large we ask the parents to pick their children up after school," says Debra Rodgers, principal of Phillips Avenue School. "Picture 5-year-olds trying to drag these bags behind them because they're bigger than they are. It's a hysterical and wonderful scene."
This marks the fourth year Rodgers' school is participating in the operation. It has become a school-wide event with involvement of the entire staff. Each of the 590 students gets a gift. Though only the younger children write to Santa, all second through fourth graders get gift bags too, with items such as basic school supplies, hats, gloves, and games to share at home. Stony Brook School of Dental Medicine donates toothbrushes, and the Parent-Teacher Organization provides books.
"When the tractor trailer pulls up to our school, the looks on everyone's faces—including the staff—is beyond anything we can have expected," Rodgers says. "We are so excited to work with Joe's organization again this year."
Happier Holidays in Hempstead
Jennifer Abramowitz is a first-grade teacher at Jackson Annex, where 100 percent of the students qualify for free or reduced-cost lunch. There are 500 students in the school, and all receive gifts from Jocelyn's Operation Holiday Spirit. But it's the 225 first-graders who write to Santa as one of their assignments.
"We talk about not asking Santa for big things like a bike. I want them to have crayons and other things they need like coats, hoodies, sneakers, and socks. They also ask for games and toys," Abramowitz says. "It's a wonderful experience because Joe's organization is all about giving and making every kid happy. They even give us extra supplies for our classrooms."
The Pay-Off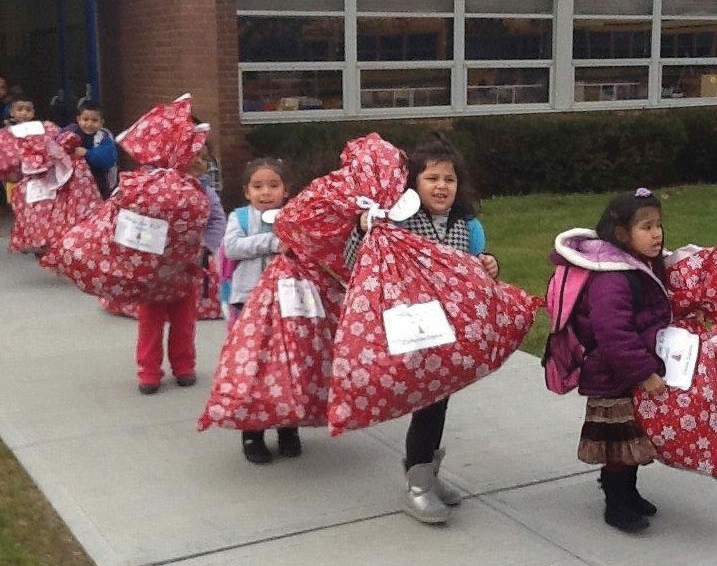 Phillips Avenue Elementary School kindergarteners try to carry their gifts from Jocelyn's Operation Holiday Spirit.
All of this takes hundreds of volunteers and financial donations. Raab says that most bags contain about $75 worth of gifts. The organization holds a golf outing each September that raises about $20,000 toward costs for items like wrapping paper and the additional gift bags for the schools.
For Santa Joe, the experience is moving. "The letters can be tough to get through. The toughest for me was a 7-year-old who had a brain tumor and wasn't expected to live," Raab says. "When I met him, he pulled my beard and said, 'You're really Santa Claus.' I broke down." The good news, he says, is that the boy is now 14.
After the deliveries, all the children write thank-you notes and draw pictures for Santa. Raab says these letters are among the best part of the program. "Knowing we made a difference for these kids is what it's all about. They're not the only ones who experience the holiday spirit. We're helping someone we may never see, but everyone wins because we all learn from the experience."
While the gift bags will be ready to distribute by Dec. 18, you can still donate money, gifts, and time to Raab's operation. For information on how to participate or to learn more about Jocelyn's Operation Holiday Spirit, visit johsgift.org or call 516-394-7517.