BAKED APPLES WITH PUMPKIN SEEDS
Related:
baked apples recipe
,
pumpkin seed dessert
,
recipe for baked apples dessert
,
fall dessert recipe
,
This recipe for baked apples features crunchy pumpkin seeds and warm notes of honey, cinnamon, and orange zest. Add some dried cranberries, and you have the perfect dessert for fall. It's also an easy dessert for a crowd, as it can be served warm or cold.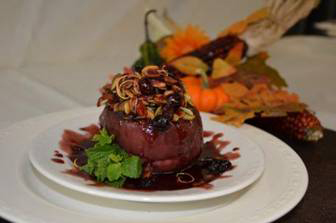 Ingredients
Roma apples
1 cup red wine (dry)
3 cups sangria wine
1½ cups dried cranberries
¼ cup currents
1 cup sugar
1 tbsp. cinnamon
1 cup honey
2 tbsp. orange zest
1 cup pumpkin seeds
Directions
1. Core the apple to remove the seeds. Score with the tip of a small knife in the middle of the apple and around it – this will help bake the apple evenly.
2. Peel the skin an inch around the top of the apple.
3. Meanwhile, put the red wine and sangria wine in a sauté pan. Reduce by half, then remove from the heat and set aside.
4. In a roasting pan, place the peeled apples (inside side up). In the center of each apple, add sugar. Then pour cinnamon powder around each apple.
5. In an oven pre-heated to 300 degrees, bake the apples for 15 minutes.
6. Meanwhile, in a medium-size bowl, toss together the cranberries, currents, honey, pumpkin seeds, and orange zest (this will act as a topping for the apples).
7. Remove apples from the oven and top each with ¼ cup of the honey mixture.
8. Put baking pan with apples back in the oven for an additional 10 minutes. Remove from the oven and serve either hot or cold.
Recipe by Maria Zoitas, catering director at Westside Market NYC and creator of Maria's Homemade, a line of prepared food sold exclusively at Westside Market NYC.
---
Get Your FREE Indoor Activity eGuide!
---
More Food & Nutrition Articles
Easy Holiday Dessert: Frozen Pumpkin Pie with Graham Cracker Crust
Witches Brew Recipe for Halloween by MOMables
Halloween Treats: Eyeball Cake Pops, Monster 'Toes,' and 'Rotten' Apple Punch
5 Tips for Cooking with Kids Who Have Special Needs
Easy Recipe for New Cooks: Creamy Tomato and Rice Basil Soup