Stuff We Like: Food. And we're sure you do too. That's why we spotlighted four great new products, including spicy pickles, a wok, granola, and good-for-you cookies over on our blog. Here are two recipes, Basil Pineapple Fried Rice and Granola Banana Bran Muffins, to make using IMUSA's nonstick wok set and Mona's Granola.

Basil Pineapple Fried Rice

Courtesy of IMUSA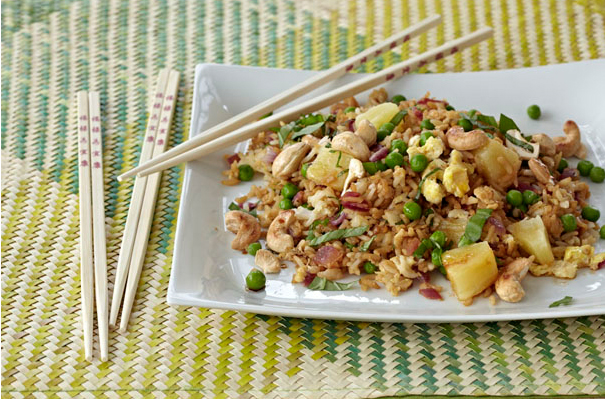 Ingredients:
2 cups cooked cold white rice
3 tbsp soy sauce
1 tbsp sugar
Vegetable oil
3 minced garlic cloves
1 medium red onion, chopped
2 scrambled eggs
1½ cups canned pineapple chunks, drained
1 cup frozen peas
½ cup roasted cashews
1 cup finely chopped fresh basil


Preparation:
Combine sugar and soy sauce and set aside.
Heat your IMUSA Wok on high heat and add 2 tablespoons of oil to wok, then tilt the wok to swirl oil, coating the sides. Once the oil begins to smoke, stir-fry the garlic and red onions for 1 minute and set aside in a bowl.
Add 4 more tablespoons of oil and crumble rice into wok. Stir-fry for 5 minutes with a flat wooden spatula until lightly brown, breaking up lumps of rice.
Push rice to the side of wok and in the center add another tablespoon of oil. Add scrambled eggs and scramble until eggs are completely cooked and crumbled.
Mix together with rice and add cooked garlic and onions. Drizzle in soy sauce mixture and stir-fry for 2 more minutes. Add pineapple, peas, and cashews, and mix evenly.
Remove from heat, and mix in chopped basil. Garnish with extra basil before serving.
Mona's Granola & Banana Bran Muffins

Courtesy Mona's Granola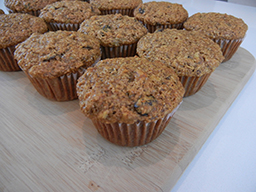 Ingredients:
1 cup flour
1 tsp. baking soda
1½ cups bran
½ cup raisins
1 cup Mona's Granola
1 tsp. vanilla
1 egg, beaten
½ cup warm honey (Tip: Warm honey for 30 seconds in the microwave to thin it so it is easier to blend into the muffin mixture.)
¾ cup milk
2 tbsp. soft or melted butter
1 banana, mashed until creamy

Preparation:
Line muffin tin with muffin liners, and preheat oven to 375 degrees.
Mix dry ingredients and wet ingredients in separate bowls. Add wet mixture to dry mixture, and mix just enough to blend.
Bake for 25 minutes, or depending on your oven, until the muffins rise and are baked in the middle when you test with a knife or toothpick. (The muffins should be soft and moist, don't over-bake as they will continue to dry out as they cool off.)