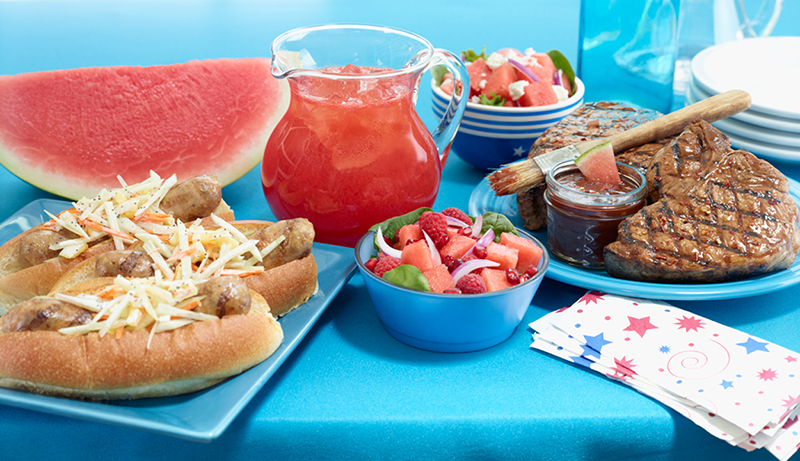 This summer, try some refreshing recipes starring watermelon, such as a watermelon crunch salsa, two salads featuring the fruit, watermelon rind coleslaw, and a BBQ sauce made with watermelon. All are sure to be a hit at your next barbeque or get-together.
Watermelon BBQ Sauce
Serves: Makes about 1½ cups
Ingredients
½ cup watermelon juice
½ cup balsamic vinegar
¼ cup brown sugar
¼ cup soy sauce
2 tablespoons vegetable oil
2 tablespoons Dijon mustard
2 garlic cloves, minced
2 teaspoons red pepper flakes

Directions
1. Stir all ingredients together.
2. Pour enough sauce over vegetables, chicken, pork, fish, or shellfish to marinate. Cover and refrigerate several hours or overnight.
3. Baste with additional sauce while grilling or broiling.
Note: Sauce not used for marinating or basting can be spooned over cooked vegetables and meats.
Watermelon Mediterranean Salad
Serves: 6
Ingredients
6 cups torn mixed salad greens
3 cups cubed seeded watermelon
½ cup sliced onion
1 tablespoon extra virgin olive oil
1/3 cup crumbled feta cheese
dash cracked black pepper

Directions
1. In a large bowl, mix all ingredients except oil and pepper.
2. Just before serving, toss salad mixture with oil and garnish with pepper.
Watermelon Rind Coleslaw
Serves: Makes 4 one-cup servings

Ingredients
Dressing:
¼ cup fat-free, plain Greek yogurt
¼ cup low-fat sour cream
1½ Tablespoons stone-ground mustard
1 Tablespoon apple cider vinegar
4 teaspoons fresh lemon juice
1 Tablespoon sugar
1 teaspoon poppy seeds
2 teaspoons olive oil
salt and pepper to taste

Slaw:
4 cups grated watermelon rind with fruit and green peel removed
1 cup grated carrot
1½ cup diced fresh pineapple

Directions
1. In a small bowl, blend dressing thoroughly. Set aside.
2. Place watermelon rind on several layers of paper towels to soak up excess fluid.
3. In a medium-sized bowl, place dressing, rind, carrot, and pineapple and toss to thoroughly coat. Serve.
Watermelon Crunch Salsa
Serves: 12-16 as a salad or salsa

Ingredients
4 cups ¼-inch cubed seedless watermelon
2 cups ¼-inch cubed jicama
1 cup ¼-inch cubed carrots
2 cups minced purple cabbage
1 cup minced sweet yellow banana or bell peppers
¼ cup minced fresh parsley
6 limes (juice from the fresh squeezed limes)
Sea salt to taste

Directions
Prepare each ingredient and toss together just before serving.
Watermelon Pomegranate Tossed Salad
Serves: 4
Ingredients
Dressing:
1 cup pomegranate juice
1 Tablespoon balsamic vinegar (Pomegranate vinegar is the best)
1½ Tablespoons orange zest
1 Tablespoon agave syrup
1 small shallot, minced
1/8 teaspoon stone-ground mustard
½ cup extra-virgin olive oil
salt and pepper to taste

Salad:
8 cups baby spinach (one 6-ounce bag or carton)
3/4 cup diced red onion
2 cups diced watermelon (placed on paper towel to drain excess fluid)
1 clamshell (6 ounces)
fresh raspberries
½ cup pomegranate seeds

Directions
1. Place juice in a small saucepan over medium-high heat and simmer until reduced to about 3 tablespoons and liquid is a thick syrup. Set aside. When cool, add remaining dressing ingredients, from vinegar to salt and pepper. Whip. Set aside for flavors to blend.
2. Place spinach in a large serving bowl. Top with onion, watermelon, raspberries, and pomegranate seeds. Divide onto 4 salad places and drizzle with dressing.
Also See: More recipes starring watermelon, from "lasagna" to "cupcakes"