Related: nymetroparents cover contest, cover contest nyc, kid cover contest nyc, photoop nyc,



Introducing the finalists of our 2013 cover contest—local kids who captivated us with their energy, their unabashed cuteness, and their inner spirit. Get a peek behind the scenes at our shoot, as well as some expert tips for capturing your own kids on camera.
Shortly after school let out for summer, NYMetroParents gathered the finalists from our 2013 Kids' Cover Contest at PhotoOp NYC's spacious studio on Manhattan's Upper East Side. The contest lit up our Facebook wall over a period of weeks, and we were thrilled to virtually "meet" so many of our loyal fans (clearly proud parents all!) throughout the process. While our editors had the daunting—almost impossible—task of whittling down the 730 entries to select finalists, one fan favorite was also selected: Major kudos go out to Queens gal Riley, whose entry garnered more than 1,000 votes.
We're proud to have convened youngsters from across the New York metro area for the shoot. (Unfortunately, our finalist from Fairfield County, CT, was unable to make it at the last minute.) There was a comraderie among parents and a party atmosphere among the kids, not to mention PhotoOp NYC's young-at-heart photographers, who elicited genuine smiles all day long.
Grand-prize winner Max was awarded a Canon EOS Rebel SL-1 digital camera, the world's smallest DSLR (ARV $800), and each finalist was given a gift card to the online store for RUUM American Kid's Wear. In addition to our premier sponsors, we're also grateful to Tribe Hummus, who provided healthy snacks for everyone to munch on, much-needed fuel for a long day under the lights; and to AfterSchool.com and Staples.com, who provided a myriad of props used during the shoot.
Special thanks to our sponsors, everyone who entered, voted, and most of all, to these beautiful-on-the-inside kids!
Now, a little more about the NYMetroParents Cover Contest winner and finalists!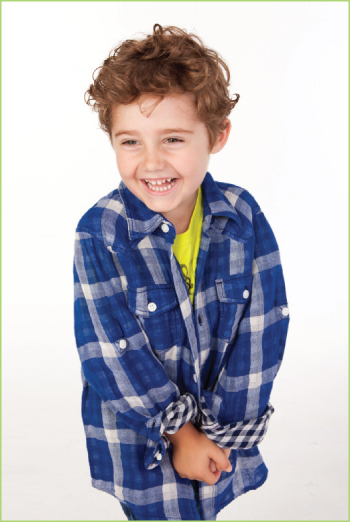 Max M.

Birthday: January 21
Age: 4½
Lives: Manhattan
Loves: "Playing with magnets and friends." (Mom Randi says he can't keep his hands off of Magna-Tiles.) And of course: "I like smiling!" Max says with his signature beam.
Talent: Music—and he has a special affinity for the words to "John Jacob Jingleheimer Schmidt."
Fan Club: "He's incredibly interesting to talk to," Randi says. "He's like a confidante that I can talk to all day. He's wise beyond his years."
First-Day-of-School Outfit: Rebel rock graphic tee, $10.50; Rock-n-roll shirt, $26.50; basic denim jeans, $22.50; ruum.com.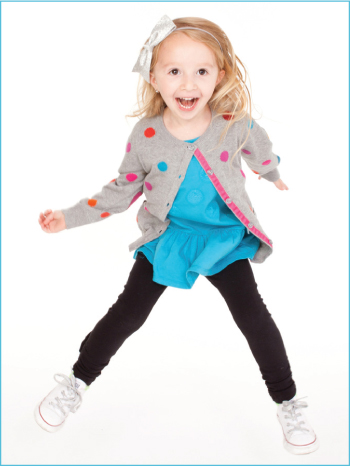 Riley T.

Birthday: July 9
Age: 4
Lives: Queens
Loves: Doing "the silly dance!" and her adorable French bulldog, Dexter
Riley's parents admire: "Her willingness to try anything"
Fan Club: Her parents say they could list a million of Riley's best qualities. "She's funny and has a great sense of humor. She's outgoing and energetic!" mom Lisa says.
First-Day-of-School Outfit: Dot cardigan, $22.50; dot peplum top, $16.50; leggings with bow detail at ankle, $10.50; glitter bow headband, $5.50; ruum.com.
Madeleine L.


Birthday: August 5
Age: 5
Lives: Long Island
Loves: "Building Legos!" enthuses Madeleine, who also just started piano
lessons. The best part so far? "I like that my teacher is nice."
Madeleine's parents admire: That their daughter "likes to go do different things, meet different people, and have different experiences," mom Grace says.
Fan Club: "She marches to her own beat," Grace says. Not surprisingly, Madeleine rocked out for our photo shoot on a drum set! "I think it's fitting," Grace says. "Drums are interesting, but also brash, different, and unique," just like Madeleine.
First-Day-of-School Outfit: Shine icon tee, $16.50; pleated plaid skirt, $24.50; ruum.com.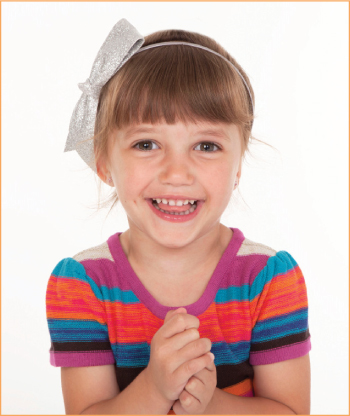 Arianna D.

Birthday: October 17
Age: Almost 4
Lives: Westchester
Loves: Arianna's favorite activity is swimming with her friends.
Talent: She's not camera shy. "She has a very bubbly personality. She's a ham," says mom Jackie of her daughter. The best part of the shoot? "I got to take a big bite out of a cupcake," Arianna says with a mouthful of frosting!
Fan Club: "My daughter is my life," Jackie says. "She's everything I've ever wanted and more than I ever hoped for."
First-Day-of-School Outfit: Striped sweater dress, $26.50; glitter bow headband, $5.50; ruum.com.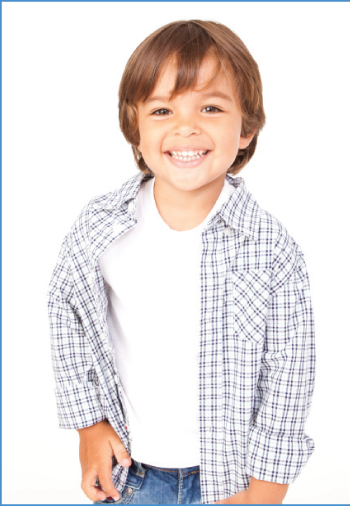 Ethan G.

Birthday: August 12
Age: 4
Lives: Brooklyn
Loves: Sports, "especially soccer," his grandmother Gabriella says. (He also confided that he loves to "write the letter 'V.'")
Talent: Ethan can speak three languages: Spanish, Hungarian, and he's learning Chinese in school!
Fan Club: Grandma Gabriella says that in addition to being great with languages and sports, "he's very social and very friendly."
First-Day-of-School Outfit: Window plaid shirt, $22.50; solid crew shirt, $9.50; basic denim jeans, $22.50; ruum.com.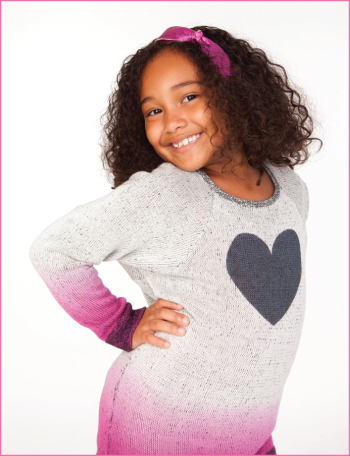 Amalia P.

Birthday: November 13
Age: Almost 7
Lives: Rockland
Loves: Pop music! Her favorite track? "Tell Me Something I Don't Know," by Selena Gomez.
Talent: She's a number cruncher. "Math is really fun," Amalia says.
Fan Club: "Amalia is definitely a big-hearted little girl," mom Pamela says. "She can get along with anybody. Put her in a room and she'll make a friend."
First-Day-of-School Outfit: Dip-dye sweater, $29.50; glitter bow headband, $5.50; ruum.com.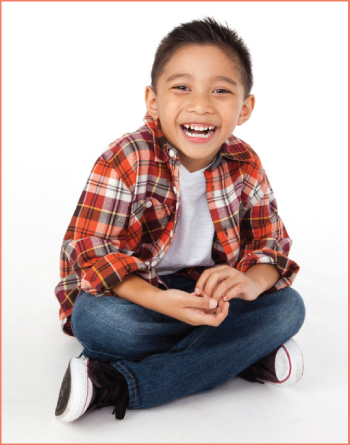 Aster Brett C.

Birthday: July 23
Age: 5
Lives: Queens
Loves: To play! "My favorite activity is toys," says Aster Brett. "I like Hot Wheels, and cars, and Angry Birds."
Talent: Aster Brett has a yellow belt in karate and just got a violin!
Fan Club: "He likes people and he likes posing for the camera," mom Merianne says. "Nothing compares to being a parent," dad Asterio adds. "It's hard but it's wonderful."
First-Day-of-School Outfit: Autumn plaid shirt, $22.50; heather crew shirt, $9.50; basic denim jeans, $22.50; ruum.com.
---
Get Your FREE Indoor Activity eGuide!
---
More Articles
Be a good fellow parent and share this with a friend who would be interested
Local Sponsors
See Our Directory