So it's raining outside and you need to somehow keep the kids entertained. Download our guide to 50 creative, TV-free indoor activities that will keep them happy, including tons of DIY projects, kid-friendly recipes, and boredom busters galore.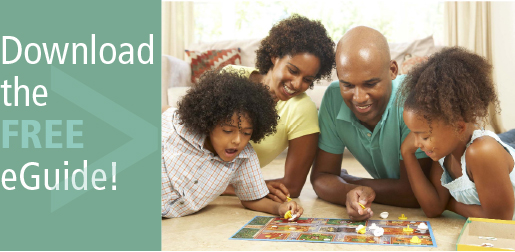 13 Ways to Bring Camp Fun Indoors
If your child misses the fun of summer camp, re-create the experience at home by having a camp-out night, making s'mores, and more.
Plus, get ideas for camp-inspired arts & crafts and sports, from making friendship bracelets to playing balloon ball and crab soccer (both indoor-friendly, we promise!).
23 Boredom Busters
Some of these ideas might be super simple (make dinner together, take a long bath, watch old home videos), but they sure are fun! You'll also find more creative ideas here, such as hosting your own Family Olympics, making your own Mad Libs, and baking cookies to deliver to the local fire department.
These "boredom busters" are the perfect solution when you're stuck inside and have simply run out of things to do.
8 Things to Have on Hand for Fun at Your Fingertips
Let your kids take the lead on their room decor with these 3 cool DIY products, including a decorate-your-own duvet cover, color-in wallpaper, and quick-drying chalkboard paint.
If you've got a real crafty one on your hands, check out our Rainy (or Snowy) Day Survival Kit featuring kid-friendly, easy-to-use products that will stimulate your child's creativity and, of course, keep boredom at bay.
Go Bowling!
Bowling is the latest youth sport to come back into style, with alleys luring kids and families back to their lanes with spruced-up features like glow-in-the-dark bowling, all-inclusive birthday party packages, and child-friendly food and entertainment.
Check out our list of the best bowling alleys for families in the NYC area.
Cure Cabin Fever
Get out of the house and head to a nearby spot that offers tons of kid-friendly fun -- no umbrellas necessary. Here are some ideas:
Search for more options in our Family Outings section
Cook or Bake Something Delicious
Kids love to help in the kitchen! We've got tons of family-friendly recipes you can dive into:
Homemade Snack: Sunflower Oat Bars
Recipes from the Pinkalicious Cupcake Cookbook
Search for more recipes in our Food & Nutrition section