The Berenstain Bears Count Their Blessings
by Stan and Jan Berenstain
During a frightful thunderstorm, Brother and Sister Bear learn that Mama and Papa's love and protection are better blessings than mere 'Bearbie' dolls and video games.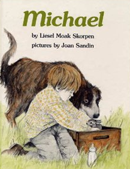 Michael
by Liesel Moak Skopen
A little boy overcomes his fear of thunder in order to comfort his pet rabbit.







Trinka and Sam The Rainy Windy Day (Read for free online in English or Spanish)
by Chandra Ghosh Ippen, illustrated by Erich Ippen Jr.
Two mouse friends remember a hurricane.

When Fuzzy Was Afraid of Big and Loud Things
by Inger M. Maier
Fuzzy, a sheep, is encouraged by his father to imagine happier things whenever Fuzzy's fear of loud noises takes over.




Clifford and the Big Storm
by Norman Bridwell
Clifford the Big Red Dog needs to evacuate form the shore due to a storm.