"What is all this technology doing to our brains?" The second film of the three-part series "Let It Ripple: Mobile Films for Global Change" by Tiffany Shlain explores this question and offers guidance on how parents can best nurture their children's minds.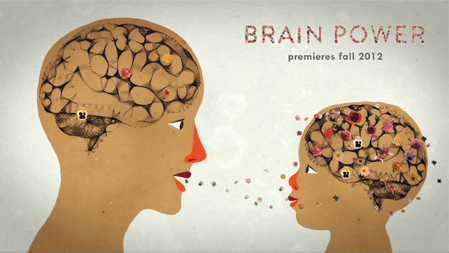 Filmmaker Tiffany Shlain's latest film, Brain Power, explores the connection between the child mind and the Internet and suggests a unique analogy between the two. This is the second film in Shlain's three-part series "Let It Ripple: Mobile Films for Global Change." Her first installment, Connected, premiered at the 2011 Sundance Film Festival and won 13 awards worldwide for its look at the interdependence of today's connected world. Brain Power draws on new research about early brain development to explore the significance of connections and interaction, curiosity and creativity, and illustrates how parents can best nurture their children's growing brains. We chatted with Shlain about the idea behind her new film, her inspiration, and what she hopes viewers will take away from Brain Power.

Tiffany Shlain is a filmmaker, founder
of the Webby Awards, and co-founder
of the International Academy of Digital
Arts and Sciences. Her films have been
selected for prestigious film festivals
and have won numerous awards.
What inspired you to make this film?
The questions that were implanted in me as a child, about the human drive for connection, led to my [first] feature film, Connected, which explores what it means to be connected in the 21st century. As I started traveling to screenings of Connected, there was one question that nearly every audience asked: "What is all this technology doing to our brains?" Concurrently one of my mentors and supporters for Connected began supplying me with new research on early childhood brain development. That led to creating Brain Power, about the importance of nurturing children's brains in early development and relating that to the importance of nurturing the Internet—our global, extended brain—as it's in early development as well.
Where did you get the idea for the brain-Internet connection you make in the film?
As my team and I plunged into research on Brain Power, we quickly realized that a lot of the language used to describe the growth of the brain was a lot of the same language that is used for the Internet. The Internet was like a global brain. We wanted to take that idea further. Soon it became clear [to us] that the stage the Internet is in today is actually like a child's brain. As we dug further into this idea, we realized this parallel would be a powerful lens to give insight to both.
Why do you think viewers should watch the film?
I think there are many questions under the surface: Is it okay for my children to play with my iPhone? What does this mean for our future? Is my brain changing for the better or for the worse? Will it all keep changing faster and faster? Brain Power explores those questions by bringing it back to the root: We are responsible for how both our children's brains and our global brain (the Internet) are growing.
What message do you hope viewers take away from the film?
The analogy in the film suggests that both a child's brain and the Internet are in critical stages of early development—and that we need to be very mindful about how we nurture both. Ultimately it's all about creating a better future. And a better future all starts with nurturing the youngest brains on the planet.
Brain Power will premiere in New York City this fall; details were still to be announced at press time. Check letitripple.org for updates.
Also see:
How to Monotor What Your Kids are Watching on TV
Children and Technology: Ensuring Your Child's Online Safety