The Dorothy P. Flint 4-H Camp, located in Riverhead, recently named Brian Morris as its new camp director. The sleepaway camp on Long Island is an ACA-accredited camp for ages 8-16.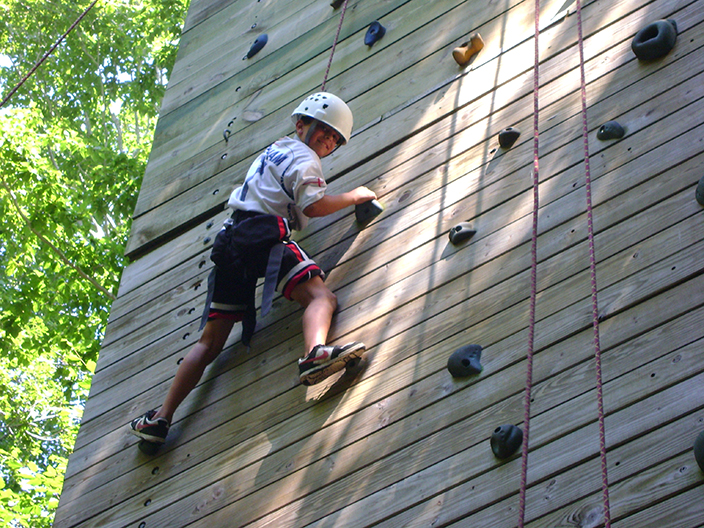 Rock climbing is one of the activities campers can choose to participate in during the day at the sleepaway camp.
The Dorothy P. Flint 4-H Camp, a sleepaway camp in Riverhead, recently appointed Brian Morris as the new camp director.
Morris has been in camping for more than 30 years, and was most recently the senior director of community programs for the YMCA of greater New York for six years and the associate camp director at the North Shore Day Camp in Glen Clove for eight summers. Morris also has experience as an elementary education teacher, as well as nonprofit work.
Children can attend the sleepaway camp, which is located on 144 acres with a working farm and beachfront property, for one to eight weeks. Campers choose activities from the myriad offered to learn new skills or work on skills they may already know. Activities include archery, arts and crafts, cooking, farm and horticulture classes, fishing, environmental science, sports, swimming in the Long Island Sound, sewing, rocketry, horseback riding, and a ropes course.
The American Camp Association-accredited camp is celebrating its 90th summer of camp this year. And that is part of what makes the camp special: "Our longevity—how long we've been in the area—and the dedication that we have to the community that we serve in Nassau and Suffolk counties" sets the camp apart from others in the area, according to Morris.
Children ages 8-16 can attend the summer camp, and there is a Counselor-in-Training program that older campers can participate in to become staff members. "Our staff is usually former campers who have been here for many years and want to give back," Morris says. "The dedication of the staff also makes [the camp] exceptional."