Spa-Tacular Party's @The Candy Shop in Mill Basin, Brooklyn, hosted a birthday party for a deserving Rockaway family who were temporarily relocated to Brooklyn after Hurricane Sandy.
Last month, the Priolo family of Rockaway was given a big surprise when Spa-Tacular Party's @The Candy Shop in Mill Basin, Brooklyn threw a birthday party for their 6-year-old twin daughters at no charge to the family.
The Priolos were one of many Rockaway families affected by Hurricane Sandy. The storm left them with three feet of water damage in their home and forced them to temporarily relocate to Brooklyn.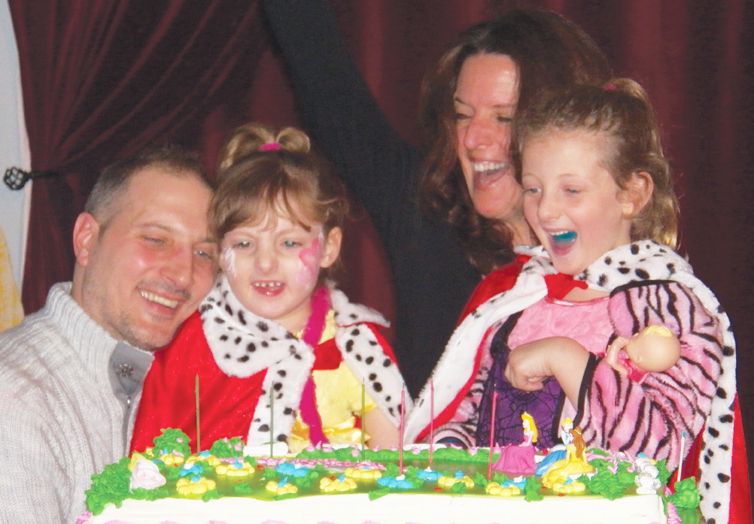 The Priolo family shares a happy moment while blowing out the candles on Isabella and
Valentina's birthday cake. Shira Gelman
Like many Sandy victims, the Priolos received a $1,000 gift card from Cantor Fitzgerald to help them replace some of the items they lost in the storm. But instead of using the money to buy material things, the Priolos wanted to throw their young daughters, Isabella and Valentina, a fun birthday party to help them forget about the tragedy.
"My husband came home and said 'You need to make these girls a party—we've been through a lot,'" says Raquel Priolo, the twins' mother. She found Spa-Tacular Party's through a friend who encouraged her to visit the venue. "[She] said 'If you have a party here it's going to take everything they've been through away, for at least a day.'"
The Priolos wanted the party to create a special escape especially for their daughter Valentina who has Rett syndrome, a rare but severe developmental disorder that causes her to have difficulty with normal cognitive and sensory functions.
"Valentina can't do most of what we take advantage of," her mother explains.
Upon hearing the family's story, Shira Gelman, owner of Spa-Tacular Party's, decided to donate the entire party package to the Priolo family. On April 13, Isabella, Valentina, and approximately 75 guests danced to music by DJ Mr. Kid of Not Just Dancers Entertainment, played games, and enjoyed food and refreshments from Pizza D'Amore. The highlight of the night came when the twins had their hair and make up done by Spa-Tacular staff members before dressing up and starring in their very own fashion show.
"I believe in fate and I believe that this happened for a reason," says Priolo, citing the extraordinary effort Spa-Tacular Party's put in to make the party a success. "[Valentina] was on a cloud. She didn't go to bed 'til midnight. It wasn't even a sugar high, it was a happy high."