GallopNYC, the NYC-based therapeutic riding organization, held its fifth annual Ride with Pride Horse Show in Central Park, celebrating its disabled riders.
Under sunny skies in Central Park on June 17, the GallopNYC fifth annual Ride with Pride Horse Show attracted a large crowd of families, volunteers, and passersby. The riders showed their impressive riding skills, learned in a year of therapeutic horseback riding with GallopNYC, a Brooklyn-based organization that provides this service to children and adults with disabilities. Many proud parents took the opportunity to celebrate their children's success at riding.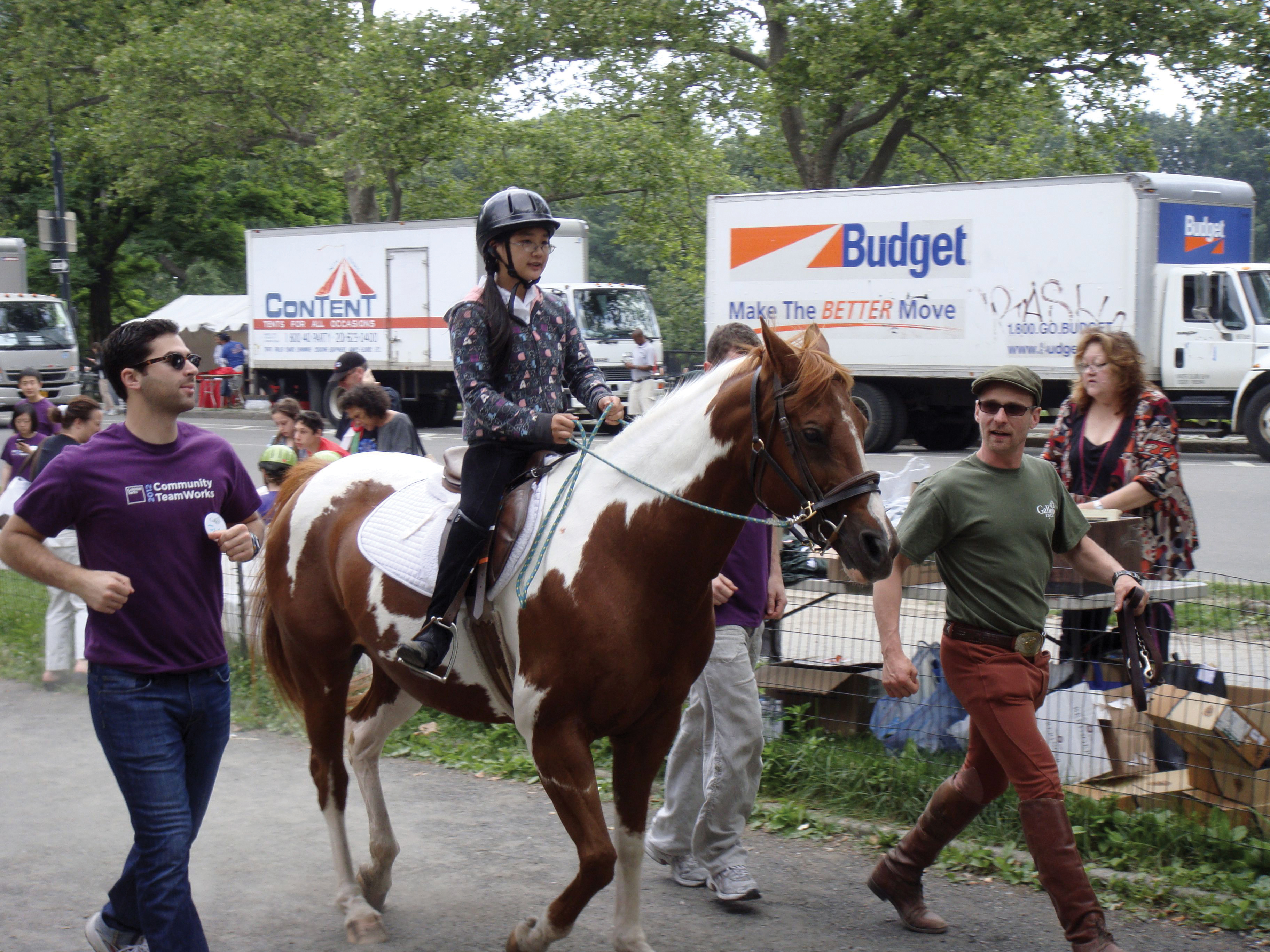 Attendees of the horse show included the new Commissioner of the Mayor's Office for People with Disabilities, Victor Calise, and New York State Senator Eric Adams. GallopNYC was also supported by volunteers from Goldman Sachs' Community Team Works and sponsors NYRA, WABC- TV, Ridgewood Savings Bank, and Chartis. More than 100 individuals supported a campaign to provide blue ribbons to each rider.
About 40 riders had a chance to show their skills, on horses Gracie, Lucille, and Sallie Sue from Fair Hill Farm and Gingerbread and Genie from Kensington Stables. A tiny pony named Chocolate Chip, also from Kensington Stables, served as a special guest. The Mounted Parks Patrol provided an honor guard.
At a noon ceremony, Senator Adams spoke movingly about the value of volunteering and the stresses that parents of kids with special needs face each day.
Emcee Peter Rose congratulated each rider with comments about their progress. Of Leah (pictured above), who has been involved in therapeutic riding for more than six years, he said: "While she is perfecting her riding skills she strengthens her core, improves her balance and confidence. Her favorite activity at Gallop is volunteer penning and [she] is capable of riding a variety of horses independently.Leah is considering becoming a physical therapist and working with a therapeutic program one day. GallopNYC is helping Leah fulfill her dreams."
For more information on GallopNYC and its programs, visit gallopnyc.org.