On May 13, three high school teams competed for bragging rights and $150+ in the inaugural Bounce! Trampoline Sports Basketball Challenge in Valley Cottage. The five-man team from Clarkstown South came in first place.
On May 13, three high school teams competed for bragging rights and $150+ in the inaugural Bounce! Trampoline Sports Basketball Challenge. Bounce! in Valley Cottage recently expanded the facility, adding an additional 4,000 square feet, and hosted the contest to celebrate the grand opening. The new section features a second dual foam pit as well as two dedicated slam dunk basketball lanes. Unlike regular basketball, the trampoline adds an exciting dimension so that even young kids can feel the excitement of slam dunking a basketball.
Clarkstown South had a five-man team comprised of Tom McDonnell, Jake and Joe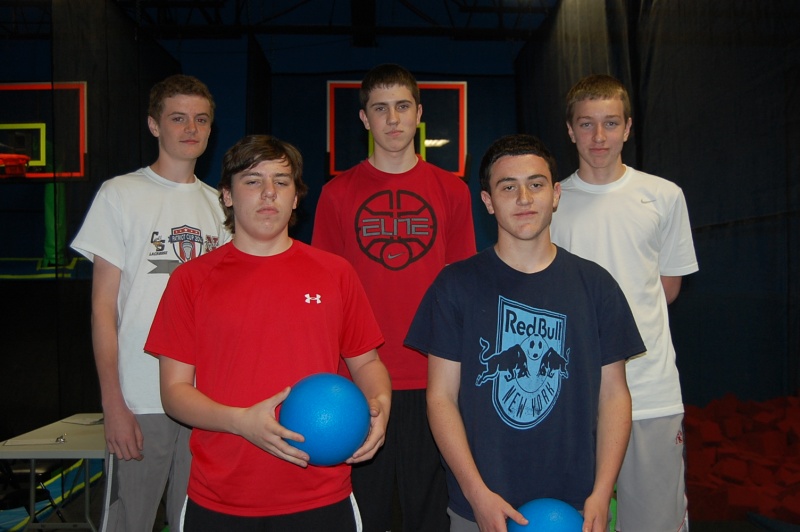 The winning Clarkstown South team.
Top row L to R: Tom McDonnell, Sean Blinn, Joe Maraia.
Bottom row L to R: Jake Maraia and Adam Gloskin.
Maraia, Sean Blinn, and Adam Gloskin, all in 10th grade. They managed to complete 24 of the 30 shots allowed for each team. A three-man team from Middletown High School came in second with 18 shots. Team members were Mark and Jacques Martel and Jason Brighton, representing ninth, 10th and 11th grade. In third place was a five-man team from Tappan Zee High School with 14 total dunks. The team members were James Blomquist, Jhonny Mateo, Anastasios Mouzakis, Josiah Charles, and Patrick Haggarty, all in ninth grade.
The teams were given time to warm up before the competition began and each team had to come up with six different variations on the slam dunk shot and creativity and accuracy was the key to making the most slam dunk shots. Competitors did 360° turns, backwards dunks, tossed the ball to each other, and even tried two-fisted slam dunks to complete the challenge.
Referees from Bounce! watched and kept score, tracking each successful slam dunk as well as the style used. After 30 minutes of bouncing and dunking, Clarkstown South emerged as the winning team. Each team was given $1.00 for the successful dunks and the winning team received a $150 bonus so the Clarkstown South team walked away with $174. There was no charge to participate in the contest.
The teams were fortified with great sandwiches and sweets courtesy of Corner Bakery Cafe in Nanuet before the contest and Adam Gloskin of Clarkstown South walked away with a free sweet tray for entering the raffle.
Future slam dunk basketball challenges are in the works. Teams wishing to reserve the lanes as a group should contact Michael Gross at 845-268-4000. Bounce! Trampoline Sports is located at 612 Corporate Way in Valley Cottage, NY off Route 303, just two miles north of the Palisades Center Mall. Become a fan of their Facebook page facebook.com/BounceTrampolineSports and follow them on Twitter at twitter.com/bouncesport. Bounce! Trampoline Sports offers all ages the opportunity to play sports, have fun and get fit on enormous courts of interconnected trampolines. School, camp and corporate outings welcome. For more details visit their website at www.bounceonit.com.