The Sneaky Chef Creamy No-Nut Butter is blends naturally sweet and "nutty" tasting golden peas instead of peanuts, serving as a perfect peanut butter substitute for individuals with peanut allergies. Here, a healthy cookie recipe using the Sneaky Chef's no-nut butter.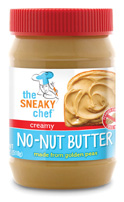 The fingerprint of a clever sneaky chef is all over this recipe with its hidden yams and carrots pureed into the peanut butter, the ultimate flavor decoy. Crushed crunchy cereal gives the cookies more crispness than flour alone and adds a good source of nearly undetectable whole grains.
No-Nut Butter Thumbprint Cookies by The Sneaky Chef
Makes 20-22 cookies
Ingredients
• 2 cups whole grain cereal flakes (such as Wheaties or Total)
• 1/3 cup Flour Blend (see Make-Ahead Recipe #13)
• 1/2 teaspoon baking soda
• 1/2 teaspoon salt
• 1 large egg
• 1/2 cup brown sugar
• 3 tablespoons canola oil
• 3/4 cup Sneaky Chef No-Nut-Butter
• 1/2 cup Orange Puree (see Make-Ahead Recipe #2)
• 1 teaspoon pure vanilla extract
• 1/4 cup semi-sweet chocolate chips or 1/4 cup of favorite jam

Directions
1. Preheat oven to 400 degrees and spray a baking sheet with oil (or line with parchment paper).

2. Using a rolling pin, gently crush cereal (in a sealed plastic bag) into coarsely crushed flakes. Alternatively, you can quickly pulse the cereal in a food processor.

3. In a large mixing bowl, whisk together Flour Blend, crushed cereal, baking soda, and salt. In another bowl, whisk together egg, sugar, oil, Sneaky Chef No-Nut-Butter, Orange Puree and vanilla. Add the dry ingredients to the wet and mix just until combined.

4. Pinch off tablespoon amounts of dough and roll about 20 balls in your hands. Place on the prepared cookie sheet about an inch apart. Gently press your thumb into the center of each ball to make an indent. Fill the indent with a few chocolate chips or a half teaspoon of jam.

5. Bake 16-18 minutes, or until golden brown.
Missy Chase Lapine is bestselling cookbook author of "The Sneaky Chef" and a Westchester mom of two daughters.