DIY HALLOWEEN DUCT TAPE DOORMAT
Related:
halloween diy
,
halloween doormats
,
halloween duct tape decorations
,
upcycled halloween decor
,
Stephanie Morgan, founder and managing editor of Modern Parents Messy Kids, created this DIY Halloween doormat. This upcycled Halloween decor was made with duct tape.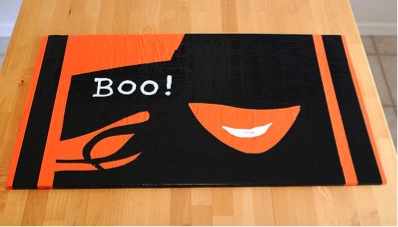 Looking for a fun Halloween decor project? This is a great one to do with kids. It teaches them about upcycling and only requires a few supplies.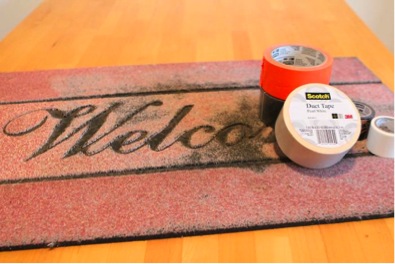 You'll need:
a well-worn doormat (preferably one you were getting ready to toss)
a few rolls of Scotch® Color & Pattern Duct Tape in Halloween colors
a cutting mat
a straight edge
scissors
tape
Once you have your supplies, go online and find an appropriate Halloween image. Silhouettes work best—try using the "clip art" filter in Google images to find one that will work.
Use photo editing software, such as PicMonkey or Photoshop, to make the image the same size as your doormat and print the image on several pages and lay it out on your doormat to be sure it will work. Then cut out the silhouette on each "quadrant".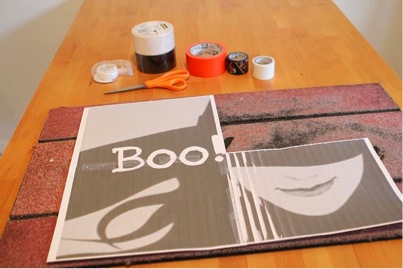 Now it's time to get to taping! Be sure your doormat is clean, pick a background tape color, and start layering strips onto the top of the mat.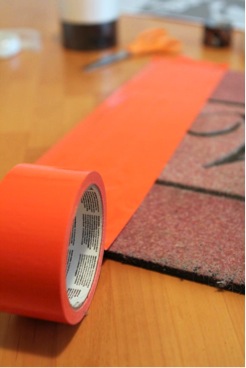 Tuck the ends of each strip under so that your mat looks like this.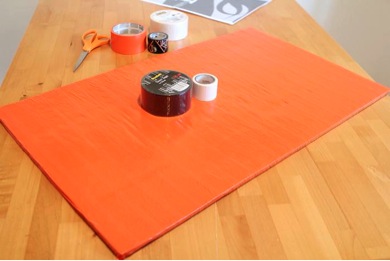 Layer several strips of black Duct Tape onto your cutting mat and tape the first image quadrant on top and use the straight edge to cut around the silhouette and remove the excess tape. Repeat this process with each quadrant.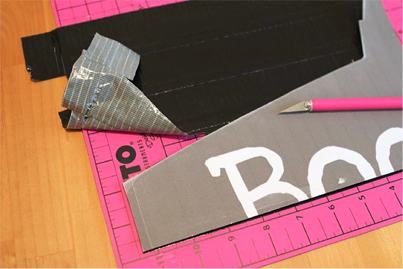 Then line up the four black silhouette pieces on top of your doormat. Don't worry if it's not perfect, the tape is very forgiving. If you don't get it lined up perfectly, you can just add another piece of black tape on top.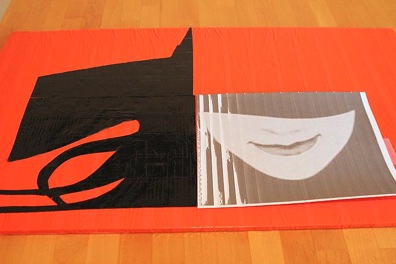 The last step is to cut out a spooky message and apply it to the top of your silhouette. I added a few black stripes on each side for visual balance and used glow-in-the dark tape for the wicked smile and the, "Boo!". It's quite the creepy look in the dark—perfect for Halloween.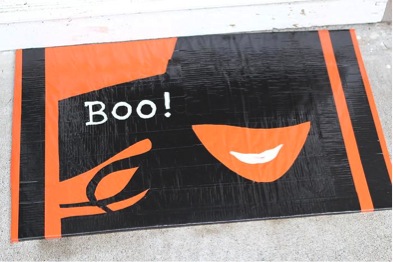 For more Halloween project ideas, check out Scotch Duct Tape's Facebook and Pinterest pages. Happy trick-or-treating!
Stephanie Morgan is the mother of two toddlers and the founder and managing editor of Modern Parents Messy Kids.
Also see:
Duck Brand's Stick-or-Treat Pumpkin Decorating Contest
---
Get Your FREE Indoor Activity eGuide!
---
More Halloween Articles Articles
7 Tips for Trick-or-Treating with Your Toddler
New Book Encourages Kids to Give Up Halloween Candy
Halloween Activities in Bucks County, PA
DIY Alien Monster Egg Halloween Decoration
Toddler-Friendly Halloween Events in Fairfield County, CT