MAKE A BOO-TIFUL DIY GHOST COSTUME AND NO-SEW TUTU
Related:
easy halloween costumes
,
easy toddler costumes
,
diy children's costumes
,
no sew diy costumes
,
toddler ghost costume
,
Follow this easy step-by-step guide for a DIY toddler Halloween costume. A no-sew tulle tutu and a sweatshirt with iron-on appliqués will ensure your child is both festive and warm in her ghost outfit.
After finding inspiration online, New York City mom Jennifer Garry of cuddlesandchaos.com created an easy and adaptable costume for her toddler with crafts store supplies and a simple sweatshirt. The tutu can be repurposed for dress up year-round, and the friendly sweatshirt will give any appliqué top a run for its money in chilly weather. Here is Jennifer's how-to:

I was inspired by an insanely adorable little ghost costume on Pinterest, and immediately decided that my little one (who was 18-months old at the time) needed to be a ghost for Halloween. I wanted to make something for her that was warmer than just a tulle tutu. After a little bit of thought, I came up with an insanely easy DIY that included a no-sew tutu and a warm top. I'm pretty sure I was the happiest crafting mama on the planet.
One of my favorite parts about this project is how incredibly versatile it is. You can also use these steps to make a colorful tutu and shirt with your child's age on it for a birthday party, or simply craft a few tutus in multiple colors for dress up. Versatility is a busy mom's best friend!
DIY Ghost Costume with a No-Sew Tutu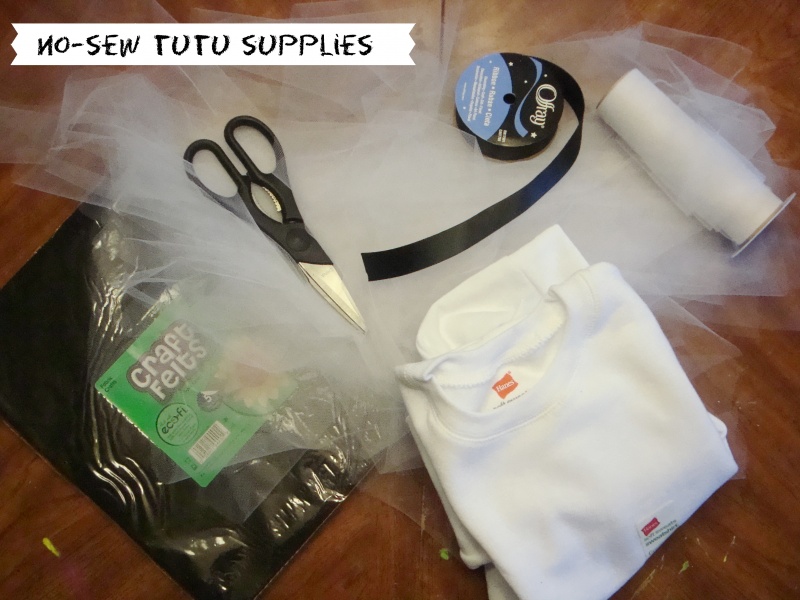 You will need:
At least 25 yards of tulle. Dollar stores often sell tulle (check the wedding section), so this doesn't have to be expensive.
Scissors
Wide satin ribbon
Peel and stick craft felt
A shirt
A lighter
To Make the Tutu:
Measure the ribbon around your toddler's waist to see how much ribbon you'll need. Be sure to leave a few extra inches so that you can tie a bow to close the tutu. You can always trim excess ribbon but not having enough will be a major pain in the butt. Use the lighter to carefully burn the edges of the ribbon slightly to help prevent fraying.
Next, hold the tulle up to her to figure out what length you want the skirt to be. Cut strips two to three inches wide, and a few inches longer than the desired length to leave room for knotting the tulle to the ribbon. It also helps to cut all of the tulle at once so that you can get into a rhythm as you knot it onto the ribbon.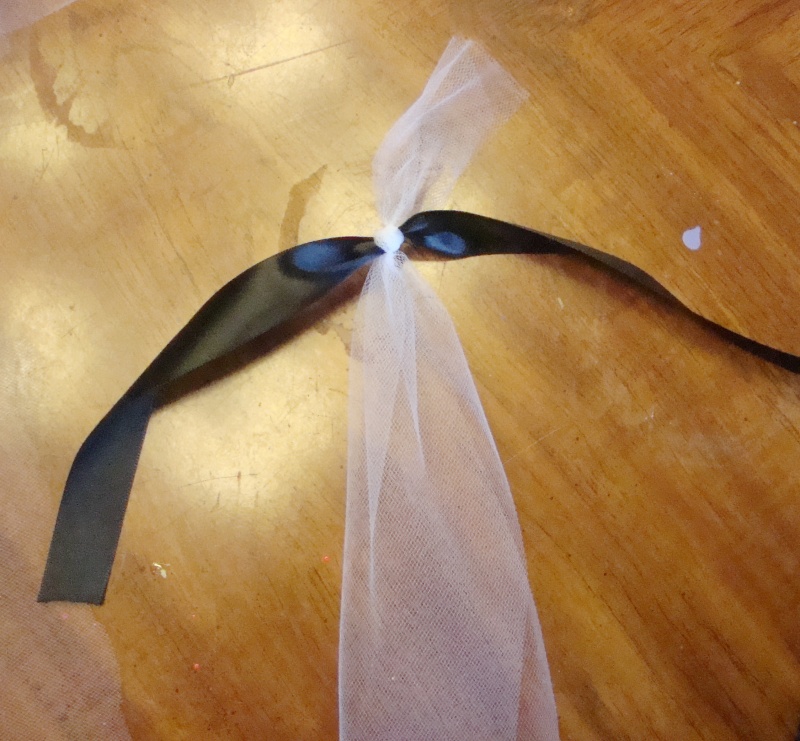 Attach the tulle by knotting it around the ribbon, working from the center out so you have length at the ends to tie the tutu around your child's waist. A simple knot should hold the tulle in place, but for added security, you can also double-knot the tulle.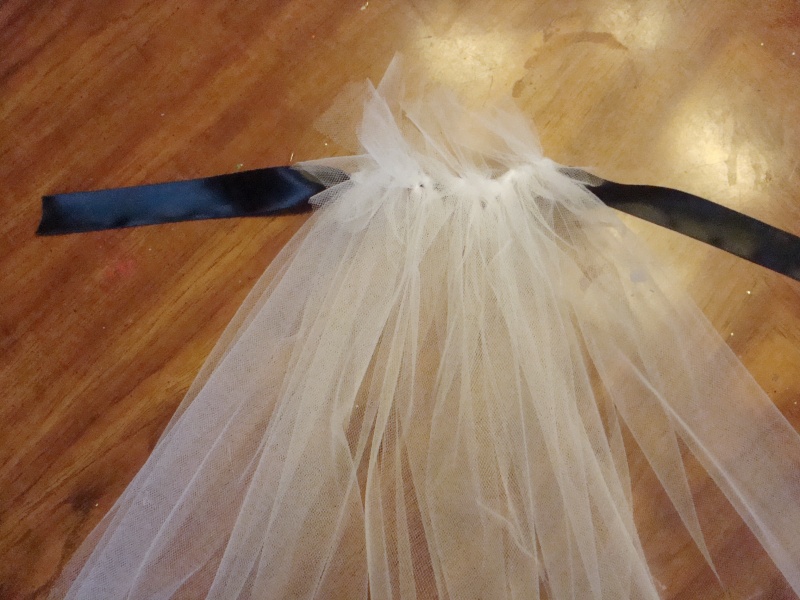 Once all the tulle is tied, hang your tutu up to check for any uneven pieces or spacing. Trim any longer pieces to achieve an even hemline.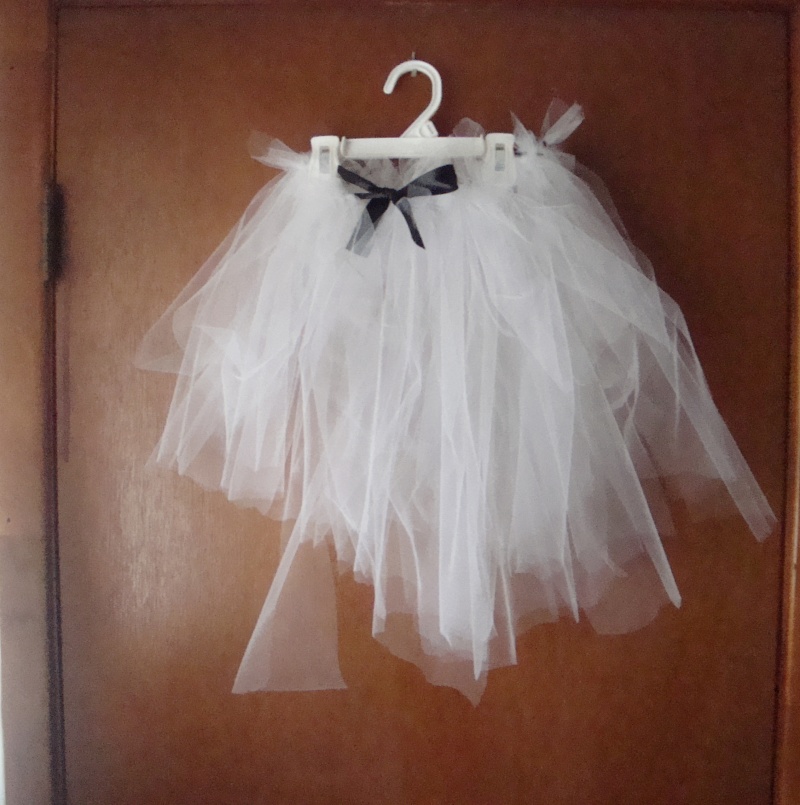 To Make the Sweatshirt:
Trace a circle onto the sticky felt with a pencil and any cylinder you might have around the house--paper towel tubes are a good size--to make the ghost's eyes. Eyelashes make for a girlier ghost, and eyebrows can transform a ghost from sweet to scary. With the sweatshirt laid out on a flat surface, test the eyes' placement and line up the felt underneath to draw an appropriately-sized mouth. A simple half-circle shape should do the trick.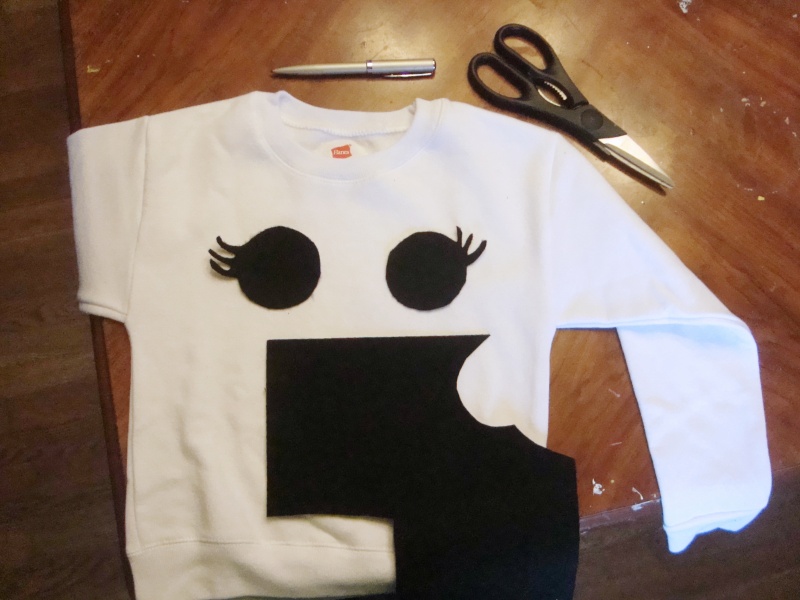 Once your shapes are placed properly on the sweatshirt, peel the paper off the felt back and stick them to the cloth. It helps to run an iron over the design—both on the inside and the outside of your shirt--to seal the adhesive further. Use a pressing cloth when ironing and never iron over the felt pieces directly, as doing so might move your designs.
Pair the tutu with leggings, and use any leftover tulle to create a headband. Once the costume is on your little one, you can add more tulle to make the tutu fuller if need be.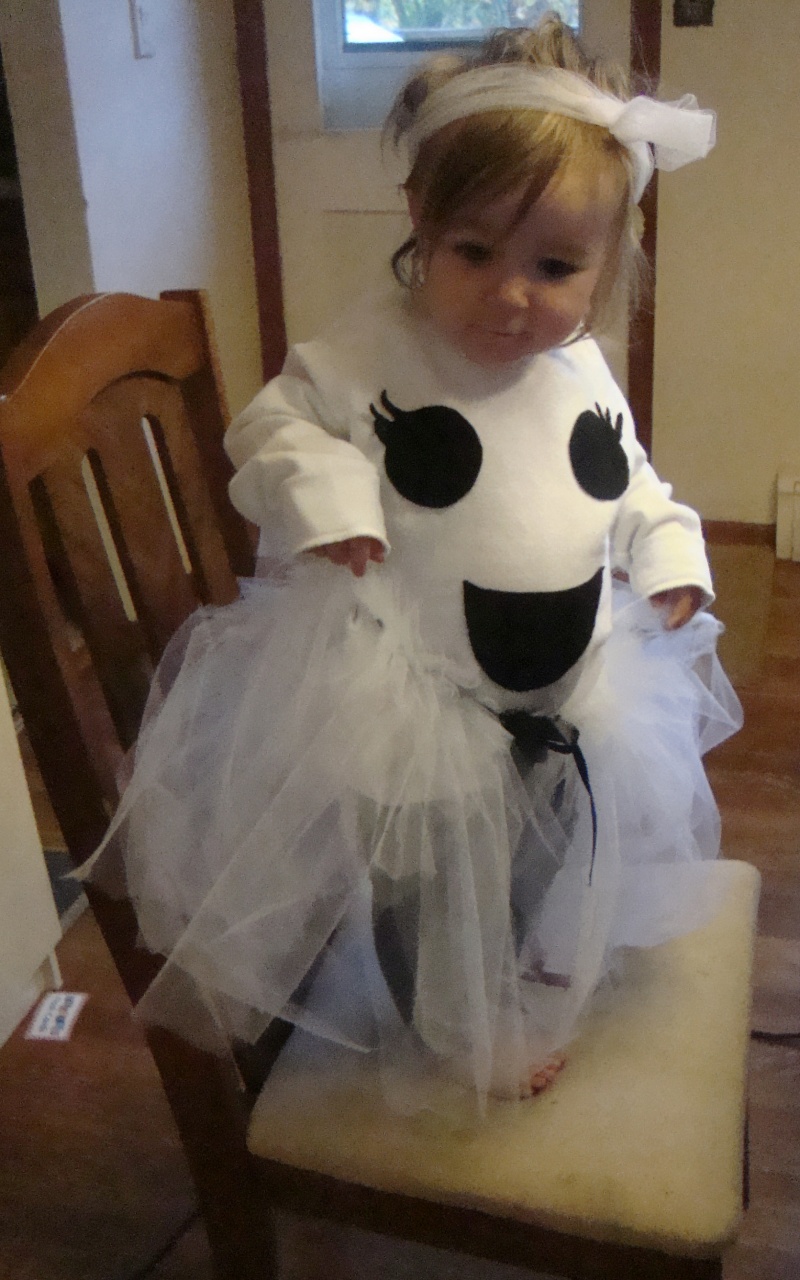 Jennifer Garry lives in Manhattan with her husband and two daughters, Samantha and Ellie. She blogs regularly at cuddlesandchaos.com and tweets @jennifergarry.
Also see:
Get Crafty with Halloween Ghosts
Plan a Fun Halloween in Any Weather
---
Get Your FREE Indoor Activity eGuide!
---
More Costumes Articles
Literary Costumes Your Bookworms Will Love
Easy DIY Halloween Costumes from Local Moms
6 DIY Halloween Costumes on a Budget
DIY: Tiger Mask and Owl Mask from 'Petit Collage'
All Aboard for a DIY Train Halloween Costume