7 CREATIVE PUMPKIN RECIPES FROM A CELEBRITY CATERER
Related:
creative pumpkin recipes
,
pumpkin dishes
,
dinner recipes with pumpkin
,
creative pumpkin desserts
,
Andrea Correale, NYC-based celebrity caterer and Lenox Home Entertaining Expert, presents recipes for 7 creative pumpkin dishes, including dinner recipes for pumpkin lasagna, pumpkin ravioli, pumpkin fettucine, pumpkin seafood chowder, and butternut squash soup with roasted pumpkin seeds, and dessert recipes for pumpkin pie trifles and pumpkin gingerbread ice cream sandwiches.
Savory Pumpkin Recipes
Pumpkin Lasagna
Makes about 6 servings
Ingredients
1 medium butternut squash
1 (15 ounce) can pumpkin puree
1 teaspoon salt
¼ teaspoon freshly ground black pepper
½ teaspoon ground nutmeg
1 teaspoon ground cinnamon
1/8 teaspoon dried ground ginger
3 tablespoons light brown sugar
1 tablespoon maple syrup
10 no-boil lasagna noodles
1 (15 ounce) container ricotta cheese
8 ounces fresh mozzarella, chopped into ½- to 1-inch pieces
½ cup finely shredded Parmesan cheese
Directions
1. Preheat oven to 400° F.
2. Place the butternut squash directly in the oven, whole. Bake for 20 minutes or until soft enough to cut in half with little effort.
3. Cut into quarters, place in a baking dish or large cast iron skillet, and roast for 40 more minutes or until the skin can be easily peeled away from the flesh.
4. Cut chunks about ½- to 1-inch in size. Set aside.
5. Reduce the oven heat to 350° F.
6. In a small bowl, mix together the pumpkin and the next 7 ingredients (salt through maple syrup). Set aside.
7. In another small bowl, stir together the ricotta, 2/3 of the chopped mozzarella, and ¼ cup of Parmesan. Set aside.
8. Lightly coat a baking dish with cooking spray. Spoon 1/3 cup of the pumpkin sauce in the dish. Top with 2 lasagna noodles. Spoon ¼ of the ricotta mixture over the noodles. Top with ¼ of the butternut squash chunks. Top with 1/3 cup of sauce. Top with two more noodles, continuing to layer like this until all the cheese and squash is used. Add last 2 lasagna noodles and remaining sauce. Dot the top with remaining chopped mozzarella and sprinkle with remaining Parmesan.
9. Cover with foil. Bake for 50 minutes. Let stand, covered, on a rack for 20 minutes before serving.
Pumpkin Ravioli
Makes about 6 servings
Ingredients
1 cup canned pumpkin
1/3 cup grated Parmesan cheese
¼ teaspoon salt
1/8 teaspoon black pepper
6 wonton wrappers
1 teaspoon salt
½ cup chicken broth
1½ tablespoons unsalted butter
Chopped parsley
Directions
1. Combine pumpkin, Parmesan, ¼ teaspoon salt, and black pepper. Spoon about 2 teaspoons pumpkin mixture into center of each wonton wrapper. Moisten edges of dough with water; bring 2 opposite sides together to form a triangle, pinching edges to seal.
2. Place ravioli into a large saucepan of boiling water with 1 teaspoon salt; cook 7 minutes and drain in a colander.
3. Place chicken broth and butter in a pan; bring to a boil. Add ravioli, tossing to coat. Sprinkle with parsley.
Pumpkin Fettuccine
Ingredients
½ pound (8 ounces) whole wheat fettuccine
1 generous tablespoon unsalted butter
1 tablespoon flour
2 garlic cloves, minced
½ teaspoon finely chopped rosemary, plus more for garnish
2 cups low-fat milk
3 ounces mascarpone cheese
1 cup pumpkin puree
¼ teaspoon sea salt
Freshly ground black pepper
Grated Parmesan cheese for topping
Pumpkins for plating
Directions
1. Bring a big pot of salted water to a boil and cook pasta until al dente. Drain and set aside.
2. Heat a saucepan over medium heat and add butter. Once sizzling, whisk in flour and stir to create a roux, until bubbly and golden, about 3 minutes.
3. Add garlic and cook for 30 seconds.
4. Add in milk and rosemary.
5. Stir constantly and increase the heat a little bit, if necessary, until the mixture begins to bubble and thicken, about 5-6 minutes.
6. Add in mascarpone, pumpkin, salt and pepper, whisking until smooth and thickened into a sauce.
7. Season with additional salt and pepper to taste.
8. Add cooked pasta to pan and toss to combine.
9. Carve out mini pumpkins to be used as your serving vessels. Using tongs, fill the pumpkins with the fettuccine.
10. Garnish with extra sauce, rosemary, and Parmesan cheese.
Pumpkin Seafood Chowder
Ingredients
1 Tablespoon coconut oil
1 shallot, peeled and diced
1 Tablespoon grated fresh ginger
1 cup seafood broth
?1 cup shredded carrot (about 1 large)
½ cup frozen peas
?1 cup of ½-inch diced potatoes
?1 Roma tomato, diced
1 14- or 15-ounce can of coconut milk
2 Tablespoons lime juice
1 teaspoons fish sauce
½ cup pumpkin puree
½ teaspoon salt
?6-8 ounces uncooked shrimp, thawed, tails removed and cut into ½-inch pieces
6 Littleneck clams
4 Tablespoons chopped fresh cilantro
Directions
1. Heat oil in a medium saucepan over medium-high heat. Add shallots and ginger, stirring about 3-4 minutes until the shallots are tender. Add the remaining ingredients (except for shrimp, clams and cilantro).
2. Bring to a boil, then reduce heat and simmer for 10-15 minutes until potatoes are tender. Add the shrimp and cilantro during the last 5 minutes of cooking time. Cook until shrimp are pink and opaque.
3. Add clams into the chowder and cover the pot so the clams cook and open up inside the pot. Any clams that do not open should be thrown out.
4. Serve the chowder hot and garnish with fresh cilantro, pumpkin seed oil, and Thai sweet chili sauce.
Butternut Squash Soup
Ingredients
1 (2 to 3 pound) butternut squash, peeled and seeded
2 Tablespoons unsalted butter
1 medium onion, chopped
6 cups chicken stock
Nutmeg, salt, and freshly ground black pepper
Roasted pumpkin seeds for garnish
Directions
1. Cut butternut squash into 1-inch chunks.
2. In a large pot, melt the butter. Add onion and cook until translucent, about 8 minutes Add squash and stock.
3. Bring to a simmer and cook until squash is tender, about 15-20 minutes.
4. Remove squash chunks with slotted spoon, place in a blender and puree. Return blended squash to pot.
5. Stir and season with desired amount of nutmeg, salt, and pepper.
6. Serve in mini carved-out pumpkins and top with roasted pumpkin seeds
Sweet Pumpkin Recipes
Pumpkin Gingerbread Ice Cream Sandwiches (The Easy Way!)
Jumbo Chewy Gingerbread Cookies
Ingredients
1 cup plus 2 tablespoons unsalted butter, softened
1 cup packed brown sugar
1 egg
¼ cup plus 2 tablespoons molasses
2½ cups all-purpose flour
2¼ teaspoons baking soda
½ teaspoon kosher (coarse) salt
1 Tablespoon ground ginger
1 Tablespoon ground cinnamon
2 teaspoons ground cloves
1½ teaspoons ground nutmeg
½ teaspoon ground allspice
2/3 cup granulated or coarse sugar
Directions
1. In large bowl, beat butter and brown sugar with electric mixer on medium speed until light and fluffy, about 5 minutes. Beat in egg and molasses. Stir in remaining ingredients except granulated sugar. Cover; refrigerate at least 2 hours.
2. Heat oven to 350°F. Line cookie sheets with cooking parchment paper.
3. Place granulated sugar in small bowl.
4. Shape dough into 2-inch balls; roll in sugar.
5. On cookie sheets, place balls 2 inches apart. Bake 8 to 10 minutes or just until set and soft in center.
6. Cool 2 minutes; remove from cookie sheets to cooling racks.
To assemble:
Using your favorite brand of pumpkin ice cream, spoon 3 Tablespoons of ice cream onto one gingerbread cookie and top with another gingerbread cookie. Roll edges in cinnamon sugar sprinkles for added sweetness!
Pumpkin Pie Trifles
To make pumpkin mousse:
Ingredients
1 (15-ounce) can pumpkin
3 cups heavy cream
¾ cup superfine sugar
½ teaspoon pumpkin pie spice
1 tablespoon vanilla extract
Directions
Combine pumpkin, 1 cup cream, sugar, and spice in a medium saucepan. Simmer over medium heat for 5 minutes. Cool fully. Whip remaining heavy cream and vanilla to soft peaks and fold into cooled pumpkin mixture; set aside.
To make homemade cinnamon whipped cream:
Ingredients
2 cups heavy cream, cold
¾ cups confectioners' sugar
1 teaspoon ground cinnamon
½ teaspoon vanilla extract
Directions
In a large bowl, using a mixer set on medium-high speed, beat the cream, sugar, cinnamon, and vanilla until stiff peaks form. Do not overbeat. Set aside.
To assemble trifles:
Garnishes needed:
Candied pecans
Crumbled pie crust
1. Spoon pumpkin mousse into a pastry bag, and then spoon cinnamon whipped cream into a separate pastry bag.
2. Fill the bottoms of your serving glasses with candied pecans.
3. Pipe pumpkin mousse on top, then whipped cream, then pumpkin mousse, and finish with whipped cream.
4. Garnish with crumbled pie crust.
Entrepreneur and celebrity caterer Andrea Correale is president and founder of Elegant Affairs Caterers, a catering and event planning company that serves New York, New Jersey, and Connecticut. Correale also works as a food and entertaining contributor for prominent outlets such as Hamptons Magazine and was named the entertaining expert for L'Oreal Paris Academy, Ehow.com, Sam's Club, Celebrations.com, and a subsidiary of 1-800 Flowers. Most recently, Correale was announced the Home Entertaining Expert for Lenox's new campaign, Lenox Where Entertaining Is @. During her career, Correale has worked with celebrities such as Mariah Carey, Russell Simmons, Jimmy Fallon, P. Diddy, L.A. Reid, Donald Trump, and more.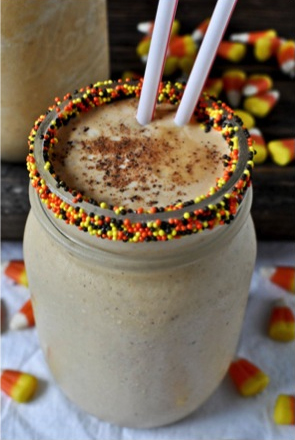 Also See:
13 more pumpkin recipes, including pumpkin pancakes and pumpkin pie milkshakes!
---
Get Your FREE Indoor Activity eGuide!
---
More Food & Nutrition Articles
Witches Brew Recipe for Halloween by MOMables
Halloween Treats: Eyeball Cake Pops, Monster 'Toes,' and 'Rotten' Apple Punch
5 Tips for Cooking with Kids Who Have Special Needs
Easy Recipe for New Cooks: Creamy Tomato and Rice Basil Soup
How to Teach Kids to Separate Food and Feelings