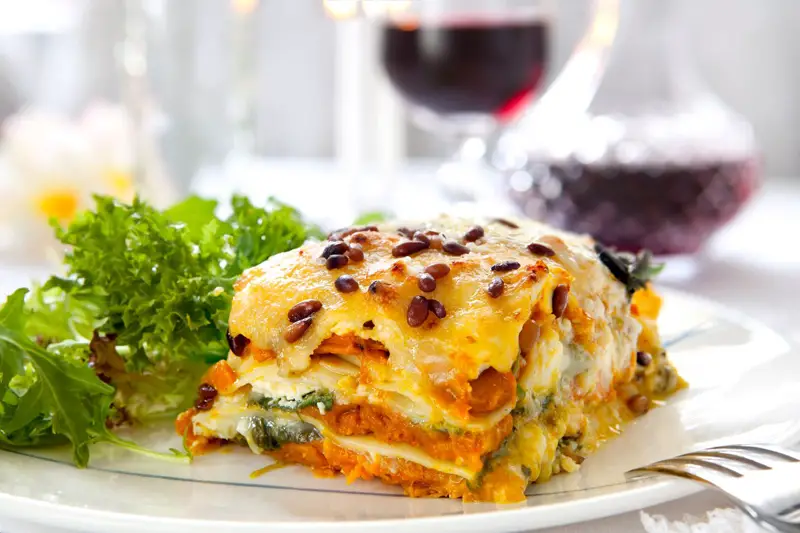 Pumpkin-Inspired Recipes for the Family
20 pumpkin recipes for breakfast, dinner, and dessert that the whole family will love
Get can't-miss family activities sent to you!
Get the Best Kid-Friendly Activities
Sent to You Weekly!
Recipe by celebrity caterer Andrea Correale, owner and creator of Elegant Affairs.
Ingredients
½ pound (8 ounces) whole wheat fettuccine
1 generous tablespoon unsalted butter
1 tablespoon flour
2 garlic cloves, minced
½ teaspoon finely chopped rosemary, plus more for garnish
2 cups low-fat milk
3 ounces mascarpone cheese
1 cup pumpkin puree
¼ teaspoon sea salt
Freshly ground black pepper
Grated Parmesan cheese for topping
Pumpkins for plating
Directions
Bring a big pot of salted water to a boil and cook pasta until al dente. Drain and set aside.
Heat a saucepan over medium heat and add butter. Once sizzling, whisk in flour and stir to create a roux, until bubbly and golden, about 3 minutes.
Add garlic and cook for 30 seconds.
Add in milk and rosemary.
Stir constantly and increase the heat a little bit, if necessary, until the mixture begins to bubble and thicken, about 5-6 minutes.
Add in mascarpone, pumpkin, salt and pepper, whisking until smooth and thickened into a sauce.
Season with additional salt and pepper to taste.
Add cooked pasta to the pan and toss to combine.
Carve out mini pumpkins to be used as your serving vessels. Using tongs, fill the pumpkins with the fettuccine.
Garnish with extra sauce, rosemary, and Parmesan cheese.
Pumpkin Seafood Chowder
Recipe by celebrity caterer Andrea Correale, owner and creator of Elegant Affairs.
Ingredients
1 Tablespoon coconut oil
1 shallot, peeled and diced
1 Tablespoon grated fresh ginger
1 cup seafood broth
1 cup shredded carrot (about 1 large)
½ cup frozen peas
1 cup of ½-inch diced potatoes
1 Roma tomato, diced
1 14- or 15-ounce can of coconut milk
2 Tablespoons lime juice
1 teaspoons fish sauce
½ cup pumpkin puree
½ teaspoon salt
6-8 ounces uncooked shrimp, thawed, tails removed and cut into ½-inch pieces
6 Littleneck clams
4 Tablespoons chopped fresh cilantro
Directions
Heat oil in a medium saucepan over medium-high heat. Add shallots and ginger, stirring about 3-4 minutes until the shallots are tender. Add the remaining ingredients (except for shrimp, clams, and cilantro).
Bring to a boil, then reduce heat and simmer for 10-15 minutes until potatoes are tender. Add the shrimp and cilantro during the last 5 minutes of cooking time. Cook until shrimp are pink and opaque.
Add clams into the chowder and cover the pot so the clams cook and open up inside the pot. Any clams that do not open should be thrown out.
Serve the chowder hot and garnish with fresh cilantro, pumpkin seed oil, and Thai sweet chili sauce.
Butternut Squash Soup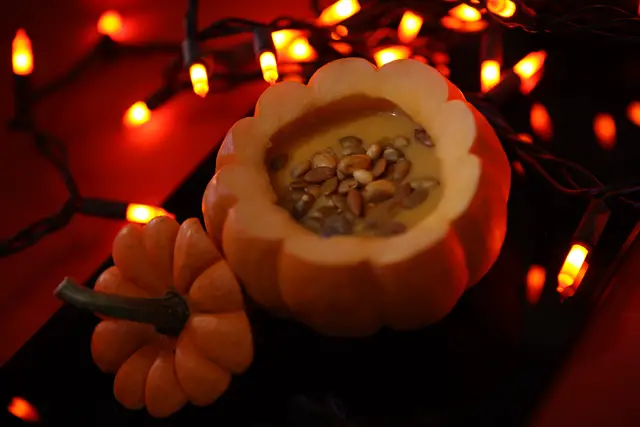 Recipe by celebrity caterer Andrea Correale, owner and creator of Elegant Affairs.
Ingredients
1 (2 to 3 pound) butternut squash, peeled and seeded
2 Tablespoons unsalted butter
1 medium onion, chopped
6 cups chicken stock
Nutmeg, salt, and freshly ground black pepper
Roasted pumpkin seeds for garnish
Directions
Cut butternut squash into 1-inch chunks.
In a large pot, melt the butter. Add onion and cook until translucent, about 8 minutes. Add squash and stock.
Bring to a simmer and cook until squash is tender, about 15-20 minutes.
Remove squash chunks with a slotted spoon, place in a blender and puree. Return blended squash to pot.
Stir and season with desired amount of nutmeg, salt, and pepper.
Serve in mini carved-out pumpkins and top with roasted pumpkin seeds
Decadent Pumpkin Desserts
Pumpkin Chocolate Pound Cake
This festive fall-inspired cake pairs fresh pumpkin with decadent chocolate. Add a simple cinnamon-infused glaze over top and you have a perfect dessert for your next holiday get-together. Courtesy Wilton.
Serves: 16
Ingredients
3 cups all-purpose flour
2 teaspoons baking powder
1 teaspoon ground cinnamon
1 teaspoon salt
¼ teaspoon ground nutmeg
1 cup (2 sticks) butter, softened
1¾ cups firmly packed light brown sugar
4 eggs
1 teaspoon pure vanilla extract
1¼ cups 100% pure pumpkin
¾ cup dark cocoa Candy Melts Candy, roughly chopped
½ cup confectioners' sugar
¼ teaspoon ground cinnamon (optional)
2 teaspoons milk
Directions
Preheat the oven to 325 degrees. Prepare Dimensions Cascade Pan (or similar pan) with vegetable pan spray with flour.
In a large bowl, stir together flour, baking powder, cinnamon, salt, and nutmeg.
In a large bowl, beat butter and brown sugar with an electric mixer until light and fluffy. Add eggs, one at a time, mixing well after each addition; beat in vanilla. Add flour mixture in three additions, alternating with pumpkin. Stir in chopped candy; mix until just combined. Pour into the prepared pan.
Bake 55-65 minutes or until a toothpick inserted in the center comes out clean. Cool in pan for 15 minutes; invert onto cooling grid and cool completely.
For glaze, stir together confectioners' sugar, cinnamon, and milk in a small bowl. Drizzle over cooled cake.
Mini Pumpkin Pie Spice Doughnuts with Glaze
Add a pinch of pumpkin pie spice to this basic donut recipe to make a fall-flavored treat. For some extra sweetness, top the mini doughnuts with maple, vanilla, or mocha glaze. Recipe courtesy McCormick.
Serves: 15
Ingredients
Doughnuts
2 cups all-purpose flour
¼ cup granulated sugar
? cup milk
1 egg, lightly beaten
1 tbsp McCormick Pure Vanilla Extract
1 tsp McCormick Pumpkin Pie Spice
Vanilla Glaze
4 cups confectioners' sugar
½ cup milk
1½ tsp McCormick Pure Vanilla Extract
Maple Glaze
4 cups confectioners' sugar
½ cup milk
1 tsp McCormick Imitation Maple Flavor
Mocha Glaze
8 ounces semi-sweet baking chocolate, coarsely chopped
½ cup heavy cream
1 tbsp McCormick Pure Coffee Extract
Directions
Preheat the oven to 325 degrees.
Spray mini doughnut pan with no-stick cooking spray. (If you do not have a mini doughnut pan, use a mini cupcake pan to make doughnut holes. You may also use an electric doughnut maker. Prepare as directed.) Set aside.
Mix doughnut ingredients in a medium bowl until well blended. Spoon batter into prepared pan, using 1 tablespoon of batter for each doughnut.
Bake for 10-12 minutes or until a toothpick inserted in the center comes out clean.
Meanwhile, for glaze, mix all ingredients for desired flavor in a large bowl until smooth. Remove doughnuts from the pan. Immediately coat in glaze. Place doughnuts on a wire rack set over a baking sheet or waxed paper to cool.
Baked Apples with Pumpkin Seeds
This recipe for baked apples features crunchy pumpkin seeds and warm notes of honey, cinnamon, and orange zest. It's an easy dessert for a crowd, as it can be served warm or cold. Recipe by Maria Zoitas, catering director at Westside Market NYC and creator of Maria's Homemade, a line of prepared food sold exclusively at Westside Market NYC.
Ingredients
Roma apples
1 cup red wine (dry)
3 cups sangria wine
1½ cups dried cranberries
¼ cup currents
1 cup sugar
1 tbsp cinnamon
1 cup honey
2 tbsp orange zest
1 cup pumpkin seeds
Directions
Preheat the oven to 300 degrees.
Core the apples to remove the seeds. Score with the tip of a small knife in the middle of the apple and around it—this will help the apple bake evenly.
Peel the skin an inch around the top of the apple.
Meanwhile, put the red wine and sangria wine in a sauté pan. Reduce by half, then remove from the heat and set aside.
In a roasting pan, place the peeled apples (inside side up). In the center of each apple, add sugar. Then pour cinnamon powder around each apple.
Bake the apples for 15 minutes.
Meanwhile, in a medium-size bowl, toss together the cranberries, currents, honey, pumpkin seeds, and orange zest (this will act as a topping for the apples).
Remove apples from the oven and top each with ¼ cup of the honey mixture.
Put the baking pan with the apples back in the oven for an additional 10 minutes. Remove from the oven and serve either hot or cold.
Pumpkin Pie Milkshakes
Celebrity caterer Andrea Correale, owner and creator of Elegant Affairs, shares this frightfully delicious Halloween-inspired recipe for pumpkin pie milkshakes that calls for pureed pumpkin and vanilla ice cream.
Makes: 2 shakes
Ingredients
2 cups vanilla ice cream
½ cup milk
¼ cup cream or half-and-half
1 tablespoon vanilla extract
? cup pureed pumpkin
½ tablespoon pumpkin pie spice
? cup graham cracker crumbs
Frosting and sprinkles (or cinnamon and sugar) for glass rims
Directions
Add all ingredients to a blender and mix until combined.
Rim glasses with a light coating of frosting then dip in sprinkles. Pour in shake and sprinkle cinnamon on top.
Top with whipped cream if desired. Serve and enjoy!
Pumpkin Rice Crispy Treats
Okay, so there's no actual pumpkin in these treats, but they're definitely pumpkin-inspired! Whip up a basic rice crispy treat, then decorate with a variety of food coloring and icings to make a miniature pumpkin patch for your fall guests. Recipe by celebrity caterer Andrea Correale, owner and creator of Elegant Affairs.
Ingredients
1 stick of butter
2 (10 oz.) packages of marshmallows
12 cups crispy rice cereal
1 tsp. yellow food coloring
¼ tsp. red food coloring
Green decorating icing in tube
Black decorating icing in tube
Decorating tips
Tootsie Rolls
Directions
In a pot on low heat, melt the butter then stir the marshmallows in until they have dissolved.
Next, add the food coloring into the mixture and stir until the mixture is a uniform orange color.
Add crispy rice cereal to the mix, and stir until the cereal is completely coated in marshmallow.
Shape the mixture into balls with either your hands or a spoon.
Place the balls in the refrigerator and leave there until the balls have completely chilled and are firm.
Once firm, using the black and green icing, decorate your pumpkins with leaves, and add a tootsie roll as your stem.
Caramel Apple "Pumpkins"
Green pipe cleaners and orange sprinkles turn regular caramel apples into caramel apple "pumpkins." Recipe by Mary MacRae Warren.
Ingredients
5 medium Macintosh apples
5 green wooden craft sticks (you can dye plain craft sticks with green food coloring)
4 tbsp water
2 14-ounce packages of caramels, roughly 96 pieces, divided into two microwave-safe bowls
1 cup orange jimmies
5 green pipe cleaners
Directions
Wash and dry apples, then insert a stick into the stem end of each apple.
Microwave one package of the caramels and 2 tbsp of the water in a small, deep, microwave-safe bowl on HIGH until smooth. Stir every minute for approximately 3 minutes. If caramel sauce is too thin, let stand about 2 minutes before dipping apples. Dip apples into hot caramel sauce, turning until well coated. Scrape excess sauce from the bottom of the apples. Place coated apples on a tray covered with wax paper lightly coated with cooking spray. Refrigerate 1-2 hours.
After refrigerating, repeat microwave and dipping directions with the remaining package of caramels and 2 tbsp water. While the second caramel coating is still warm, roll caramel apples in orange jimmies to coat. Store in the refrigerator until hardened, then wrap with clear plastic. Take a green pipe cleaner and twirl it around a pencil to make curled stems. Use the pipe cleaner tendrils to secure the plastic wrap.
Pumpkin Gingerbread Ice Cream Sandwiches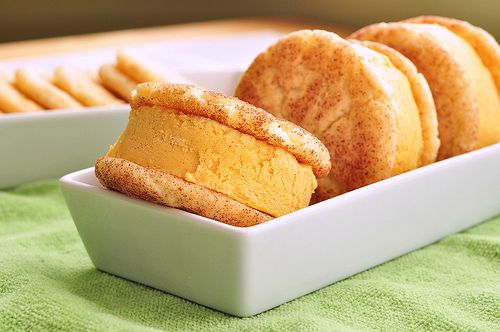 Recipe by celebrity caterer Andrea Correale, owner and creator of Elegant Affairs.
Jumbo Chewy Gingerbread Cookies
Ingredients
1 cup, plus 2 tablespoons unsalted butter, softened
1 cup packed brown sugar
1 egg
¼ cup, plus 2 tablespoons molasses
2½ cups all-purpose flour
2¼ teaspoons baking soda
½ teaspoon kosher (coarse) salt
1 Tablespoon ground ginger
1 Tablespoon ground cinnamon
2 teaspoons ground cloves
1½ teaspoons ground nutmeg
½ teaspoon ground allspice
? cup granulated or coarse sugar
Directions
In a large bowl, beat butter and brown sugar with an electric mixer on medium speed until light and fluffy, about 5 minutes. Beat in egg and molasses. Stir in remaining ingredients except granulated sugar. Cover; refrigerate at least 2 hours.
Heat oven to 350 degrees. Line cookie sheets with cooking parchment paper.
Place granulated sugar in a small bowl.
Shape dough into 2-inch balls; roll in sugar.
On cookie sheets, place balls 2 inches apart. Bake for 8 to 10 minutes or just until set and soft in the center.
Cool 2 minutes; remove from cookie sheets to cooling racks.
To assemble
Using your favorite brand of pumpkin ice cream, spoon 3 Tablespoons of ice cream onto one gingerbread cookie and top with another gingerbread cookie. Roll edges in cinnamon sugar sprinkles for added sweetness!
Pumpkin Pie Trifles
Recipe by celebrity caterer Andrea Correale, owner and creator of Elegant Affairs.
Pumpkin Mousse Ingredients
1 (15-ounce) can pumpkin
3 cups heavy cream
¾ cup superfine sugar
½ teaspoon pumpkin pie spice
1 tablespoon vanilla extract
Directions
Combine pumpkin, 1 cup cream, sugar, and spice in a medium saucepan. Simmer over medium heat for 5 minutes. Cool fully.
Whip remaining heavy cream and vanilla to soft peaks and fold into cooled pumpkin mixture; set aside.
Cinnamon Whipped Cream Ingredients
2 cups heavy cream, cold
¾ cups confectioners' sugar
1 teaspoon ground cinnamon
½ teaspoon vanilla extract
Directions
In a large bowl, using a mixer set on medium-high speed, beat the cream, sugar, cinnamon, and vanilla until stiff peaks form. Do not overbeat. Set aside.
To Assemble
Garnishes needed: candied pecans and crumbled pie crust
Spoon pumpkin mousse into a pastry bag, and then spoon cinnamon whipped cream into a separate pastry bag.
Fill the bottoms of your serving glasses with candied pecans.
Pipe pumpkin mousse on top, then whipped cream, then pumpkin mousse, and finish with whipped cream.
Add garnishes.
Here at NYMetroParents, we've got everything you need to have a safe, fun, and festive fall and Halloween season. Whether it is pumpkin or apple picking, getting lost in a corn maze, making Halloween crafts or finding costumes and decorations, we're here to help.