If your children are missing their camp friends, why not let them host a summer camp slumber party? Customize these flannel pajama bottoms from Appliké Couture and let your child show camp pride!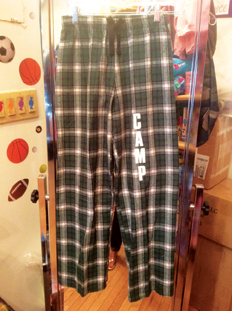 With school in session and a busy school-year schedule, your child may be missing summer camp and the friends he or she made, especially if they've been in touch since camp ended. Bring camp to your home in the off-season by hosting a summer camp sleepover!
During the long weekend over Veteran's Day (or winter break over the holidays) let your older kids host a slumber party with their camp friends. It's possible (even likely for many) that your kids don't attend the same school as their camp cronies…so let them reunite and show some camp pride with these custom flannel pajama bottoms from Appliké Couture, a custom clothing store based in Manhattan. These Cool Comfort Flannel pants are 100 percent cotton; can be customized with your child's camp name (up to 10 letters); and are available in blue and white, green and gold, green and white, red and white, and navy and light blue ($25; applikecouture.com).
Keep your "campers" busy with summer camp-inspired activities, including arts and crafts (think friendship bracelets and tie-dye), indoor sports, and karaoke. And a summer camp slumber party wouldn't be complete without the quintessential summertime snack: s'mores. Happy slumber-camping!

Wondering what you should be thinking about now for your child's next summer at camp? Check out The American Camp Association, New York and New Jersey's timeline.