"Secret of the Wings," Tinker Bell's first 3D adventure in the Disney Fairies series, takes her to the far reaches of Pixie Hollow, where she flies with new friends and uncovers a secret that changes her world.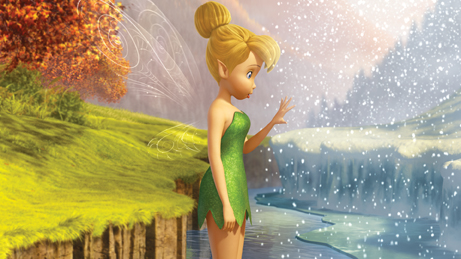 In the fourth movie in the series, Tink encounters the Winter Woods for the first time and meets a special friend there.
Tinker Bell fans know that to get to Pixie Hollow, all you need to do is borrow a bit of pixie dust, find the second star to the right, and fly with your faith as your guide. The Hollow is a magical world where Tink and her friends work together to bring the change of seasons. But in the fourth installment of Disney's straight-to-DVD series, we see a part of the Hollow that up until now has remained a mystery.
Secret of the Wings introduces the Winter Woods, where Tink is told she and the other "warm" fairies are forbidden to visit. So, naturally, mischievous Tink wastes no time in finding her way there. Once she does, she discovers plenty to satisfy her curiosity, but she also stumbles upon a secret that will change her life forever—and her name is Periwinkle.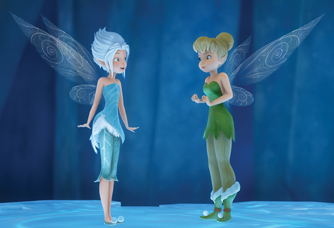 Tinker Bell meets Periwinkle, the newest Disney Fairy.
Debuting on Blu-ray Oct. 23, the CG-animated adventure marks the first time Tink will fly in 3D. Despite a somewhat restricted color palette of winter whites and blues, the hour-long film is a stunning feat of animation. Icicles glisten, snowflakes sparkle, and, when she crosses the border into the Winter Woods for the first time, Tinker Bell's wings glow "brighter than a thousand fireflies."
Puzzled but excited by this new happening, Tink vows to get to the bottom of it.
"She has such big qualities," says Peggy Holmes, the film's director. "She's so curious and spontaneous and sassy. She's not afraid to be the first one to do something, and she's not worried about what other people think of her." Holmes took on the film knowing about Tink's strong personality, and says she didn't want to change a thing about her. "We really wanted to show a different side of her and bring out parts of her character we haven't seen before," she explains.
"She's definitely a very realistic kind of person, and I really relate to her in that way," says Mae Whitman (currently playing Amber on NBC's Parenthood), who gives Tink her voice. "I think we have a lot of stuff in common—she is more of a tomboy, and she has a little bit of a temper. She is her own person, and she's comfortable with that. It's really nice to have a female character that's like that. It's a wonderful message to promote, especially for young girls."
Despite warnings from her friends, Tink's curiosity about her glowing wings leads her back into the Winter Woods and to the Keeper's Castle, where we meet two new characters: the quirky but grandfatherly Keeper, who knows all there is to know about pixie lore and legend, and Periwinkle (voiced by Lucy Hale), a winter fairy who also has a glowing-wing problem. In fact, Periwinkle's wings are identical to Tinker Bell's, which can only mean one thing: The baby's laugh that created Tinker Bell also created Periwinkle, and the two are sisters. Though they're from different worlds, the girls find they have a lot in common, like a similar fashion sense—what's a pointy shoe without a white fluff ball on top?—and a love of collecting "lost" things (though Peri calls them "found" things).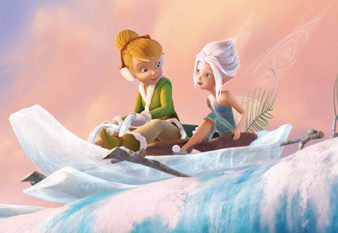 Scenes with Tink and newfound sis Periwinkle, pictured, are heartfelt and full of adventure.
"When we originally started the story development, they weren't sisters, they were just two girls who felt a connection," Holmes says. "I would often talk about the first day of school when there's someone in the classroom you connect with and don't know why, then later you find out there's underlying things you have in common." But, Holmes says, the team found that the story didn't have the emotional resonance they wanted. "Klay Hall, who directed Tinker Bell and the Lost Treasure, said, 'You keep saying they're like sisters, why not make them sisters?' That really opened up the story to become more magical."
The next challenge was finding the right voice for Periwinkle, and the team chose Lucy Hale, known for her role as Aria Montgomery in ABC Family's Pretty Little Liars. "We had to find someone who could match Tinker Bell's energy but still not sound like Tinker Bell," Holmes says. "Lucy was the perfect voice to complement her look."
Tink and Peri are elated at their newfound sisterhood, but there's a problem: They're not allowed to see each other because of the ban on fairies crossing the Winter Woods border. Tink is determined to change the rule, and Peri is soon persuaded to help. "The idea is that Periwinkle has a little less experience in the world than Tinker Bell," Holmes says. "But once she meets Tink, she becomes a little more outgoing." By putting her tinkering skills to work and enlisting the loveably bumbling Bobble and Clank to help, Tink embarks on another endearing adventure to set Pixie Hollow right.
"I think the big message is that connections of the heart can make the world a smaller place," Holmes says. "When you get to know someone, even if they're from a different world, you find those commonalities and it makes you feel closer to someone different than you."
Whitman agrees that the message is to keep an open mind. "Tinker Bell realizes that there doesn't have to be this judgment between the two worlds, because the winter fairies are just like her," she says. "I think it's about not living in fear of what's different."
Q&A with
Mae Whitman

,
voice of Tinker Bell

What's it like being the voice of Tinker Bell?

It's incredible. It feels sort of almost not even real. It's a real honor.

What's your favorite Tinker Bell film?

Tinker Bell and the Lost Treasure. It's a fun adventure. She gets to wear her cute little fall clothes and you get to see her whole world for the first time.

Who's your favorite character in the films, besides Tinker Bell?

I like all of them. I like all of their talents. But I love Clank and Bobble. They're so fun and those guys [Jeff Bennett and Rob Paulsen] are incredible voice actors. It's fun to see what they come up with in every new movie. They and Tinker Bell are like a little family.

What was your favorite Disney movie growing up?

Peter Pan was my favorite. It's so funny, but I always really identified with the bittersweet childhood thing, that element of growing up in the magical world. I wasn't too much of a princess person. I had a real affinity for Pocahontas though—that whole connection to the natural world.
Q&A with Peggy Holmes,
Director of "Secret of the Wings"
Did you have any specific goals when you took on this film?
We wanted to keep building on the mythology and show different parts of the world we haven't seen before. That way the world becomes richer, it continues to evolve, and we continue to invest in those characters. Just like a good friend, the more you know about them the more you love them.
Who's your favorite character in the film, besides Tinker Bell?
Periwinkle was so exciting because she's really endearing. But I love Periwinkle's friend Gliss. Her scenes were fun. She's a glass-half-full kind of person and someone you always want around you.
The voice cast of this film includes a lot of big names. What was it like working with them?
Lucy Hale, it was the first time she had done a voiceover part. She is such a great actress. She came into the first recording camera ready, and we realized she had memorized the whole script. That's not something you normally do, because you're not on camera and you record in pieces. She's just so disciplined. I was so touched by that work ethic.
You have two teenagers at home—will they watch the film?
I have a 14- and a 16-year-old. I think they'll enjoy it because of the personal connection, and I think they'll appreciate some of the one-liners. My daughter will appreciate the girly sisterhood. Oftentimes I'd bring things home to my daughter and ask her what she thought. At 16, she's a fantastic barometer. If she said "Aww," then I knew I was touching the child in her. If I could get that "Aww" thing, I knew I was on the right track.
Tink's Digital World
• To celebrate the upcoming release of Secret of the Wings, Disney has launched a Facebook fan page (facebook.com/disneyfairies) where parents can stay updated on Disney Fairies news and access new content and activities to share with their little ones.
• Pre-order the film and watch a trailer at disney.com/secretofthewings.
• Kids can enter the online world of Pixie Hollow at disney.com/fairies, where they can watch videos, play games, learn about all the Disney Fairies characters, and create their own fairy.