DUCK BRAND'S STICK OR TREAT JACK-O-LANTERN CONTEST OFFERS CASH PRIZE
Related:
decorating pumpkins with duct tape
,
duct tape halloween ideas
,
decorating with duct tape
,
halloween duct tape contest
,
Duck Tape® brand duct tape shares some ideas for decorating for Halloween with duct tape, including adding flair to costumes and home décor. Duck Tape® is also hosting a Stick or Treat® Jack-O-Lantern contest, so start decorating pumpkins with duct tape and enter for a chance to win the cash prize!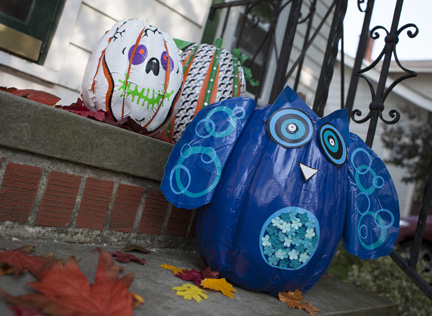 Have a hauntingly fun Halloween with some help from Duck Tape® brand duct tape! Available in a thrilling assortment of colors and designs, Duck Tape® makes an ideal treat to create Halloween décor, costumes, and crafts everyone will love, whether you're a grown-up DIYer or crafting with your little boys and "ghouls."


Trick Out Your Halloween Projects
From wickedly wonderful witches hats to carefully crafted trick-or-treat bags, Duck Tape® makes the perfect tool to add a bit of fanciful flair to your Halloween creations. Cover fabric to fashion easy Halloween costumes, or pick up a few rolls to add some spooky sophistication to centerpieces, placemats, and other home décor items.


Scare Up Some Cash
Less messy than carving, Duck Tape® is also ideal for perfecting indoor and outdoor pumpkin displays. This Halloween, have a frighteningly fun time—and possibly win some cash—in the Duck® brand Stick or Treat® Jack-O-Lantern Contest. The Stick or Treat® Contest dares you to decorate your own unique real or artificial pumpkin using the spellbindingly Duck Tape® colors and designs for a chance to win a seriously sweet treat: a $1,000 cash grand prize. Whether it's a classically spooky Jack-O-Lantern or a Halloween-inspired monster all your own, the decorating possibilities are endless.
Now in its seventh year, the contest runs now through Oct. 31, and you can enter your Duck Tape® Jack-O-Lantern by submitting a photograph to StickOrTreat.com. A panel of judges will choose winners based on originality, workmanship, use of color, and quantity of Duck Tape® used. The first place prize in the contest is $1,000. The second place winner will receive $500, and the third place winner will receive $250.
With tricks and treats from Duck Tape®, your Halloween is sure to be so fun, it's scary! To find more Halloween inspiration, go to Pinterest.com/TheDuckBrand. To see the latest Duck Tape® creations, or to share your masterpiece, visit DuckBrand.com.
For Duck Tape® fun all year-round, download the official Duck Tape® app (free, itunes.apple.com). The app features a game that challenges users to unroll as many virtual rolls of Duck Tape® as possible in 60 seconds, as well as member-submitted Ducktivities with step-by-step instructions, the Duck® brand YouTube channel, and Stuck at Prom® and Stick or Treat® image galleries.
An American original, Duck® brand is known for its quality and innovation, which now includes a vibrant assortment of hundreds of colors, designs, and licenses. Duck Tape® brand duct tape is available nationally at mass merchandise, craft, hardware, home center, food, drug, office, auto, and specialty retailers in colors such as aqua, fluorescent green, pink, orange and yellow, and designs such as Mustache, Graffiti, and Zig-Zag.
Also see:
Easy DIY Halloween Costumes from Local Moms
Make a Boo-tiful Ghost Costume and No-Sew Tutu
---
Get Your FREE Indoor Activity eGuide!
---
More Halloween Articles Articles
7 Tips for Trick-or-Treating with Your Toddler
New Book Encourages Kids to Give Up Halloween Candy
Halloween Activities in Bucks County, PA
DIY Alien Monster Egg Halloween Decoration
Toddler-Friendly Halloween Events in Fairfield County, CT