Hosting a brunch or lunch for Easter? Try these five delicious and crowd-pleasing recipes that incorporate holiday favorites like eggs, ham, and prosciutto.
Glazed Pineapple Ham Bites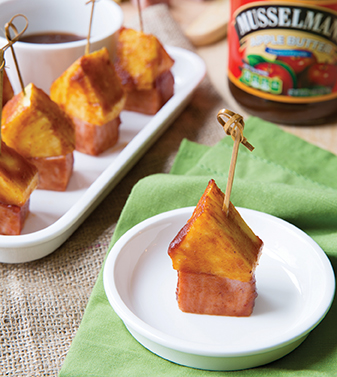 Prep Time: 10 minutes
Cook Time: 10 minutes
Serves: 36
Ingredients
2/3 cup apple butter
2/3 cup barbecue sauce
2 teaspoons Dijon mustard (optional)
1 pound cooked ham, cut 3/4 inch thick
1/2 fresh pineapple
Wood toothpicks
Directions
1. Preheat oven to 400oF. Pour apple butter, barbecue sauce, and mustard into bowl, and stir to combine.
2. Cut ham and pineapple into 3/4-inch cubes, about 36 each. Place one pineapple chunk on each toothpick, followed by a chunk of ham. Stand the picks up on baking sheet and brush each one with BBQ sauce mixture. Cover all sides.
3. Bake for 10 minutes. Serve warm with remaining sauce for dipping.
Recipe courtesy Musselman's Apple Butter
Apple Butter Breakfast Cake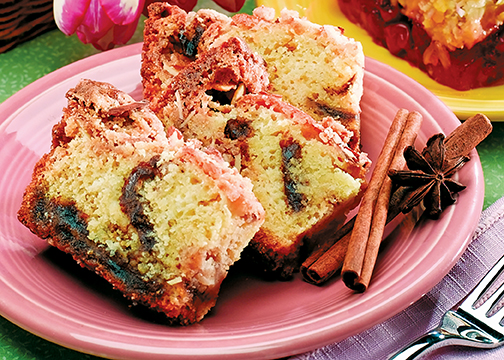 Prep Time: 20 minutes
Cook Time: 1 hour
Serves: 9
Ingredients
2 1/4 cups baking mix (such as Bisquick)
3/4 cup milk
1/2 cup sugar
1 egg
2 tablespoons butter, melted
2 cups apple butter
Topping:
1/3 cup sweetened flaked coconut
1/3 cup pecans, chopped
1/3 cup sugar
2 tablespoons butter, melted
Directions
1. In bowl, stir together baking mix, milk, 1/2 cup sugar, egg and 2 tablespoons of melted butter.
2. Pour two-thirds of batter into 8-by-8-by-2-inch glass baking dish coated with nonstick cooking spray. Cover with apple butter. Drop remaining batter by spoonful on top.
3. Combine coconut, pecans, 1/3 cup sugar and 2 tablespoons butter. Sprinkle on top of cake.
4. Bake at 350°F for approximately one hour, until cake tester inserted in center of cake comes out clean.
Note: Pan will be very full so do not substitute a smaller pan. You may want to place a cookie sheet under the pan in the oven in case of drips.
Recipe courtesy Musselman's Apple Butter
Cheesy Bacon & Egg Brunch Casserole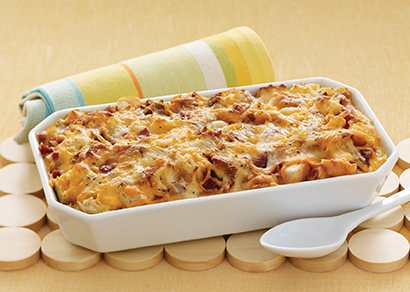 Prep Time: 20 minutes
Cook Time: 40-50 minutes

Serves: 12
Ingredients
8 slices bacon
1 medium onion, chopped (1 cup)
1 loaf (8 ounces) Italian bread, cut into 1-inch cubes (5 cups)
2 cups (8 ounces) shredded cheddar cheese
1 cup shredded mozzarella cheese
1 cup cottage cheese
5 eggs
1 1/2 cups milk*
2 teaspoons mustard, ground
1 teaspoon black pepper, ground
1/2 teaspoon nutmeg, ground
Directions
1. Preheat oven to 350°F. Cook bacon in large skillet until crisp. Drain bacon on paper towels; crumble and set aside. Remove all but 2 tablespoons drippings from skillet. Add onion to skillet; cook and stir 3 minutes or until softened.
2. Spread half the bread cubes in 13x9-inch baking dish. Layer with half each of the onion, bacon, cheddar cheese, and mozzarella cheese. Spread evenly with cottage cheese. Top with remaining bread cubes, onion, bacon, cheddar cheese, and mozzarella cheese.
3. Beat eggs in medium bowl with wire whisk. Add milk, mustard, pepper, and nutmeg; mix well. Gradually pour into baking dish. Press bread cubes lightly into egg mixture until completely covered. Let stand 10 minutes. (*To prep the night before, add an extra 1/2 cup of milk and refrigerate overnight.)
4. Bake 40 to 50 minutes or until center is set and top is golden brown.
Recipe courtesy McCormick
Individual Cheese & Herb Stratas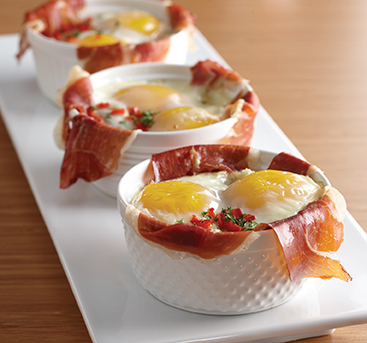 Prep Time: 20 minutes
Cook Time: 25 minutes
Serves: 4
Ingredients
8 thin slices prosciutto or deli ham
2 cups French or Italian bread pieces (1-inch pieces)
2 tablespoons melted butter
1/2 cup crumbled goat cheese (see note)
1/4 cup chopped fresh herbs (see note)
8 eggs
Salt
Coarse ground black pepper
Minced bell pepper (optional)
Chopped fresh herbs (optional)
Directions
1. Preheat oven to 400°F. Butter bottom and sides of four 10 to 12 ounce ramekins or spray with nonstick cooking spray
2. Line each ramekin with 2 slices prosciutto or ham with some extending over sides.
3. In large bowl, toss bread pieces and melted butter together. Stir in cheese and herbs. Divide mixture evenly among ramekins pressing down lightly. Break 2 eggs into each ramekin. Add salt and pepper, as desired. Sprinkle bell pepper around eggs, if desired.
4. Place ramekins on rimmed baking sheet. Bake 25 to 30 minutes, until whites are set and yolks begin to firm, or to desired doneness.
5. Garnish with additional herbs, if desired.
Notes:
- Other cheeses, such as cubed mozzarella or cheddar, may be substituted for goat cheese.
- One or a combination of herbs such as basil, rosemary, thyme, chives, or parsley may be used.
Recipe courtesy Safest Choice Pasteurized Shell Eggs
Ham, Apple, & Cheddar Crepes
Prep time: 20 minutes
Cook time: 30 minutes
Serves: 6
Ingredients
3 cups ham, shredded and warmed
1 3/4 cups 2% milk
1/4 cup unsalted butter, melted
4 large eggs
1/2 teaspoon salt
1 1/2 cups all-purpose flour
1 Granny Smith apple, halved, cored and thinly sliced
Cheese Sauce
1 tablespoon unsalted butter
1 tablespoon all-purpose flour
1 cup 2% milk
2 teaspoons Dijon mustard
1/4 teaspoon salt
1/4 teaspoon pepper
1 cup white cheddar cheese, shredded
2 tablespoons fresh chives, finely chopped
Directions
1. Pour milk, butter, eggs and salt in blender. Mix until well combined. Add flour. Mix for 15 to 20 seconds or until smooth. Let stand for 10 minutes.
2. Heat an 8-inch crepe pan or nonstick skillet over medium heat. Coat well with nonstick cooking spray. Pour 1/4 cup batter into pan, swirl to fully cover bottom of pan. Cook for 1 minute or until crepe begins to curl around edges. Carefully flip and cook for an additional 30 seconds or until set. Transfer to plate. Repeat with additional cooking spray and remaining batter. Layer cooked crepes between pieces of wax paper to prevent sticking.
3. Lay a crepe on clean work surface. Arrange few slices of apple on quarter of crepe; top with shredded ham. Fold crepe in half to cover filling and fold in half again to create triangular shape. Repeat with remaining crepes, apple and ham. Place on parchment-lined baking sheet and hold in warm oven until ready to serve, or up to 30 minutes.
4. For cheese sauce, melt butter in saucepan set over medium heat. Stir in flour until well coated. Cook, stirring constantly, for 2 minutes or until pale and smooth. Whisk in milk, a splash at a time, until smooth; stir in mustard, salt and pepper. Cook, stirring constantly, for 5 minutes or until thick enough to coat back of spoon. Remove from heat. Whisk in cheese, a small handful at a time, until melted and smooth.
5. Place filled crepes on each plate. Spoon cheese sauce over each crepe and sprinkle with chives.
Serving Suggestion: All the elements of the recipe can be prepared a day in advance and gently warmed before assembling.
Recipe courtesy National Pork Board