There are many fun Easter events for kids on Long Island this year, including Easter egg hunts, Easter Bunny visits, and Easter shows in Cold Spring Harbor, Elmont, Garden City, Great Neck, Glen Cove, Medford, North Babylon, Oakdale, Oyster Bay, Port Jefferson, Syosset, and Westbury.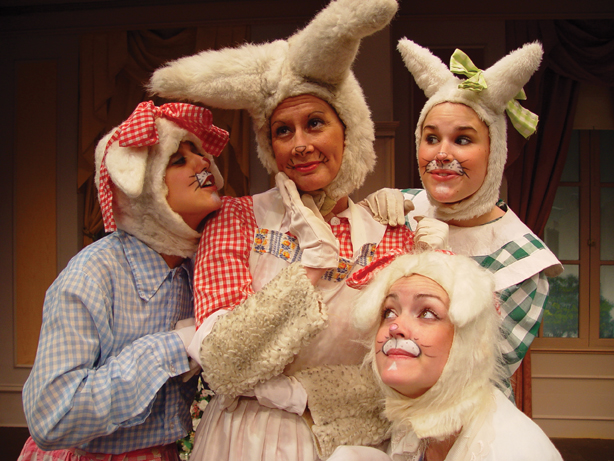 You're probably just a hop, skip, and jump from many of these fun and low-cost Easter events that are bound to delight the whole family.
Make and Bake Easter Treats
Feb. 18 - March 28: Enjoy Easter treats as you learn to Build a Bunny Hutch (in chocolate or gingerbread) at Riesterer's Bakery in West Hempstead. You'll also get to watch as the bakery makes some of the largest chocolate Easter bunnies on Long Island (up to 3 feet tall!).
March 20: Whether you're getting ready to hide your Easter eggs or eat some matzah during Passover, visit Basketworks in Syosset for an Easter or Passover Chocolate Workshop. You'll make and taste sweet treats to celebrate two fun holidays.

March 21: There will be eggs aplenty at What's Cooking's Easter and Passover Party in Oyster Bay. Kids will decorate Easter eggs and feast on holiday treats such as matzah pizza, chocolate chip macaroons, confetti cupcakes, and pink lemonade.
Easter Shows on Stage
March 2-30: Catch The Adventures of Peter Rabbit on stage at Theatre Three in Port Jefferson
March 23: Check out Mr. Easter Bunny, a delightful musical theater presentation about the season's favorite animal, at BroadHollow at Elmont in Elmont.
March 30: Cheer on the beloved prankster Peter Rabbit in a musical fantasy filled with song and dance at NYCB Theatre at Westbury in Westbury.
Easter Egg Hunts and Meet the Easter Bunny
March 23: Hop over to the Long Island Children's Museum for a Spring EGGstravaganza where you can meet Peter Cottontail, explore traditional Ukranian egg decorating, make bunny ears, enjoy egg relays and face painting, decorate your own sweet treat, and collect eggs as you hop from activity to activity. You can also celebrate the arrival of spring by starting your own carrot garden.
March 23: At the third annual Egg Hunt at Country Fair Entertainment Park in Medford, children can go on a scavenger hunt (separate hunts for ages 1-3 and ages 4-6), collect eggs, make an Easter craft, and visit with the Easter Bunny.
March 23: The playing field is leveled at the 20th annual Spring Egg Hunt at Belmont Lake State Park in North Babylon, where children hunt for eggs according to their age group then enjoy a petting zoo, pony rides, and a visit from the Spring Bunny. FREE!
March 23-24 and 30, April 6 and 13: The Tale of Peter Rabbit (and Benjamin Bunny) follows two furry friends and their mischievous adventures, based on the tale by Beatrix Potter. The show is playing at the CM Performing Arts Center in Oakdale.
March 24 and 30: Kids can make a holiday craft and spend some time bouncing and jumping on inflatables before they have Breakfast with the Easter Bunny at Pump It Up in Great Neck.
March 30: Kids and adults are invited to a Dinosaur Egg Hunt at the Garvies Point Museum in Glen Cove, where you can collect "dinosaur" eggs with special prizes inside, learn how dinosaurs lived and touch fossils, and enjoy a dinosaur craft and film. Register by March 23.
March 30: Bring a basket and collect as many eggs as you can find at Cold Spring Harbor Fish Hatchery & Aquarium's Spring Egg Hunt.
More Fun
Search for more fun family activities on Long Island and beyond in our full calendar of events!