HALLOWEEN TRICKY BITES
Related:
halloween recipes
,
halloween cookie recipies
,
halloween decorations
,
easy halloween recipies
,
These easy Halloween recipes are kid-friendly and festive options. Children can follow the steps to make owl cookies, spider brownies, chocolate and Jell-O hands, and edible witches' hats and brooms.
Owls, spiders, and monsters--oh my! Halloween isn't just for fun sized bars of your child's favorite candy. To get into the spooky spirit, try these kid-friendly recipes on for size. Children will love decorating their own witches' hats and frankenmouths, but parents should lend a hand with boiling water and melted chocolate.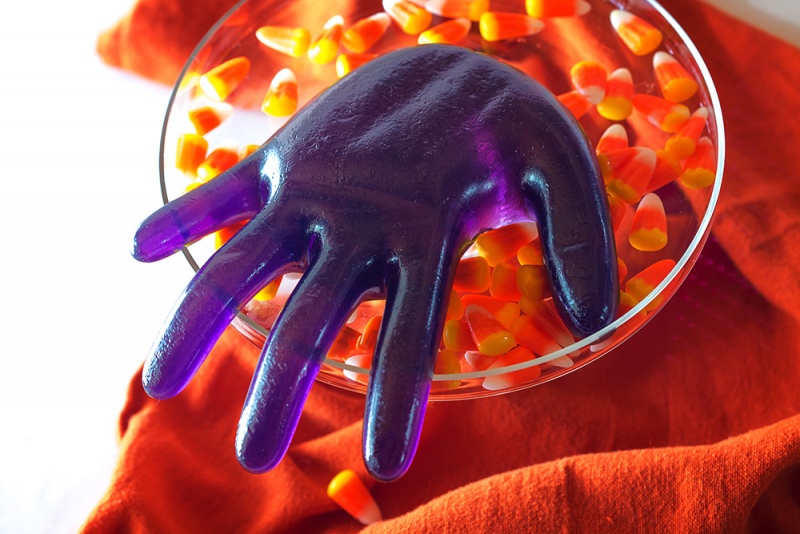 Purple Jell-O hand
Use a non-latex disposable glove and spray the inside with vegetable spray. Using two boxes of grape Jell-O mix, make the recipe for jigglers (see below). Allow the hot liquid to cool just a bit before carefully pouring into the prepared glove. Place a rubber band tightly at the end of the glove and place in the fridge overnight. Cut the plastic glove off the hand when set, working on the bottom of the hand so any nicks won't be seen.
2-1/2 cups boiling water (Do not add cold water.)
2 pkg. (8-serving size each) JELL-O Gelatin, any flavor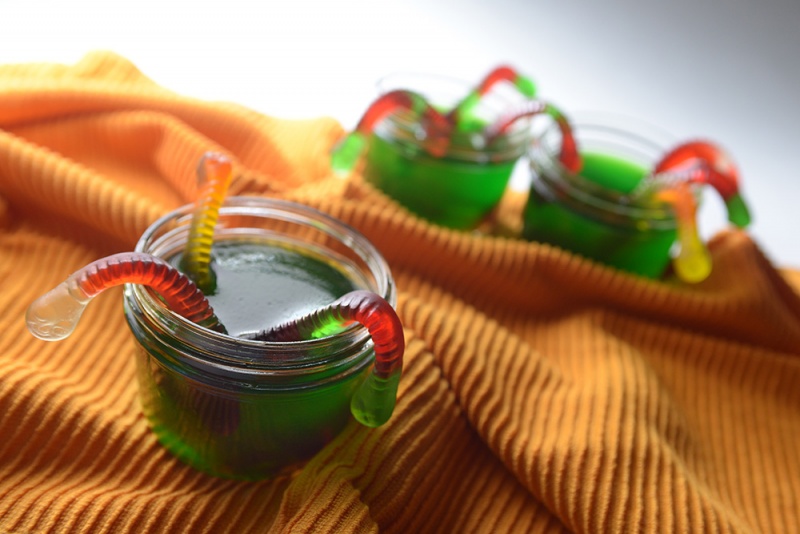 Wormy Jell-O
Prepare green Jell-O according to package instructions. Pour into mini mason jars and allow to set for 10 minutes in the fridge. Add gummy worms halfway into partially set mixture and chill until completely set.
Witch Hats
Buy thin, round chocolate cookies. Place a circle of icing in the center of the cookie and place an unwrapped chocolate kiss in the center, pressing down gently. The icing may spread around the kiss when pressed; if not, add a bit just around the base to make sure it is secured, and decorate the visible icing with orange sprinkles. Allow to set.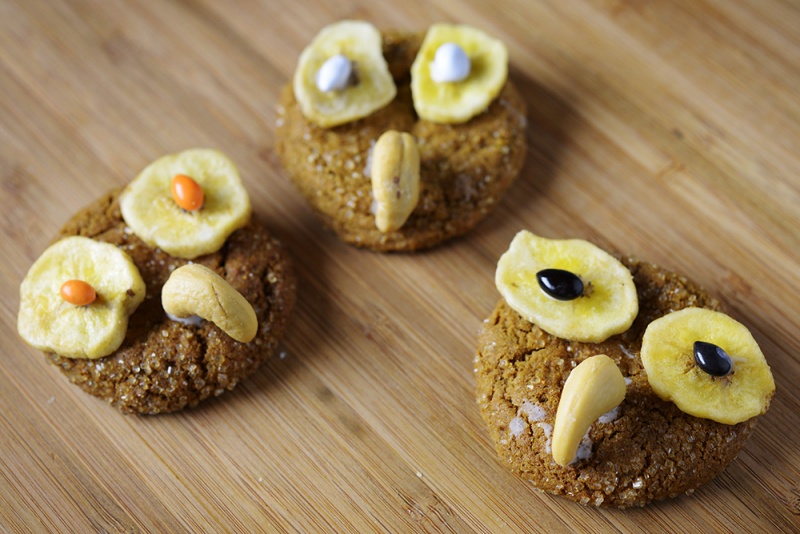 Cookie Owls
Place ginger cookies on your work surface. Use icing to adhere dried bananas "eyes" and a cashew for the beak. Chocolate-covered sunflower seeds also make great pupils. Allow icing to set.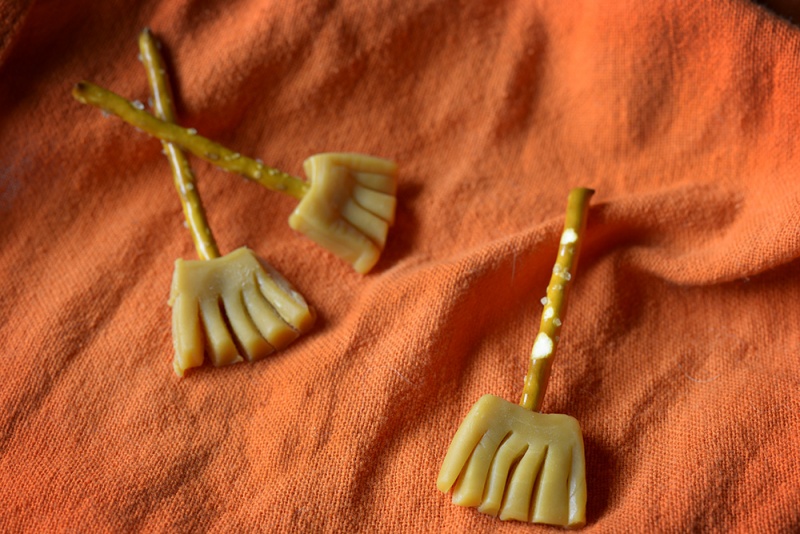 Little Witches' Brooms
Cut unwrapped caramels in half and then cut the halves so they taper slightly. Cut thin slices halfway up the halved caramels so they look like the bottom of a broom. Use a skewer and make a hole at the uncut end of the caramel. Press a pretzel stick into the hole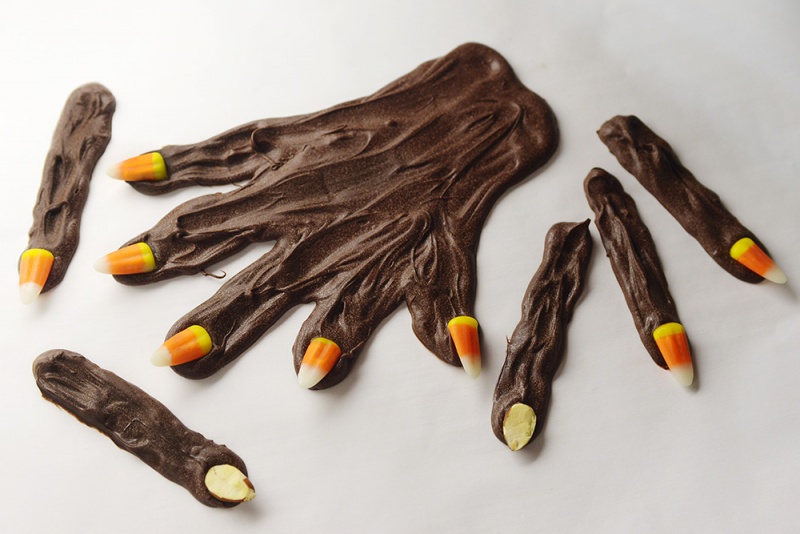 Chocolate Fingers
Melt dark chocolate over a double boiler or in the microwave. Do not let any water drip into the chocolate. Using a thin spoon, lay fingerlike strips of chocolate on parchment paper. Top each finger with an almond half or a candy corn to resemble nails and refrigerate to set.
To make a hand, trace a hand in pencil on parchment paper. Turn over so chocolate does not touch the pencil lead. Using melted chocolate, fill in the hand by pouring it gently and "painting" it on with a small pastry brush. Top with candy corn for fingernails
To create a double boiler, place a glass bowl over a pot with boiling water. Be careful to not let the water touch the bowl, as your chocolate may scorch. To melt chocolate in the microwave, cover a bowl with a paper towel and microwave for 30 seconds. Stir chocolate before placing in the microwave for 15 second intervals--stirring between turns--until chocolate is melted. Chocolate melts most evenly when it is broken into chips or small pieces.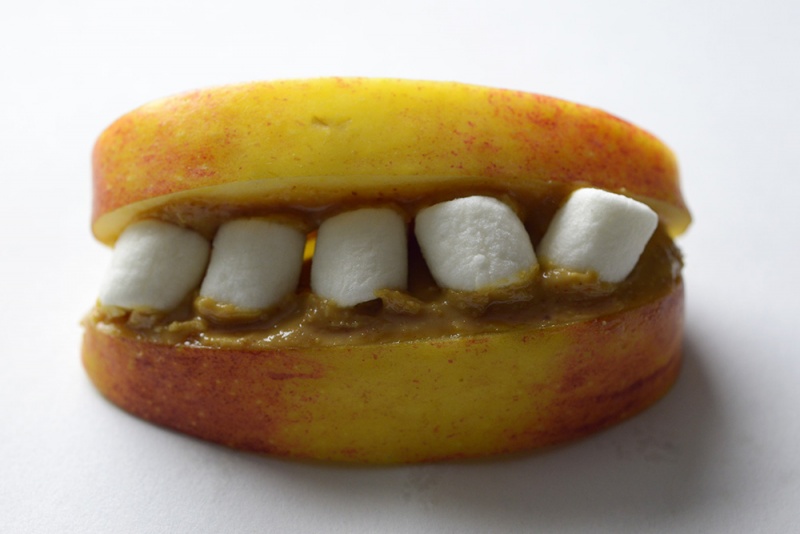 Apple Monster Mouths
Cut an apple into slices and drizzle with lemon juice to prevent browning. Spread peanut butter on one side of a slice, and place mini marshmallows on top of the peanut butter. Place peanut butter on another slice and top the marshmallow teeth.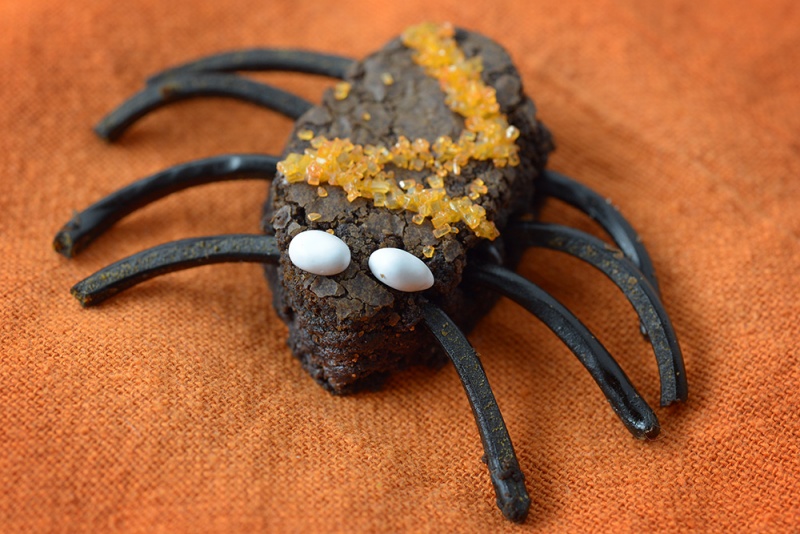 Chocolate Spiders
Make your favorite brownies from a store-bought mix or your own home recipe. (Try our amped-up recipe here, but omit the liqeur for trick-or-treaters.) Once cooled, cut brownies into ovals. Cut black string licorice into 8 legs and stick the licorice legs into the sides of the brownies. White or yellow M&Ms, white-chocolate covered nuts, or bite-size marshmallows can all serve as eyes; stick them on the front of the spider with icing or push them into the brownie. Use orange or black edible cake-decorating glitter--again, "pasted" on with icing--to decorate the spider's back.
All recipes by Maryjane Cooke. Photographs by Neal Willis.
Also see:
Fun and Easy Recipes to Make with the Kids: Goblin Delights
Fun and Easy Halloween Recipes from a Celebrity Caterer
Healthy Halloween Recipes from Weelicious
---
Get Your FREE Indoor Activity eGuide!
---
More Food & Nutrition Articles
Witches Brew Recipe for Halloween by MOMables
Halloween Treats: Eyeball Cake Pops, Monster 'Toes,' and 'Rotten' Apple Punch
5 Tips for Cooking with Kids Who Have Special Needs
Easy Recipe for New Cooks: Creamy Tomato and Rice Basil Soup
How to Teach Kids to Separate Food and Feelings