CLEVER DIY HALLOWEEN COSTUME IDEAS FROM CRAFTY PANTS
Related:
easy halloween costumes
,
diy children's costumes
,
no-sew halloween costumes
,
kid's hoodie costumes
,
Author Shannon Whitt of Crafty Pants: Clever Costumes offers a step-by-step guide an oversized hooded sweatshirt to create easy, froggy and doggy Halloween costumes for kids and parents alike.
Outerwear pulls double duty in these Halloween costumes, keeping your trick-or-treater both warm and festive as they collect their candy and celebrate the holiday. Use a brown hoodie to create a bear or monkey outfit, and a yellow or gold-colored sweatshirt makes a great lion base. Cut-off sleeves multitask as paws for hands or feet.
Brooklyn based mom and author Shannon Whitt offers two ideas for easy, fun creature costumes using everyday household objects.
DIY Froggy Costume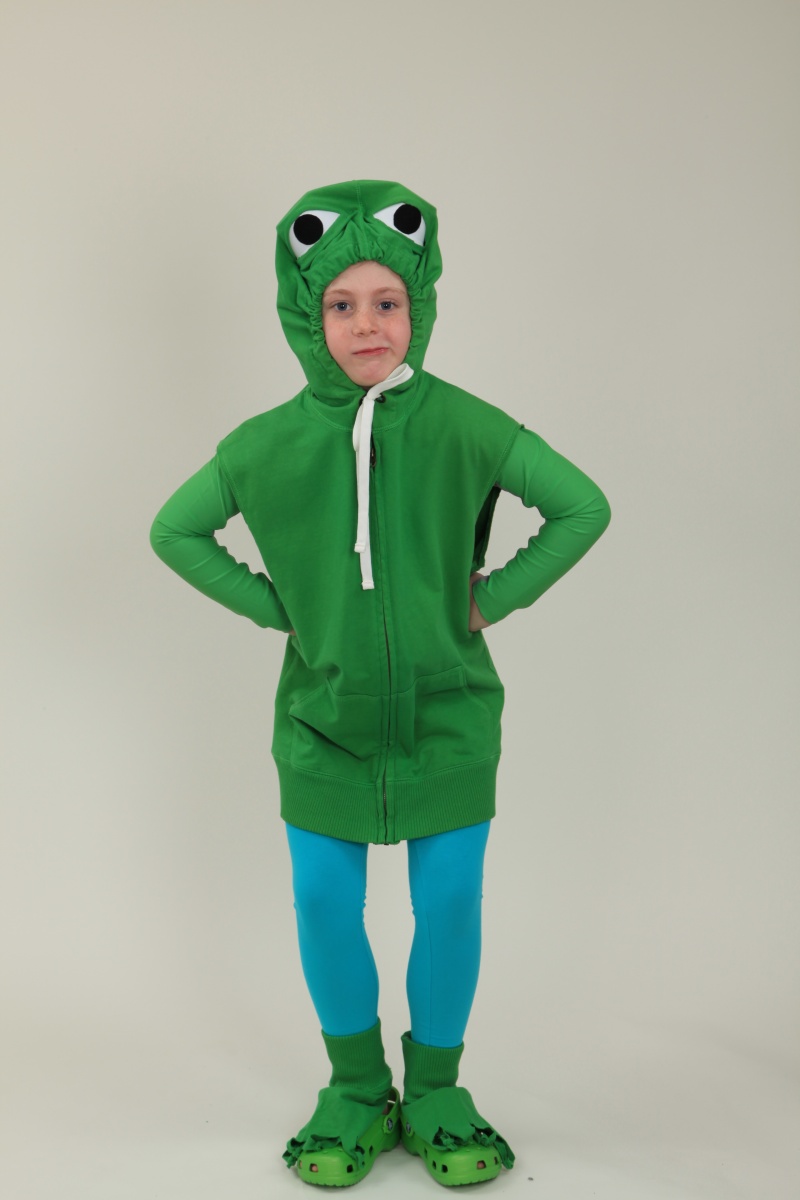 You'll Need:
Oversized, green hooded sweatshirt.
Fabric glue
2 small Greek yogurt tubs
Black craft felt or construction paper
Double-sided tape
Scissors
Froggy Body
To make the frog, cut the sleeves from the sweatshirt and put them aside for the frog feet.
Put on the sweatshirt, pull on the hood, and draw it tight around your face. Mark two 4 and a ½-inch-long lines, positioned 1 inch from the center of the hood and 4 inches from the drawstring edge.
When the sweatshirt is off, make a cut along both 4½-inch-long lines.
Put fabric glue on two small Greek yogurt tubs.
Place the tubs behind the slits. Glue the bottom edge of each tub to the bottom edge of the slit. Let dry. Stretch the top of the slits up and around the tubs in an eyelid shape. Glue and hold in place until the fabric glue begins to dry.
Let eyeballs dry completely. For eyeball centers, cut out two black circles from felt or construction paper and glue them to the cups.
Froggy Feet
Cut down each leftover sleeve to a length a little longer than your foot, heel to toe, including the cuff. Lay each sleeve flat with the seam down. Cut three small triangles out of the wider end and tie the tips of the points together.
Cut a 4- to 5-inch-long slit in the seam, starting just above the cuff.
Put your foot through the cuff and then out the slit so that the webbed foot flops on top of your shoe. Stick a strip of double-sided tape to the top of each shoe to hold each webbed "foot" in place.
DIY Puppy Costume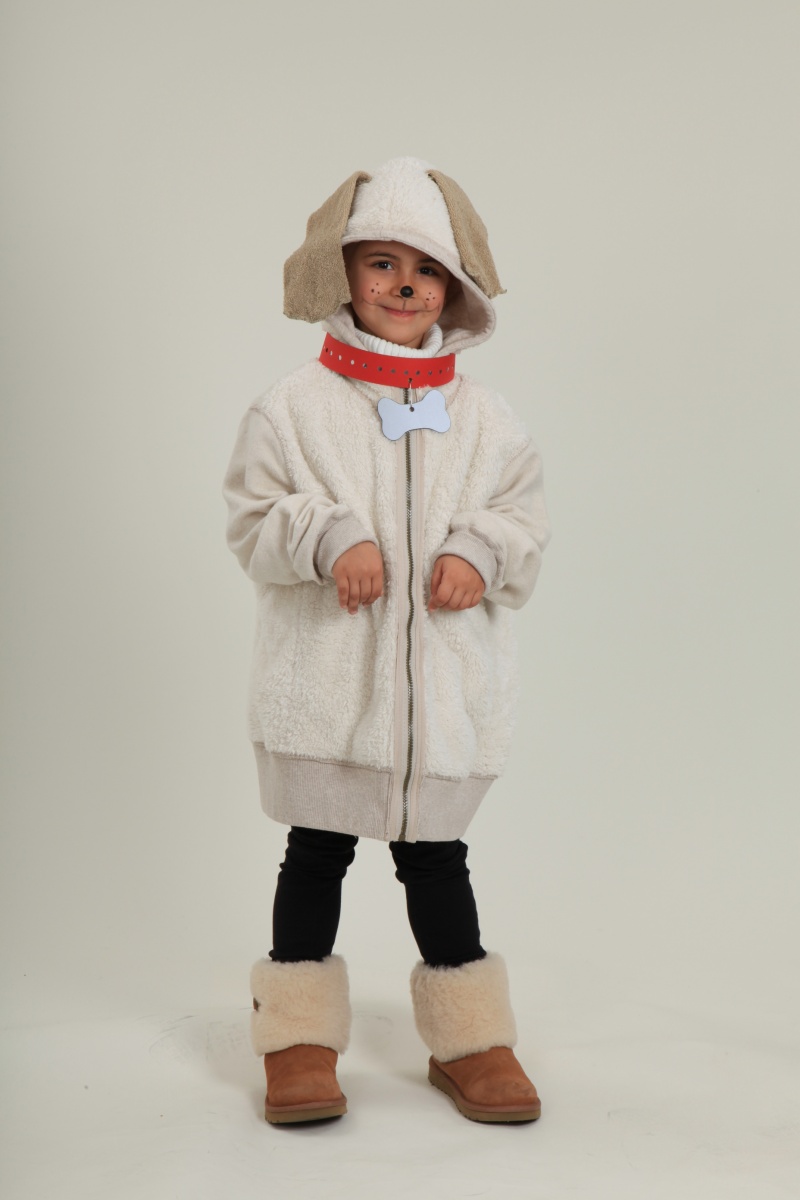 You'll Need:
Fuzzy-lined or appropriately colored hooded sweatshirt
Socks
Safety pins
Construction Paper
Double-sided tape
Silver poster board
Paper clips
Puppy Body
Turn a fur-lined hoodie inside out, or use any appropriately puppy-colored sweatshirt for the body.
Using a safety-pin, attach a pair of socks onto the hood for ears.
Puppy Collar
Cut two strips of construction paper 1½ inches wide by 11 inches long.
Cut one of the two strips in half and use double-sided tape to add the shorter pieces to either end of the longer piece. This way, the seams are on the sides and not right in the middle of the collar.
Use a safety pin to secure both ends of the collar together.
Dog Bone Tag
Make a bone stencil by folding a square piece of paper in half. Draw half a bone shape on the crease line and cut it out.
Lay bone stencil flat and trace it on a piece of silver poster board. Cut the bone out of the poster board.
Punch a hole in the collar and the tag. Attach the two with a paper clip.
These costume ideas were excerpted from Crafty Pants: Clever Costumes (Downtown Bookworks; $16.99) by Shannon Whitt, a freelance set decorator and prop designer who has worked extensively in theater, television, and print. Whitt lives in Brooklyn with her husband and two sons who, along with their neighbors, modeled for the book.
Also See:
Easy DIY Costumes from Local Moms
Make a Boo-tiful Ghost Costume and No-Sew Tutu
More Costumes Articles
Literary Costumes Your Bookworms Will Love
Easy DIY Halloween Costumes from Local Moms
6 DIY Halloween Costumes on a Budget
DIY: Tiger Mask and Owl Mask from 'Petit Collage'
All Aboard for a DIY Train Halloween Costume