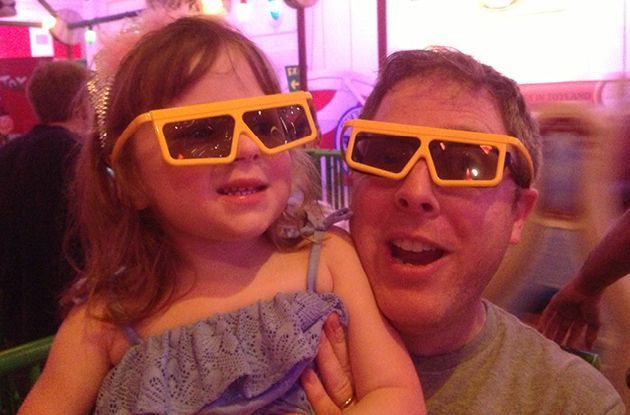 Exceptional, Defined: How One Local Parent Overcame His 'Gay Dad Guilt'
Get kid-friendly activities sent to you!
Get the Best Family Activities
Sent to You Weekly!
"What's Rosada's favorite thing in the world?" I asked.
Sutton grinned. "The purse that her mom bought her!" That's the other thing that broke my heart: Even in her fantasies, Sutton couldn't seem to conceive of anyone else having a family like ours.
I made a big deal about Rosada. I had Sutton describe her to everyone we knew. I wrote a blog post and tried in vain to get the Henson people to pay attention. As a special surprise for my daughter, I emailed the picture of Rosada to a company that makes dolls from children's drawings. Rosada would soon be a furry, plush reality.
When the package arrived, I ran it over to Sutton, practically giddy to see her reaction. She pulled the toy out of the box and stared at it blankly.
"Remember?" I said. "That's Rosada. The girl Muppet you created!" Granted, a few months had passed since I placed the order.
Sutton shoved the doll back in the box and hid it beneath the tissue paper. "Daddy," she informed me. "She's creepy." I'd predicted one of two reactions to the doll: complete euphoria or complete and utter euphoria. I never imagined she'd be dismissive of the female Muppet we'd worked so hard to create. I started to wonder if I was overthinking things. Maybe being the only girl in the family didn't make my daughter feel odd or deprived. Maybe it made her feel special. Maybe when she was counting up boys and girls, she actually liked being in the smaller group.
The following week, I found myself with another opportunity to broach the subject.
"Daddy," Sutton observed quietly, "We're the only ones in gymnastics class who have two dads." It was a strange observation, because there were no parents in the classroom, and half the kids were brought there by their nannies.
"How do you know that? Did you ask the other kids?"
"No."
"You just kind of figured?"
"Yeah."
"Well, you're probably right. Not a lot of people have two dads."
"Yeah," she agreed. "Most people have a dad and a mom."
This was my chance to pose my question again, to see what she was really thinking. This time I was careful not to be too leading with my words: "How does it make you feel to have two dads?" I asked.
I expected a shrug at best, perhaps a dismissive "good." Maybe even a "huh?" Instead, what I got was a wild laugh that came without hesitation. My little girl threw her hands in the air and instantly put all my fears to rest. "I looooooooooove it!" she shouted.
More parent essays about non-traditional families:
Taking My Son to His First Gay Wedding by Rachel Aydt