Related: prevent kitchen fires, keep family safe, home fires start in kitchen, tips to prevent fires,




Two out of every five home fires start in the kitchen. We've got 15 tips to keep your family safe and prevent kitchen fires, especially during the busy food-based holiday season.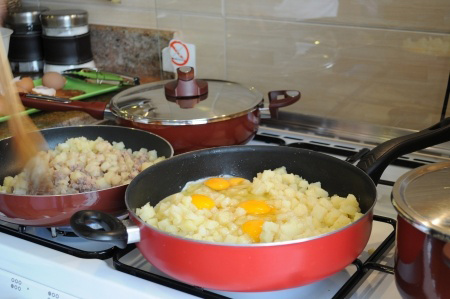 According to the latest NFPA research, two of every five home fires start in the kitchen—more than any other place in the home. Fires that start in the kitchen can be dangerous when left burning for only a few minutes and may result in significant damage and injuries.
Paul Davis Restoration, Inc., a leading national provider of water, fire, and mold damage clean up and restoration services for residential and commercial properties suggests the following tips to help keep homeowners and their families safe:
Stay in the kitchen when you are frying, grilling, broiling, or boiling food.
If you must leave the room, even for a short period of time, turn off the stove.
When you are simmering, baking, or roasting food, check it regularly, stay in the home, and use a timer to remind you.
If you have young children, use the stove's back burners whenever possible.
Keep children and pets at least 3 feet away from the stove.
When you cook, wear clothing with tight-fitting sleeves.
Keep potholders, oven mitts, wooden utensils, paper and plastic bags, towels, and anything else that can burn, away from your stovetop.
Clean up food and grease from burners and stovetops.
Smoke alarms should be installed in the kitchen and throughout the home; never remove or disable smoke alarms.
Test smoke alarms monthly by pushing the test button.
Install carbon monoxide detectors.
Have a family plan in place and conduct a home "Fire Drill" at least twice a year.
Have a portable ladder in each second floor room.
Check fire extinguishers for expiration and replace as needed.
Have an updated, emergency first aid kit.
Paul Davis Restoration, Inc. is a national franchisor and leading provider of restoration services for residential and commercial properties. Paul Davis Restoration also provides complete remodeling services and has franchise locations throughout North America with owners and technicians who are certified by The Institute of Inspection, Cleaning and Restoration Certification.
Also see:
How to Avoid Fire Hazards During the Holidays
---
Get Your FREE Indoor Activity eGuide!
---
More Safety & First Aid Articles
8 Things to Know About Summer and Senior Citizens
6 Tips to Prevent Burns During Fourth of July Celebrations
12 Things to Consider When Buying Sunglasses
Tips for Treating Poison Ivy, Oak, and Sumac
Safety Tips for Using Fireworks on July 4th

Be a good fellow parent and share this with a friend who would be interested
Local Safety & First Aid Sponsors
See Our Safety & First Aid Directory