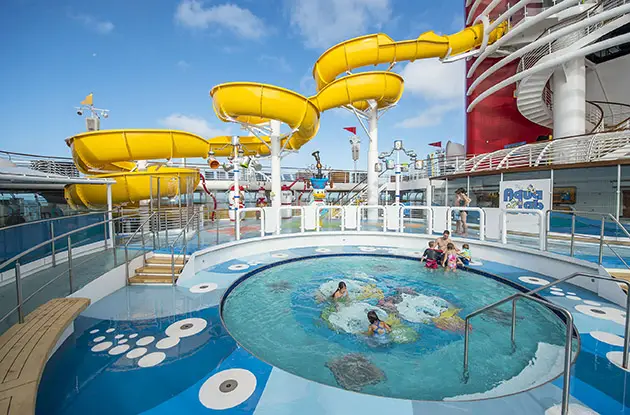 How to Choose the Perfect Family Cruise for Your Crew
Find a family cruise that's a good fit for your family with these cruise tips.
Get kid-friendly activities sent to you!
Get the Best Kid-Friendly Activities
Sent to You Weekly!
Do you want flexible or set dining times?
Each cruise line has a multitude of restaurants and dining choices. Some offer flexible, casual dining where you can pick and choose from whatever cuisine you want. Others are more formal, giving you set times to dine each night. Almost all cruises will offer buffets as well as dining rooms, room service, and often at least one formal meal per trip.
What type of entertainment interests you?
Many cruise lines offer big-name performers and Broadway-worthy productions. Others have acrobatic shows, character meet-and-greets, or activity zones so the family can entertain themselves at a water park, ice-skating rink, or bowling alley.
What atmosphere do you want?
Do you prefer a traditional, more formal ship or something more casual? A themed cruise or a trip with unrelated but exciting activities? Do you want to pick activities as you go, or to be scheduled? Some ships have a party atmosphere, while others are more laid-back. Figure out the ambience you desire overall as well as in the mornings and evenings.
What is your perfect itinerary?
From the New York area, the Caribbean is a popular choice for families. Other destinations include city stops in New England and Canada or beach-focused trips to the Bahamas and Bermuda. Some cruise lines stop in Orlando, FL, which is perfect if you want to hit the theme parks or other nearby attractions. Just keep in mind many of the organized activities on land can be expensive, so you may want to plan ahead and book your own entertainment.
Read the fine print
While some cruises are truly all-inclusive, others may charge more for certain things on board, excursions, or for activities during stops on land. Know what is—and isn't—included in your ticket price, so you don't have any surprises when it's time to disembark.

RELATED:
Get Weekend Activities Sent to Your Inbox
Family-Friendly Cruise Lines Departing the New York Area

Main image: AquaLab, a new water playground on the Disney Magic.
Matt Stroshane