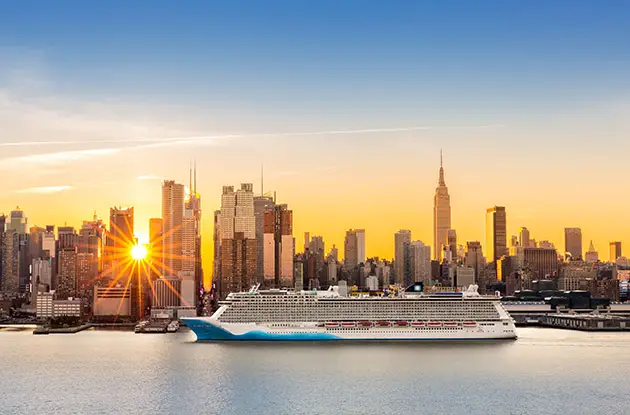 Family-Friendly Cruise Lines Departing the New York Area
Here are some of the most family-friendly cruise lines with the best attractions for kids departing from the New York area.
Get can't-miss family activities sent to you!
Get the Best Kid-Friendly Activities
Sent to You Weekly!
Where to? The ships embarking from New York have itineraries to the Bahamas and Florida, Bermuda, Canada and New England, Eastern Canada and Quebec, and transatlantic (one-way) cruises to London, England. Cruises are also available to the Eastern, Western, and Southern Caribbean. Norwegian Cruise Line is a specialist in the Caribbean and has its own island, Great Stirrup Cay, a stop on the Western Caribbean as well as the Bahamas and Florida trips.
Highlights: Norwegian Cruise Line introduced 'Freestyle Cruising,' which means you can follow your own schedule for activities and eating. This cruise line is famous for its nighttime performances and meal entertainment such as Cirque Dreams, an acrobatic and dance show.
Kids clubs: The Guppies Nursery (exclusively on the Norwegian Escape), offers care for children ages 6 months to 3 years. Norwegian Cruise Line offers youth programs divided by age groups for children ages 6 months to 17 years. Activities might vary from ship to ship and depending on the age of your child, but some offerings include circus school, theme nights, parades, treasure hunts, and painting.
Dining: Options include specialty dining, buffets, room service, and dining rooms. There are no set dining times, but reservations are available.
Best for: Families who want to make their own schedule during the day and love shows.
To book: ncl.com


Royal Caribbean International
Royal Caribbean cruises are a popular choice for families, with nonstop action for every age. Anthem of the Seas and Adventure of the Seas sail from Cape Liberty, NJ.
Where to? Cruises departing Cape Liberty head to the Bahamas, Bermuda, Eastern and Southern Caribbean, and also have itineraries to Bermuda and Boston, Canada and New England, and Bermuda and Caribbean. Cruises to the Bahamas will enjoy a stop at CocoCay, Royal Caribbean International's private island, and passengers can also spend a day in Orlando exploring theme parks, the Kennedy Space Center, or Cocoa Beach. Royal Caribbean International also has Fall Foliage Northbound Cruises to experience peak fall, scheduled for September 2018.
Highlights: Royal Caribbean is famous for its never-ending list of innovative play zones and activities, including a rock climbing wall, surfing simulator, trapeze school, and skydiving simulator. A partnership with DreamWorks brings character visits and parades on board from movies such as Shrek and Kung Fu Panda (available on Anthem of the Seas). Entertainment varies per ship but can include Broadway musicals such as CATS or Grease as well as original productions.
Kids clubs: Fun and educational programs are offered by age group for children ages 6 months to 17 years. A drop-off nursery is offered on select ships including Anthem of the Seas. Royal Caribbean has great teen entertainment including parties and nightclubs, and offers group and in-cabin babysitting for children ages 1 and older. Select cruises have a Baby Splash Zone for children who are not completely potty trained.
Dining: Choices range from casual to elegant, such as Johnny Rockets diner, Chef Jamie Oliver's Jamie's Italian (Anthem of the Seas), and Chef's Table for five-course gourmet meals.
Best for: Active families with teens or tweens. Cruisers who are always on the go and want to try everything. Musical lovers. Screenagers who will appreciate the high-speed Wi-Fi.
To book: royalcaribbean.com


RELATED:
Get Weekend Activities Sent to Your Inbox