1. Lawn Games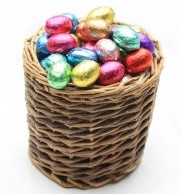 Venture beyond the traditional Easter egg hunt and create a series of lawn games. Try a family relay race while balancing an egg on a spoon; "hopping" like a bunny in a sac race across the yard or even an egg toss (similar to a water balloon toss) with hard boiled eggs.
2. Family Outing
Take advantage of your time together by doing something as a family. You could attend Easter service, take a picnic to a park, head to the beach (if you live near one), take a Spring family ski day, or even do something completely non-traditional like go to Disneyland! It's not every day that the whole family can be together without the interference of work or school. Whatever you do, leave the cell phone behind and be present and together all day long!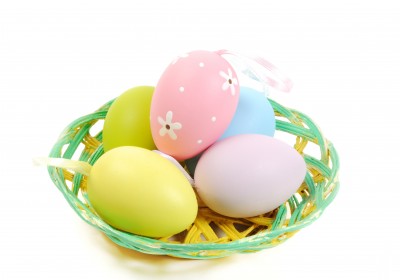 3. The Hunt is On
Gather all of the children inside for a snack and sneak outside to hide eggs everywhere! Divvy out baskets and let your kids loose to run around the yard gathering eggs and candy! It can be really fun to put homemade coupon cards inside of the plastic eggs too. Coupons can be anything from "ice cream with daddy" to "extra bedtime book." It doesn't have to be all about candy!
4. Scavenger Hunt for Eggs
Rather than the traditional egg race, slow things down a bit with a scavenger hunt. It can be elaborate with clues that send the children around the house or park, or simple such as "next, look for a red egg". Regardless, this slows down the activity, evens out egg distribution, and encourages kids to work together.
5. Arts and Crafts
When Easter rolls around each year, my kids like to make bunny masks and decorate eggs. We also create an interactive dessert where kids can decorate their own cookies or cupcakes, which is not only fun, but yummy too. Everyone enjoys being creative and there are always smiles around the table.
6. Family Meal
Make Easter, or any holiday, a time to gather with relatives and close friends. Some of my favorite memories are those spent around the "kids' table" at holidays. The meal can be traditional such as an Easter ham or suited to your family's tastes. Whatever you prepare, share the cooking, and the day, with family and those you consider family.
7. Ribbon Untangle
As kids get older, hiding Easter baskets gets harder. Instead of hiding, assign each child a ribbon color and have them follow the string to their basket. Strings can go around trees, in and out of the house, tangled with other colors. The older the child, the more challenging the tangle should be. At the end of the string, your child will find their basket!
8. Serve Others
Remember Easter shouldn't be all about the candy and egg hunt. Many churches, shelters, and nursing homes welcome volunteers to make and serve meals or spend quality time with their residents. This is a good opportunity to relate the meaning of Easter to serving and giving our time to others.