Fly with the Blue Angels, meet an astronaut, and soar into space at the Cradle of Aviation Museum in Garden City, NY, an institution that celebrates the grand history of aviation on Long Island.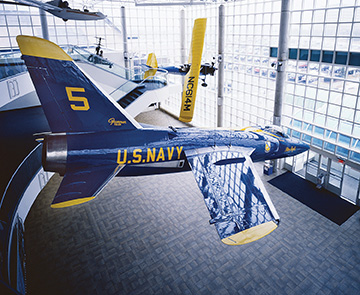 This Grumman F-11A Tiger, developed in Bethpage in 1954, hangs in the museum's visitor center atrium. The Navy's Blue Angels aerobatic team flew Tigers for more than 10 years. Photo by Rod Leonhard

The Cradle of Aviation Museum in Garden City is dedicated to preserving the rich history of aviation on Long Island. The museum is located in central Nassau County on land that was once part of the Mitchel Air Force Base, and it is near the former Roosevelt Field, where Charles Lindbergh took off on his historic 1927 nonstop flight to Paris. The area was dubbed the "cradle of aviation" in the mid-1920s because many important flights began there.
A wide variety of permanent exhibits, a planetarium, and a motion simulator all contribute to the museum's mission to educate visitors of all ages on aerospace science and technology.
Year-Round Activities at the Museum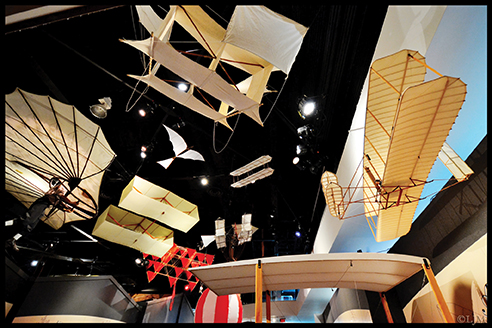 Visitors to the Cradle of Aviation Museum can learn about the history of flight. Photo by Rod Leonhard

The museum's permanent exhibits highlight Long Island's aviation history, spanning from World Wars I and II to space exploration and what aviation is like today.
Exhibits feature replicas and models of 75 air and spacecrafts, 30 hands-on experiences including several flight simulators (pictured at right), and six cockpits that visitors can sit in.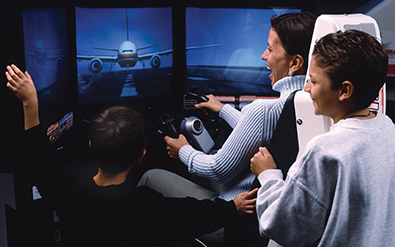 Short films about the history of flight are shown throughout the exhibits, and the museum is home to the Leroy R. & Rose W. Grumman Dome Theater, where you can watch a rotating schedule of documentary-style films on a 70mm film format—that's 10 times larger than a regular movie screen.
The JetBlue Sky Theater Planetarium currently features three shows: Passport to the Universe; One World, One Sky: Big Bird's Adventure; and Cosmic Collisions. Each show is preceded by a short Your Night Sky presentation, in which viewers travel through the seasonal night sky to learn about the constellations, hear mythical stories of gods and goddesses, and locate and identify planets and stars.
Fly with the Blue Angels or board a deep-sea submarine in the X-Ride Theater, a 30-seat, giant motion simulator (riders must be at least 3 feet tall).
If all the aviation makes your little astronauts hungry, stop by the Mars-themed Red Planet Café for kid-friendly fare or head to the museum shop, where young ones can try astronaut ice cream and other space treats.
Kids ages 6 and younger will enjoy the Junior Jet Club play area, where they can try their hands at collecting moon rocks, flying space shuttles, and building rockets. Access to the Junior Jet Club is included with museum admission, or you can skip the rest of the museum and pay $2.50 for entry into the area. Photo by Rod Leonhard

Make a Day of It
The Cradle of Aviation is located on Museum Row in Garden City, which is also home to the Nassau County Firefighters Museum and Education Center, Long Island Children's Museum, and Nunley's Carousel.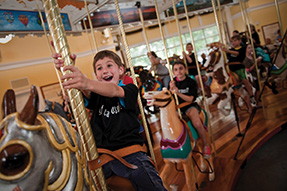 Nunley's Carousel, the century-old carousel located on Nassau County's Museum Row, adjacent to the Cradle of Aviation Museum, is open Tuesday-Friday 12-3pm; weekends and holiday Mondays 12-5pm. Admission is $2 per ride. Photo by Steve Pfost

Annual Attractions at the Museum
In the spring, visit the museum for its annual Astronomy and Space Day to enjoy a full day of space-themed workshops, presentations, screenings, and activities.
Every summer, the museum holds a summer camp for children ages 9-12, who can spend four weeks learning about space and science with the museum's instructors.
Near the beginning of December, the museum hosts the annual Long Island Festival of the Trees, where you can see designer-decorated Christmas trees and enjoy kids' activities, holiday entertainment, a gift market, and visits with Santa.
Throughout the year, the museum hosts regular talks and meet-and-greets with astronauts, pilots, and airline crew members.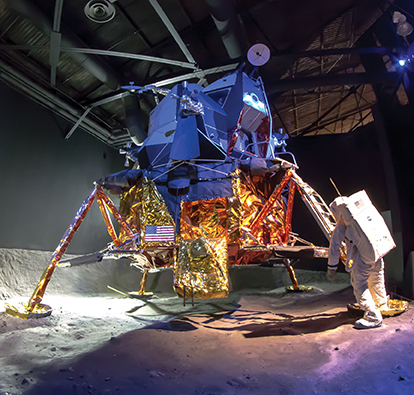 The museum's exhibits go beyond the history of flight to educate visitors about aviation today and even space exploration. Photo by Russ Loret

Details
Address: Cradle of Aviation Museum, Nassau County's Museum Row, Charles Lindbergh Boulevard, Garden City
Hours: Tuesday-Sunday and holiday Mondays, 9:30am-5pm
Admission: $14; $12 children and seniors. With a show: $19; $17 children and seniors.
For more information: 516-572-4111 or cradleofaviation.org