Quebec's Maritime Region is one of the best in the world for whale-watching, as it's home to 13 species, including Beluga whales. Here, one mom recounts her family's trip to the area with tips on what to do, where to go, and where to stay.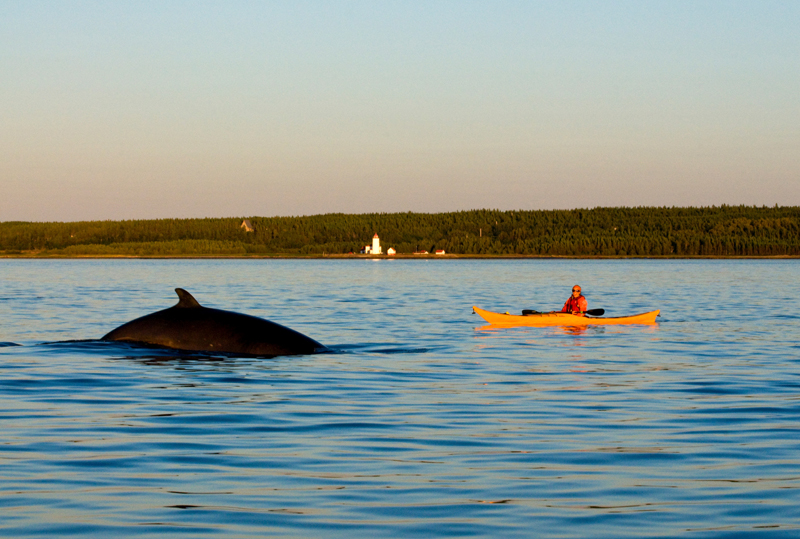 Le Québec maritime / Marc Loiselle
Do your children believe in giants? Why not take them to where they live and thrive?
Just nine hours or so from the New York City area, you'll find the Quebec Maritime Region's 'Whale Route'—considered one of the best regions in the world for sightings of 13 species of whales, particularly those adorable white Belugas (about 1,100 in the area) and four migratory types: Fin, Minke, Blue, and Humpback. Imagine seeing a many-tons-heavy whale blow, hearing its haunting song, and having it rise before you high into the air. You might even be lucky enough to see a highly endangered, three-school-bus-long, 100-ton Blue Whale!
This French-speaking region of Quebec, where the fresh water from the St. Lawrence River mixes with the cold water of the North Atlantic to form nutrient-rich, food-filled waters (a banquet for those whales and seals) is delightful. Le Québec Maritime is the easternmost tourism zone in the province of Québec. It is made up of the lush, wilderness regions of the Bas-Saint-Laurent, Gaspésie, Côte-Nord (Manicouagan and Duplessis), and Îles de la Madeleine, which are united by a common asset: the sea.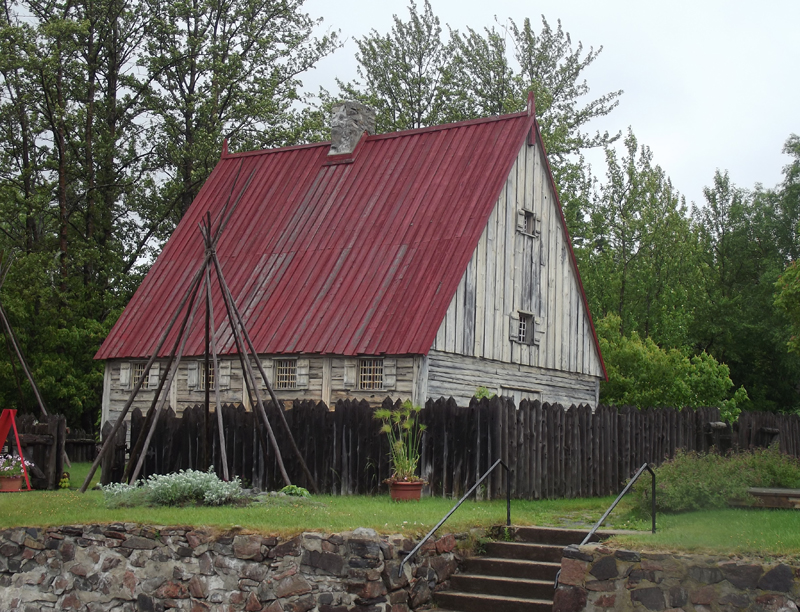 Here, you'll enter a world far from home in ambiance and culture. You'll find small New England-like villages, like the pretty town of Tadoussac, filled with tidy wooden homes topped with sloping red tile roofs; fabulous French bistros and tiny, rustic, yet sublime seafood cafes; a pleasant absence of chain stores and restaurants; and a decidedly French feel. Yes, you can definitely brush up on your high school French here, although you'll also be just fine with English.
Folks from the area say that visitors are practically guaranteed to view whales during their visit, but they advise that you stay for at least three days to better the odds. The warmest and best weather conditions are from June through early September, and that time period offers the best whale-watching opportunities as well, although Belugas live here year-round.
Maritime Adventures
You can opt for an action-packed Zodiac inflatable boat, typically with a 12-passenger limit, a large whale-watching cruise boat, or a kayak tour (yes, kids can go on all of them,) or even just take the free ferry from Tadoussac to Baie-Sainte-Catherine (four other ferry routes are offered in Maritime Quebec as well) across the fjord to look for whales, seals, loons, and other sea life. Some people just stay on shore—but you may be astonished when the giant creatures approach at just five yards away.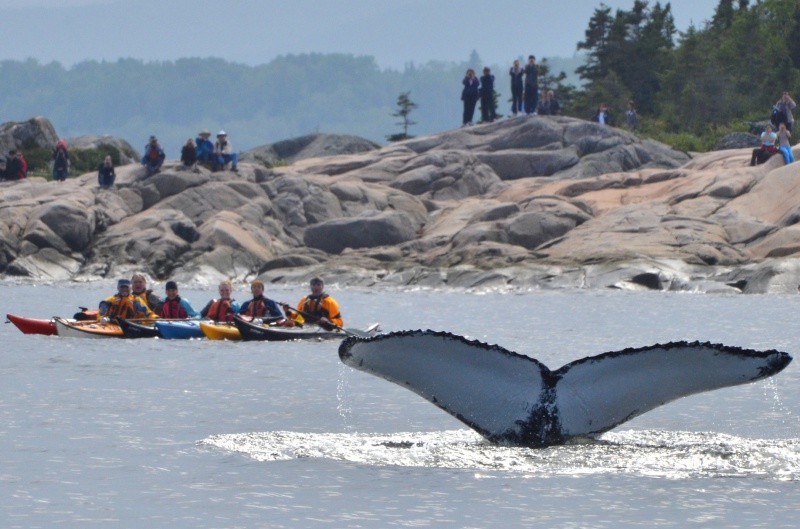 Le Québec maritime: Marc Loiselle for Tourisme Côte-Nord – Manicouagan
On a recent visit to Tadoussac's Marine Mammal Interpretation Centre, an exceptional facility that attracts 35,000 visitors a year, I saw belugas frolicking just off the coast. At CIMM, you and your kids can take a free class in making 'whale music' with a balleinophone, observe enormous whale skeletons and models, and view an excellent film on whales produced by the center.
Other off-shore observation and education sites are listed on whales-online.net by the Group for Research and Education on Marine Mammals.
Your kids will never feel the same about roller coasters after experiencing a real-life sea adventure! On our Zodiac excursion, run by Essipit, we plunged into huge waves and felt like actors in the movie Perfect Storm. We were thrilled to see a Minke whale tossing and turning just yards away from us, with its pink-and-white belly and face fully visible. We also saw grey seals swimming right by our boat, and other whales in the distance.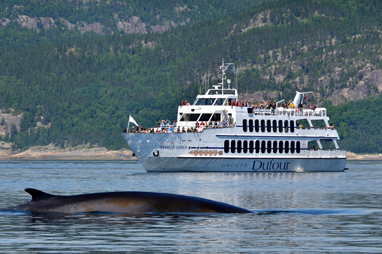 Le Québec maritime: Marc Loiselle for Tourisme Côte-Nord – Manicouagan
A more sedate trip is sea kayaking, offered by many tour companies in the region. We opted for Mer et Monde Ecotours, owned by a young couple who operate a gorgeous campground on an exquisite piece of coastline. Some families just sit for hours at their wildflower-bedecked campsites, watching whales swim by the shoreline. Mer et Monde offers ready-to-go camping -- renting tents and all equipment (even sleeping bags). Another excellent sea kayaking operator is Ferme 5 Etoiles Family Vacation Site, which also features accommodations, restaurant, spa, and an animal sanctuary on premises with wolves, sled dogs, deer, owls, raccoons, a cougar, and a moose.
Nearby we visited the Cap-de-Bon-Désir Interpretation and Observation Center, a well-designed facility with a pretty lighthouse and more wonderful whale observation sites and information.
Where to Stay
All ranges of accommodations are available, from camping or 'glamping' in treehouse cabins, to cozy inns, rental condos, and full-service hotels.
For a special treat, take your kids to sleep in a treehouse at Canopée Lit, a delightful little treehouse-filled forest enclave run by three young French cousins. These tiny homes are eco-designed to fill all your needs in the smallest space—too small for teens, probably, but ideal for younger kids.
As you and your kids experience the whales and wilderness of the Quebec Maritime, you're guaranteed to forget all about phones, computers, and technology. What better vacation for your family?
For more information on the Quebec Maritime Region, visit quebecmaritime.ca.
Irene Middleman Thomas writes about travel, parenting, lifestyles, business, and other topics from her Colorado home. Her website is irenethomas.com.