Check out our guide to fireworks and other July 4 events that celebrate Independence Day on Long Island, including things to do in East Northport, Garden City, Glen Cove, Lake Grove, Old Bethpage, Patchogue, and Wading River.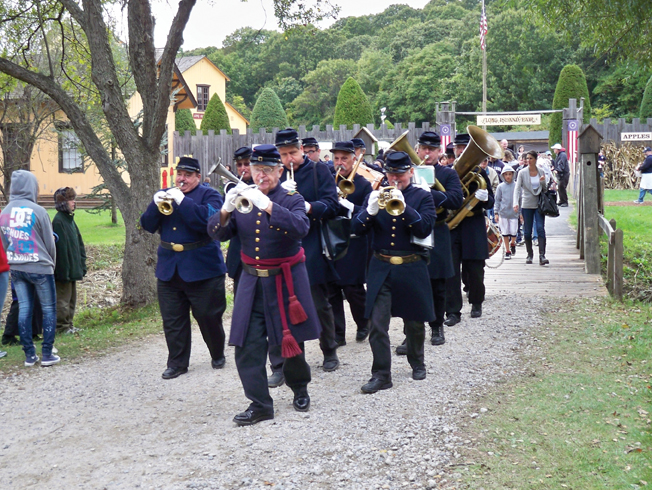 The week of July 4th offers plenty of Independence Day-themed opportunities to relax and enjoy cool music, games, food, and more. Check out these family-friendly events in Nassau County and Suffolk County.
Nassau County
Garden City: Show your true colors as you learn to make Patriotic Lollipops with Marie Ilardi at the Garden City Public Library on July 2. Children must register for this event with a library card. FREE!
Old Bethpage: The 1861 Independence Day Celebration at Old Bethpage Village Restoration on July 4 is a re-creation of a Long Island July 4th celebration at the beginning of the Civil War, honoring the soldier recruits of the New York Volunteers. Festivities include a National Patriotic Picnic (bring your own picnic lunch), band concerts and fiddle music, children's games, rifled-musket firings, and a patriotic parade and ceremony.
Glen Cove: Celebrate Fourth of July Weekend at the Sea Faire Festival at Captain's Cove, July 6-7. Grucci fireworks, pirate treasure hunts, craft vendors, food, live music, kids' entertainment, and rides on the oyster sloop Christeen are all part of the fun. FREE!
Suffolk County
Patchogue: Listen to a patriotic concert by the Atlantic Community Band during the Lion's Club 4th of July Parade on July 4 at the Patchogue Theatre for the Performing Arts. FREE!
Wading River: Enjoy rides, games, prizes, festival foods, and fireworks (July 6 only) at the Peconic Bay Medical Center Family Festival, to be held July 4-7. Free admission; $30 wristband for rides.
East Northport and Lake Grove: Children can enjoy patriotic story times at two nearby Barnes and Noble stores. On July 5 at 10:30am, head to the Huntington Square Shopping Center at 4000 East Jericho Turnpike in East Northport. On July 6 at 11am, drop by Smith Haven Mall at 600 Smith Haven Mall in Lake Grove. Both are FREE!