Brooklyn mom Jennifer Perillo, cookbook author and the celebrated blogger behind InJenniesKitchen.com, shares her recipes for chocolate chess pie and brown butter apple pie, including a recipe for foolproof pie crust you'll want to hang on to.
Cooking with kids is a wonderful way to create lasting holiday memories. The key to keeping it fun and enjoyable for everyone is to remember that you need to adjust your way of doing things with little ones underfoot. Here are a few tips I've learned while baking up sweet memories with my own children.
Be patient. Recipes will take longer to prepare when little fingers are doing the work, so make sure you have enough time before starting a baking project.
Embrace the mess. Be prepared for spills. My floors have seen their share of flour, sugar, and eggs that accidentally rolled off the counter. Remind yourself that you're there to have fun. Keep towels on hand, and let kids help with the cleanup, too—they'll have to do it on their own one day.
Play with your food. Kids are very tactile, and they love recipes that keep them active. That's the reason I'm sharing two of my favorite pie recipes. Kids can roll out the dough and help crimp or flute the edges to seal the crust. Don't fret about it looking perfect—so long as you follow the recipe, it'll still taste delicious!
Chocolate Chess Pie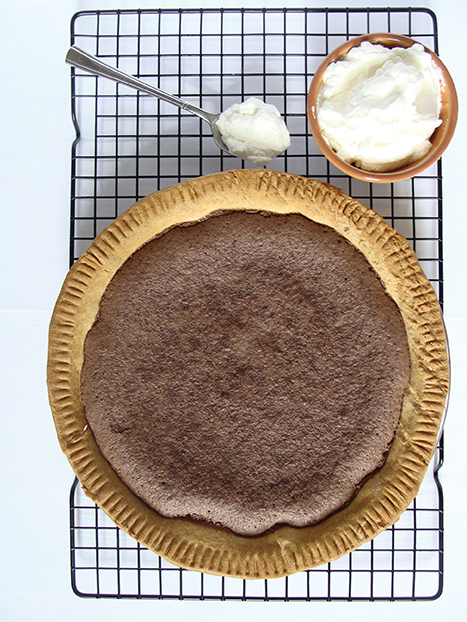 There are so many things to love about this pie—ease of preparation ranking high on my list. It's best served the next day, so I make it the night before I plan on serving it. Last tip—don't refrigerate it! Chess pie is meant to be served at room temperature.
Makes one 9-inch pie
Ingredients
½ batch Foolproof Pie Crust (see recipe below)
¼ cup unsalted butter
1½ cups natural cane sugar
¼ teaspoon fleur de sel
¼ cup dark cocoa powder
3 eggs
½ teaspoon pure vanilla extract
1 tablespoon yellow cornmeal
Fresh whipped cream, to serve (optional)
Directions
1. Preheat oven to 350°F.
2. Melt the butter over medium heat in a small, heavy-bottomed pot. Cook until it begins to brown, but not burn; it will smell nutty and fragrant. Remove from heat and let cool for 5 minutes.
3. Gently press piecrust into an ungreased 9-inch glass pie plate. Trim any overhang and crimp edges, using the back tines of a fork. Place pie plate in refrigerator while you prepare the filling.
4. Pour the melted butter into a deep bowl. Add the sugar and cocoa, and stir with a fork until well blended. Add the eggs and vanilla. Beat, using a whisk, until well mixed and it forms a thick batter. Stir in the cornmeal just until combined; pour into the prepared piecrust.
5. Bake 35-45 minutes or until the pie is set and the top puffs up and forms a hard crust. Cool completely. Serve at room temperature with a dollop of whipped cream.
Foolproof Pie Crust
Makes two 9-inch pie crusts
Ingredients
? cup yellow cornmeal
1½ cups all purpose flour, plus extra for rolling out
½ teaspoon salt
1 teaspoon natural cane sugar
1 cup very cold butter, cut into 16 pieces
1 large egg
1½ teaspoons white vinegar
2 tablespoons ice cold water
Directions
1. Add the flours, salt, and sugar to the bowl of a food processor. Pulse 1-2 times to mix well. Add the butter and pulse a few more times, until it forms a sandy-looking mixture.
2. Add the egg, vinegar, and water. Pulse until it forms a solid ball of dough.
3. Dump the ball of dough out onto a well-floured counter or smooth surface. Divide the dough into two equal pieces, wrapping one of them to freeze if you're only making a single-crust pie. Roll one disc of dough out into a circle large enough to fit your pie plate. Proceed with the directions for whichever pie recipe you are using.
Brown Butter Apple Pie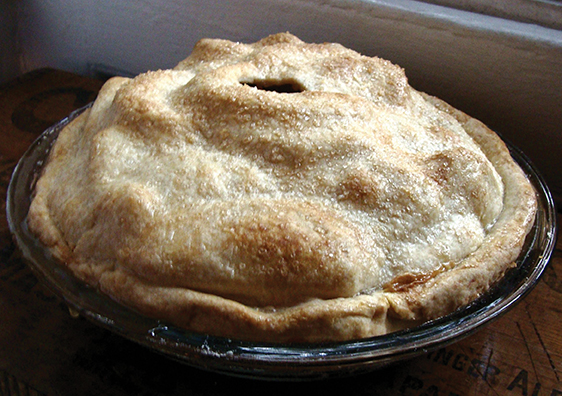 Makes one 9-inch pie
For the sweet butter pastry crust:
8 ounces all purpose flour
1 tablespoon (15 grams) granulated sugar
1 teaspoon (5 grams) kosher salt
4 ounces cold butter, cut into 16 pieces
4 to 6 tablespoons ice cold water
For the pie filling:
4 tablespoons butter
6 medium apples (about 3 pounds), peeled, cored & thinly sliced
? cup sugar
½ teaspoon salt
3 tablespoons flour
1 tablespoon freshly squeezed lemon juice
Heavy cream, to brush on top
Coarse sugar, for sprinkling on top (optional)
Directions
1. Preheat oven to 425ºF.
2. To prepare the pie dough, add the flour, sugar, and salt to the bowl of a food processor. Pulse to combine. Add the butter and pulse until it forms a sandy-looking texture. Starting with 4 tablespoons, sprinkle the water over the flour-butter mixture and pulse until it forms a ball, 45 seconds to 1 minute. Add another tablespoon or two of water if necessary. Dump onto an unfloured counter and divide into two flat discs. Wrap in plastic and let chill until firm, but still pliable, about 1 hour.
3. For the filling, melt butter over moderately high heat in a small skillet. Cook until it begins to brown, but not burn; it will smell nutty and fragrant. Let cool for 5-10 minutes. Add the apples, sugar, salt, and flour to a deep bowl; toss with a rubber spatula to coat well. Pour in the brown butter and lemon juice; stir well. Set aside while you roll out your piecrust.
4. On a lightly floured counter, roll out half of the pastry dough for your bottom crust. Fit into a 9-inch pie plate. Roll out the remaining dough for the top. Spoon the apple filling into the pie plate, and place second crust on top. Flute edges and cut a hole in top to create a steam vent. Brush with heavy cream and sprinkle with coarse sugar, if using.
5. Bake for 15 minutes, then turn temperature down to 350ºF and bake for 35-40 minutes more, until top is golden and juices are bubbly.
Jennifer Perillo is a professional food writer who dishes out culinary advice for busy parents on her blog, InJenniesKitchen.com. In April, she released Homemade with Love: Simple Scratch Cooking from In Jennie's Kitchen (Running Press, $27.50), in which she celebrates buying local, cooking from scratch, and sharing home-cooked meals with loved ones. Perillo lives with her two daughters in Brooklyn.