Kids in foster care who are seeking "forever families" are the subjects in a new photo exhibit at the Broadway Mall in Hicksville, NY. The exhibit is organized by Heart Gallery and is the first of its kind on Long Island.
The Heart Gallery Long Island Exhibit is on display in Broadway Mall's center atrium, near the Macy's entrance on the main floor.
No matter where they are, children in foster care share a common goal: to find "forever families" and live in a loving and stable home environment. In an effort to help this cause, 36 children in foster care are featured in a new photo exhibit at Broadway Mall, on view through Sept. 17.
The exhibit, which opened Aug. 20, is organized by Heart Gallery, an organization that utilizes the talents of notable and emerging photographers to raise awareness of the plight of foster children in desperate need of permanent families. The photographs are then displayed in traveling exhibits called Heart Galleries, which are installed in well-trafficked venues to raise awareness about these children and recruit prospective adoptive families.
The Broadway Mall exhibit features the work of celebrity photographers such as Amy Arbus, Deborah Feingold, Gabrielle Revere, Martin Schoeller, and Michael Sharkey. The exhibit includes larger-than-life portraits of three dozen kids and teens in foster care.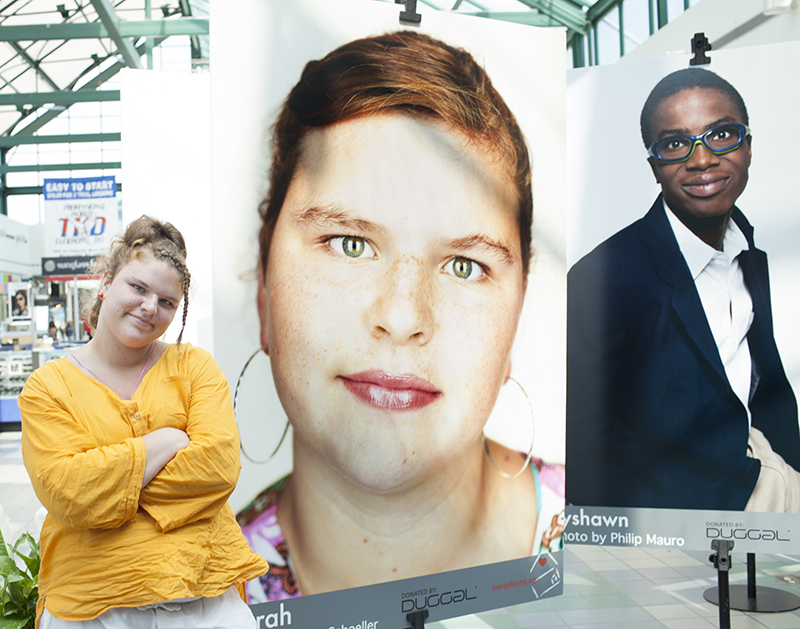 Sarah, pictured here with her portrait by Martin Schoeller, is a young lady with a deep sense of compassion and empathy for others. She likes to sing and absolutely loves animals. Sarah's biggest dream is to find a loving family to support her goals and be there for her.
"Our Heart Gallery Long Island exhibition is the first large-scale Heart Gallery Exhibit in Long Island. We are excited to introduce prospective families to the youth that we serve, in the hopes that they will open their hearts and homes to the children," says Laurie Sherman Graff, executive director and founder of Heart Gallery NYC. "This exhibition is about honoring the thousands of children living in foster care and the hundreds waiting and ready to be adopted."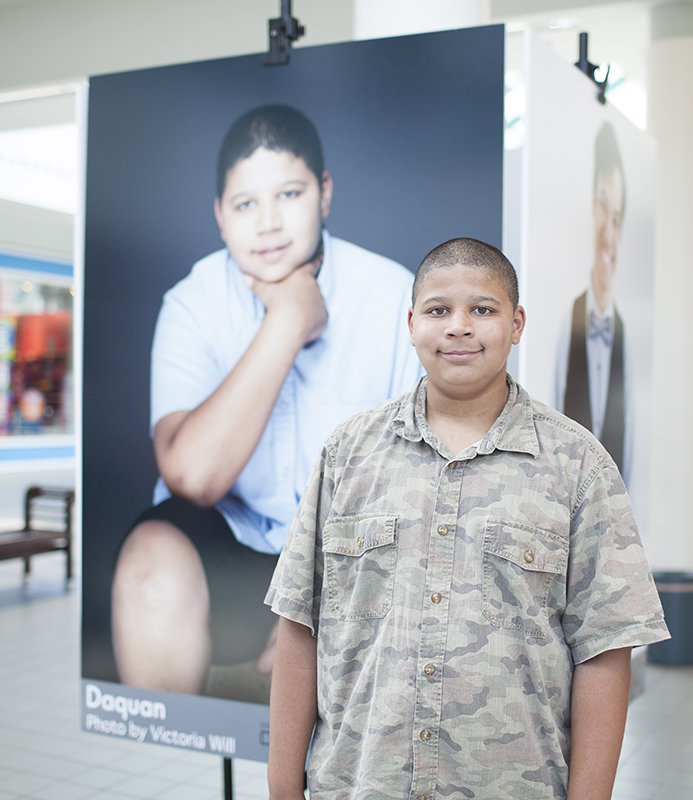 Daquan, in front of his portrait by Victoria Will
Dr. David Hegarty, executive director of Hope For Youth, which is a co-sponsor of the exhibit, says a recent focus for his organization is on recruitment of Spanish-speaking foster parents to meet the growing demand. This focus will "help to provide stable, nurturing foster care homes that will educate, motivate, and empower children to achieve their full potential."
Additional sponsors of the exhibit include Spence-Chapin and Duggal Visual Solutions. The exhibit is on view at Broadway Mall, 358 N. Broadway Mall, in Hicksville. There is an information table on site for those interested in adopting a child or becoming a foster parent.
For more information on Heart Gallery NYC, email [email protected], call 516-802-3996, or visit heartgallerynyc.org.