Looking for something fun to do for Father's Day on Long Island? Try one of these free/low-cost and family-friendly events, including everything from story time to fishing.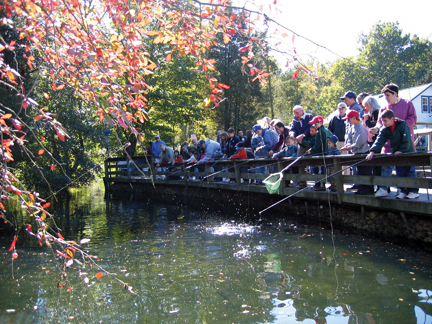 There's a lot going on in June: School ends, summer begins, we celebrate our flag—but most important of all, June 17 is when we take an entire day to show Dad how much we appreciate all that he has done and continues to do. Here are several venues hosting special activities just for him:
Celebrate with Stories
June 12: Tots and their dads can listen to tales and make something together at Father's Day Storytime and Craft at Barnes and Noble at the Smith Haven Mall.
Appeal to His Appetite
June 14: If the way to your dad's heart is through his stomach, bring him to a Father's Day Picnic at What's Cooking?, where kids will make sliders, cornbread, sports-shaped sugar cookies, and a take-home Dad's Day Dessert Tie.
Make a Gift, Make a Memory
June 16-17: Create a one-of-a-kind picture frame for the big guy at Designing for Dad at the Long Island Children's Museum in Garden City.
Give Him the VIP Treatment
June 17: Celebrating Family is the Heckscher Museum's way of thanking fathers and grandfathers. They both get free admission to the museum on Father's Day.
June 17: Dads get in free to see Gypsy: The Musical, a show that follows the twists and turns as one mom tries to fulfill her big dream to raise two daughters to perform onstage. The glitter of show business is presented alongside its hardship and struggle.
Sing His Praises
June 17: Belt it out for dad at Father's Day Karaoke with DJ Phil in Riverhead. Don't worry about how you sound—Dad is sure to appreciate the effort (and maybe he'll join you on stage!). FREE!
Take Him Fishing
June 17: Show Dad you love him hook, line, and sinker. Take him to Father's Day at the Hatchery in Cold Spring Harbor, where he can enjoy fishing, a picnic, and feeding the trout.
Find even more fun family events on Long Island and throughout the NYC area in our full calendar of events!