Related: diy chia pet, garden gnomes with grass hair, diy garden decorations, crafts for kids, ,




If you're growing a garden this year, or if you want to try growing something small before committing to a garden, have your kids help make grassy garden gnomes. The DIY garden decoration—a chia-pet like project—is a great craft for kids.

Grow a grassy garden gnome.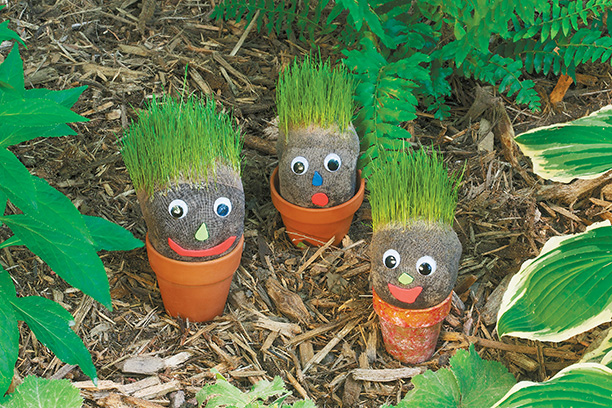 Dave Brown
Fill your garden with gnomes—with actual growing hair!—to help watch over it and keep you company.
Materials:
1 pair knee-high nylons

Tip: This is a messy activity, so do this outside if you can. Otherwise spread newspaper on your work surface.

Wide-mouth drinking glass
Spoon
Grass seed
Soil
Googly eyes
Waterproof glue, such as Gorilla Glue
Felt or foam pieces in various colors
Paint pens
Small clay pots
Small bowl
Small plastic or Styrofoam cups, such as Dixie cups
| | |
| --- | --- |
| Dave Brown | 1. Stretch one nylon stocking over the mouth of a wide drinking glass to make pouring the grass seed and soil into the nylon easy. Use a spoon to sprinkle a small handful of grass seed into the stocking. |
| Dave Brown | 2. Pour one to two handfuls of soil on top of the grass seed, pushing the soil all the way down to the toe. Take the nylon off of the drinking glass, and knot the nylon close to the soil to keep the soil in place. This is your gnome's head. |
| Dave Brown | 3. With the length of leftover nylon hanging downward, glue googly eyes onto the face area and add other facial features using the felt or foam pieces. Let the glue dry completely. Use the paint pens to paint the clay pots. |
| Dave Brown | 4. Fill the bowl with water and invert the gnome's head into it for several minutes. This wets the soil and grass seed and gets the seed growing. |
| Dave Brown | 5. Insert a small paper cup into a clay pot and fill the cup with water. Flip the gnome's head right side up and insert the loose end of the nylon into the cup. The nylon will act as a wick to pull water up and keep the grass seed watered. Place the gnome where it will get sunlight, and within a week watch for the seed "hair" to sprout! |
Excerpted from Gardening Lab for Kids: 52 Fun Experiments to Learn, Grow, Harvest, Make, Play, and Enjoy Your Garden (ages 5-12) by Renata Fossen Brown with permission from Cool Springs Press.
---
Get Your FREE Indoor Activity eGuide!
---
More Summer Activities Articles
10 Unexpected Ways to Keep Boredom at Bay
How to Save Money on Your Next BBQ
10 Ways to Make a Summer Barbecue Healthier
Your Season-by-Season Guide to Fun in the New York City Area
Top 20 Things to Do in Summer on Long Island

Be a good fellow parent and share this with a friend who would be interested
Local Summer Activities Sponsors
See Our Summer Activities Directory