Oh My Girls!, a fitness and wellness center for girls on Long Island, has added a new fitness program for teens.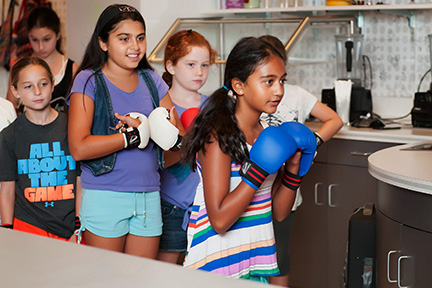 Campers learn self-defense skills in addition to the fun fitness healthy cooking classes during the Oh My Girls! summer camp.
Oh My Girls! teen fitness center in Syosset has added a Lose to Gain program, in which girls can opt for a 30, 60 or 90 day commitment to achieve their personal wellness goals. Girls will join the center two days a week from 5:30-8:00 pm for a 1-hour fitness class and a 90-minute cooking class. There are also two 1-hour empowerment workshops each month. The program is $500 per month for 90 days, $550 per month for 60 days, and $600 per month for 30 days.
Girls begin by meeting with a health coach to set their personal goals for wellness, from fitness to developing a positive body image and learning to cook. They also have the option of meeting with a dietician. Once their goals are set, girls are free to come in Monday, Wednesday, or Thursday to accommodate busy schedules.
Along with every fitness class, OMG! includes 10-15 minutes of stress management and relaxation, focusing on "listening to their inner voice, instead of their outer," says Lisa Rosen, president of OMG!. Girls can also expect a healthy, tasty meal as they eat what they make during their cooking session, including healthy desserts and a smoothie bar.
Rosen says the Lose to Gain program "answered the call for girls who were really looking to make a change in their lives—girls who want to get off the couch and off the computer, girls who are food sensitive and want to feel more comfortable in the kitchen, or girls who just want to eat healthy food that tastes good."
The program is a streamlined version of OMG!'s services, which girls primarily take advantage of as an after-school program Monday through Friday. The center also hosts parties and events for organizations and will be including weeklong summer camp programs.