Take a culinary adventure in your own backyard when you grill up this sweet and spicy Korean barbecue beef tenderloin featuring classic Asian flavors. Serve with a flavorful side of stir-fried bok choy that comes together in about 5 minutes.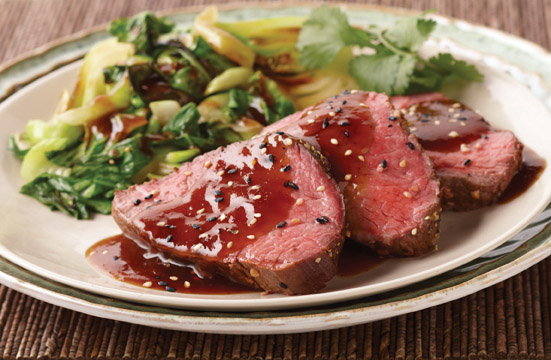 Serves: 6 to 8
Ingredients:
1 3-pound steak tenderloin roast
2 cups Korean Barbecue Marinade (see recipe below)
¼ cup steak rub
1 pound Stir-Fried Bok Choy (see recipe below)
1 14-ounce bottle Korean barbecue sauce
6 to 8 cilantro sprigs
1 teaspoon black sesame seeds
1 teaspoon toasted sesame seeds
Directions:
1. Begin by completely thawing tenderloin. It will take 2 days in the refrigerator or 1 hour in a sink full of cold water.
2. Remove tenderloin from plastic, and place in a large resealable bag with Korean Barbecue Marinade. Marinate overnight in refrigerator.
3. Remove tenderloin from marinade, and season with steak rub. Sear tenderloin on all sides on a pre-heated grill. Place in a 250°F oven for 1 hour and 15 minutes, or until the internal temperature is 125°F for medium rare.
4. With 15 minutes remaining, prepare the bok choy and heat Korean barbecue sauce.
5. Remove tenderloin from oven, let rest 15 minutes. Slice and serve. Garnish with cilantro and a mixture of sesame seeds.
Korean Barbecue Marinade
Makes: 2 cups
Ingredients:
1 tablespoon sesame oil
2 tablespoons garlic, finely chopped
2 tablespoons fresh ginger, minced
1 cup canned pear juice
½ cup soy sauce
2 tablespoons brown sugar
1 tablespoon crushed red pepper
Directions:
1. Place sesame oil in a thick bottom pot and add garlic and ginger. Place pot on a medium burner and add the rest of ingredients and slowly bring to a boil.
2. Bring heat down to a simmer and cook while stirring for approximately 5 minutes.
3. Remove sauce from heat and refrigerate for up to one week.
Stir-Fried Bok Choy
Ingredients:
1 tablespoon canola oil
1 pound bok choy, chopped
1/3 cup Korean barbecue sauce
1 tablespoon sesame oil
Sea salt and fresh ground black pepper to taste
Directions:
In a wok, briefly heat canola oil. Add bok choy and cook for 2 to 3 minutes. Add Korean barbecue sauce and sesame oil to wok and mix well. Serve while hot.
Recipe courtesy of OmahaSteaks.com.
Also see: