TOP 14 PLACES TO SHOW OFF YOUR HALLOWEEN COSTUME ON LONG ISLAND
Related:
long island halloween parties for kids
,
halloween costume contest for kids in long island
,
halloween costume party for kids
,
Head to one of Long Island's best Halloween parties to show off you and your family's creative costumes. Many of the parties will host a costume party so your child can enter for his chance to win a grand prize.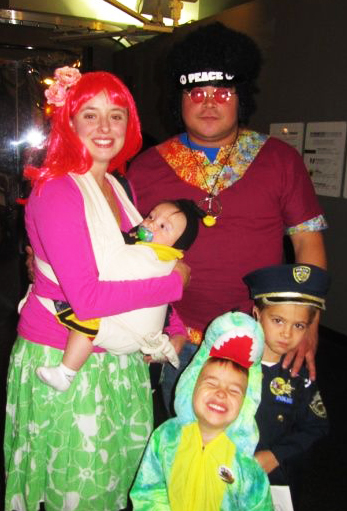 Pump It Up, Great Neck
Oct. 11, 25
Witches, goblins, and superheroes ages 2 and older are invited to this haunted-house-meets-bounce-house. Come in your best costume for Halloween-themed jumping and fun. (No makeup, swords or sharp objects, please). Price includes 80 minutes of GLOW jumping, followed by 40 minutes in the party room for a Halloween craft and ice cream cake. Each child will also receive a special treat. All children in costume will be entered to win a prize. The staff will be dressed and ready to play, and parents are encouraged to come in costume as well.
Long Island Aquarium & Exhibition Center, Riverhead
Oct. 11
Buoys and ghouls are invited to dress in Halloween costumes and bunk down for a night of creepy crawly craft time, a haunting movie presentation of Monster House, and some monster mash dancing. Sleepover includes Aquarium admission, dinner, continental breakfast, a movie, craft and an animal interaction.
Tackapausha Museum and Preserve, Seaford
Oct. 16
It's the annual haunted Halloween at the mysterious museum event. Enjoy animal presentations, crafts, and games. Costumes are encouraged.
Old Bethpage Village Restoration Fairgrounds, Old Bethpage
Oct. 19-20, 26-27
Haunted Halloween at the Mysterious Village will include a Monster Scavenger Hunt, "Tales of Our Local Grave Digger," jack-O'-lantern carving demonstrations, "Legend of Sleepy Hollow" performances, a tarot card reader, broom-making for witches, and more.
Celebrations in the Kitchen, Hicksville
Oct. 24-30
This creative cookie-baking class will have you creating all your favorite Halloween cookies, from bats to cats, ghosts to witches, and more. Dig into an abundance of cookie dough to create and decorate these ghoulish goodies. Don't forget to wear a fun costume.
Celebrations in the Kitchen, Hicksville
Oct. 24-30
This spooky Halloween house is a classic for this fun time of year. Guests will enjoy creating their own chocolate (or cookie) house complete with bats, ghosts, jack-o'-lanterns, and more. Don't forget to dress up with your costume and reserve your spot.
Great Lawn in front of Madison Theatre at Molloy College, Rockville Centre
Oct. 26
This community festival celebrates the fall harvest. Enjoy a pumpkin decorating patch, haunted house, scarecrow garden, corn maze, cupcake decorating, mask-making, a costume contest, live music, and food. Wear a costume and be part of a parade. Costume contest prizes will be awarded.
Adventureland Amusement Park, Farmingdale
Oct. 26
A decorated pumpkin path leads children and parents through Adventureland, where they will encounter friendly characters and visit magic shows and tattoo artists. Along the way, they will walk along 'Sweet' Street to get treats from park staff and local sponsors.
Long Island Children's Museum, Garden City
Oct. 26
Celebrate Halloween in a fun, safe, and spooky way. Show off your costume, decorate your own goody bag, do some gallery trick-or-treating, get your face painted, meet live animals, listen to creepy music throughout the museum and make some cool and creepy craft projects to take home.
The Bridge Church, Malverne
Oct. 26
Enjoy family fun and activities including free bounce houses, face painting, airbrush tattoos, games, and more. Kids, don't miss the main event: free "trunk-or-treating" featuring more than 20 decorated car trunks filled with candy.
Walt Whitman Birthplace, Huntington
Oct. 26
This is a spooky but not scary event that offers face painting, free candy, Henny the clown, prizes for best costume, and complimentary house tours.
Darlings & Divas, Amityville
Oct. 26
Come in your finest for a mini manicure with ghoulish nail art, Halloween-themed glitter tattoos, cheeky art face painting, dance party, Halloween-themed games, a pizza dinner, and a best costume contest with prizes.
Cold Spring Harbor Fish Hatchery & Aquarium, Cold Spring Harbor
Oct. 26
Families are welcome to take part in the haunted events. Refreshments for all. Kids in costumes will receive an extra treat.
Stony Brook Village
Oct. 31
Trick-or-treat in shops, receive free mini pumpkins, play games, see Walkie Bear, and enjoy a dance performance and costume parade with Monster Merlin. There will also be Scarecrow Competition awards.
More Halloween Fun
Visit nymetroparents.com/halloween for creative costume ideas, spooky recipes, and awesome giveaways!
More Halloween Articles Articles
7 Tips for Trick-or-Treating with Your Toddler
New Book Encourages Kids to Give Up Halloween Candy
Halloween Activities in Bucks County, PA
DIY Alien Monster Egg Halloween Decoration
Toddler-Friendly Halloween Events in Fairfield County, CT