Before you let your child sit in the front seat of your car after calling "Shotgun," make sure you know how old your child should be before they become a front-seat passenger to stay safe in the car.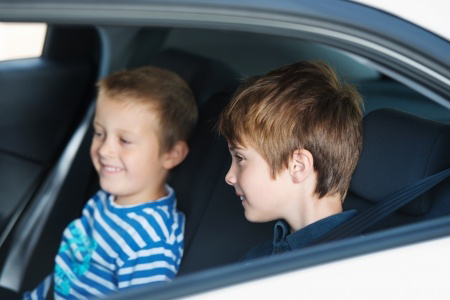 When are children legally allowed to sit in the front seat of a car?
For quite some time my 10-year-old daughter has been begging me to sit in the front seat of my car. When I respond with my 'No, you're too young and it's against the law," she, of course, replies with, "If it's against the law, why are my friends allowed to sit in the front seat?" While I think of a response, I recall running to my mom's car as a kid yelling "Shotgun!" However, back then people didn't seem to know any better, and we didn't have airbags to worry about.
In attempt to convince my daughter, I searched for my proof in the New York Vehicle & Traffic Law. To my surprise, there is no law in New York that regulates when a child can sit in the front seat of a car. However, New York State's official Seat Belt Law brochure states: "For maximum protection, children under the age of 12 should sit in the rear seat of the vehicle".
Moreover, the sun visors on most cars have the following warning: "Children can be killed or seriously injured by the airbag. The back seat is the safest place for children." This is because airbags can deploy at speeds up to 240 MPH, and can be fatal or cause serious injuries to children younger than 12.
Now that I have explained this to my daughter, she no longer asks to sit in the front seat. She knows it's my job to keep her safe, and no child wants to be hit by an airbag that can do such damage to him or her. So, if friends or family members are letting their children younger than 12 sit in the front seat, just gently remind them of how much safer their kids would be in the back seat.
Mark T. Freeley, Esq., of The North Shore Injury Lawyer, graduated from Hofstra University School of Law and is able to practice in New York and New Jersey. He currently practices personal injury litigation in Woodbury.