Whether moving into a new home or simply re-organizing furniture in various rooms of your house, take note of these important child-proofing tips in mind to keep your children safe.
While safety concerns will shift as baby grows, there are many steps parents can take when creating a nursery to better prepare a safe space for all developmental stages.
Environment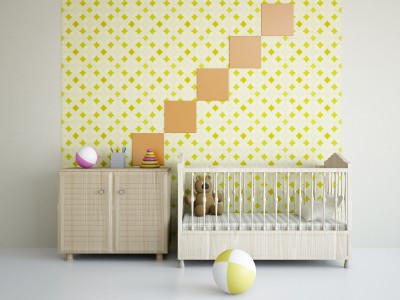 Considering how much time your child will spend in his bedroom over many years, it is important to choose products that will help increase the air quality.
• Look for low or no VOC paints, as research suggest that these solvents can evaporate and be released into the air for months, or even years after application.
• Be mindful of the harmful ingredients in your household cleaning products
• Avoid the use of chemical air fresheners.
• Choose furniture made from certified sustainable wood that is stained or painted with non-toxic ingredients. Pressed wood furniture sometimes produces carcinogenic chemicals that can cause irritation and other health issues.
Alarm Systems
Your entire home, including your baby's room, should be equipped with alert systems for smoke, fire, and carbon monoxide.
• Keep doorways free of any items that could potentially inhibit your path to your baby's crib.
• Never place lamps near flammable materials such as drapes, clothing, or other combustible articles.
Furniture and Décor
"Get down on your hands and knees to view your home from a child's perspective," suggests Julie Vallese, consumer safety expert for Safety 1st. "This is the best way to begin childproofing because seeing the world from their view opens your eyes to potential dangers that may otherwise be hidden."
Many furniture items are safety hazards because of the risk of tipping on top of curious toddlers, who inevitably try to scale them. Vallese suggests anchoring all furniture, such as bookshelves and dressers, either to the floor or the wall. Consider removing topple-prone items such as coat hangars and lamps until children are older.
Reduce the use of cords as much as possible, especially during infant and toddler stages. Secure electrical cords with a tie and place the cords behind a desk or dresser. Baby monitor cords should never be placed inside or within three feet of a crib.
Window treatment cords can also pose a tempting hazard to infants and toddlers, who view them as playthings. Opt for more child-friendly cordless products. "Cordless cellular shades are a sleek and modern option that can be easily raised and lowered with a gentle lift or pull," suggests Tracy Christman of Budget Blinds®. To retrofit existing blinds, safety products such as spring assisted clutches or cord stops are a budget-friendly alternative to increase safety.
Don't risk waiting until your child demonstrates a need for safety solutions. Baby-proofing a nursery early will ensure that all safety measures are already in place for all stages of development.
Also See:
• Browse 1,000s of Homes on the NYMP Real Estate Database