A therapist who treats children with feeding delays and disorders offers her tips for parents on how to get their picky eaters to eat new foods and try a variety of textures and tastes.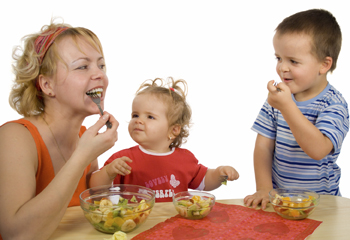 Boerner suggests families eat meals together as much as possible, so children see others trying and eating a variety of foods.
Whether your child has been diagnosed with a feeding delay/disorder, or maybe she's just a "picky eater," you as the parent are the most important role model and teacher when it comes to getting her to eat a variety of foods. Here, a speech-language pathologist details the tips she shares with the parents of her patients with feeding disorders on how to reinforce feeding therapy at home.
1. The most important thing is positioning and seating. One of first things I do in a feeding evaluation is look at a child's high chair—we want to make sure the high chair provides the optimal alignment for feeding, and that it's safe and comfortable for the child. I may also see if the child needs adaptive feeding equipment. It's important to consult with a speech-language pathologist, as they can tell you if you need a different high chair or a different piece of equipment to help your child transition to the next step.
2. Another thing parents can do is to create a calm and quiet space. Think of it as creating a romantic dinner for your husband: Keep the lights low and make it a calm and quiet environment that can help make it a positive feeding environment. This helps reduce the stress of feeding for the child.
3. You should also try to eat meals together as a family as much as realistically possible. It creates a positive feeding environment and is an opportunity for your child to watch you and other people eating a variety of foods and textures. Feeding therapy is most successful when parents are being positive role models, so take the time to sit down and eat as a family and have your child watch you eat the texture they are sensitive to.
4. Don't stress out during mealtime. Instead of focusing on what they're not eating, focus on the positive things they're doing and provide a lot of positive reinforcement. Kids don't understand the difference between negative attention and positive attention, so you want to make sure you basically ignore the picky eater behaviors and instead give attention when they're expanding what foods they're eating—and really pile on the praise.
5. If a child is being overly picky and you're concerned it might be something more serious, it's not a bad idea to get a professional's opinion. There are many reasons a child may be picky, but you want to make sure those reasons don't need medical attention. If there are underlying issues, the child isn't going to have success with feeding, and that creates negative experiences around food. With the help of a speech-language pathologist or feeding specialist, everyone will be better supported and the child will develop feeding skills more successfully. We as professionals in this field are here to help and support you and your child. That's really our single most important job. I was born with a disability, and I can definitely say that the extra support I got from my two amazingly determined and unrelenting parents who got me the specialized help I needed, was crucial, and it has made all the difference.
I'm a huge believer in empowering the parents through parent education because only with the right information can parents be vehicles for change in their child's life. Parents are the single most important and influential people in a child's life. They're going to be the most influential and have the most success with their children and their feeding abilities.
Heather Boerner, MA, CCC/SLP, is a pediatric speech-language pathologist and the founder of Chatty Child Speech Therapy, PLLC in Manhattan. Boerner graduated from New York University with an MA in speech-language pathology and a minor in education, and she is licensed to teach speech- and hearing-disabled students.