The director of a local music school offers tips on how to help kids balance piano practice with their homework by carving out specific times for both after school and then sticking with it.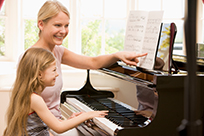 Question: My child is an incredibly talented pianist who takes lessons and practices regularly, and her music has developed into a passion I want to encourage. However, lately I feel her time spent on this is interfering with her regular schoolwork. How can I help her manage her time so she can give proper attention to both?
Answer: It's very important for a parent to encourage their child to practice, even when they're already talented at the instrument. But time management is also important, and schoolwork always comes first.
The parent should make a consistent time for the child to practice after school so they don't forget and so they can also schedule time to do homework. For a younger child, the parent might want to divide the practicing time into two sessions because it's harder for younger kids to stay focused for a long time. When you have a set time, it's a commitment kids can understand. Learning piano is for fun, but it's also a responsibility, like their schoolwork.
It's also important for kids to take a day off from practicing. There are seven days in a week, and they should be able to relax and take time off from practicing for at least one day. That's a good time to catch up on schoolwork.
Ivy Chen is music director at Vienna Music, a music school in Bayside, Queens that offers instruction for all ages. Chen has more than 10 years of professional teaching experience and is currently pursuing a master's degree in music education. As an active solo and chamber musician, Chen's New York appearances include concerts at Carnegie Weill Hall, Paul Hall, Steinway Hall, Flushing Town Hall, and the Church of the Holy Trinity.