An acclaimed golf instructor shares her tips on the benefits children get from playing golf, how young kids can start golf lessons, and what to expect from your child's golf teachers.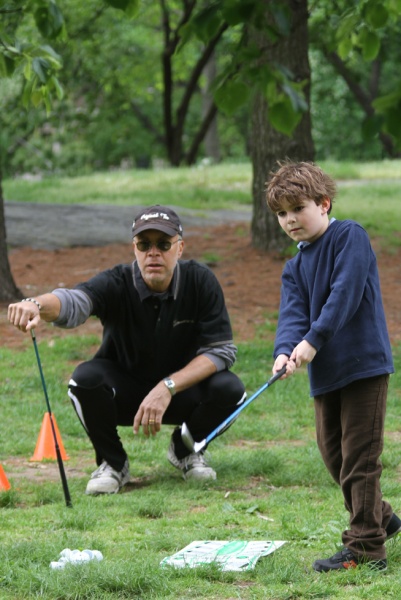 Think golf is just for men of a certain age? Think again. Both boys and girls can benefit from playing golf, and especially when lessons start at a young age. Here, Kate Tempesta, founder and co-owner of Kate Tempesta's Urban Golf Academy, outlines those benefits and shares her advice for parents of budding golfers.
How can golf benefit my child?
I think golf presents parallels to life, and even more so because it's an individual sport. Golf can teach you perseverance, sportsmanship, hand-eye [coordination], balance, and physical literacy. It's also great for critical thinking and strategizing. Golf also takes a tremendous amount of creativity.
What is the youngest age that kids will successfully retain skills taught during golf lessons?
We have children that come to our program at 3 years old, but it's important that parents understand the process. [The instruction] has to be age appropriate. When we focus on our 3-and-a-half-year-olds, we focus on physical literacy, listening skills, and creating future points of reference because that is a child's process.
How can parents encourage kids to be patient while still keeping them excited about the game?
There are so many different variables. This is a tough sport and there is a process. No one is going to learn overnight. It's the instructor's responsibility to set kids up for success. [At Urban Golf Academy] we have a 4:1 ratio and up to 5:1 with older students, so the kids are always active, either physically or cognitively, at all times.
Kate Tempesta is the founder, co-owner, and "president of fun" at Kate Tempesta's Urban Golf Academy, which has locations in Manhattan, Brooklyn, and in the Hamptons on Long Island. Tempesta is a member of the LPGA Teaching and Club Professional organization, was voted one of Golf Digest's Best Golf Teachers in New York State (2012) by her peers, has been named a US Kids Golf Top 50 instructor for the past two years, and has been named one of the "40 Most Influential People in Golf under 40" by Golf Magazine. For more information on Tempesta and the Urban Golf Academy, visit ktuga.com.