Want to host a traditional summer barbecue with all the classic food staples without breaking the bank? Follow these seven tips to slash costs without cutting flavor! Perfect for a patriotic 4th of July, or any time.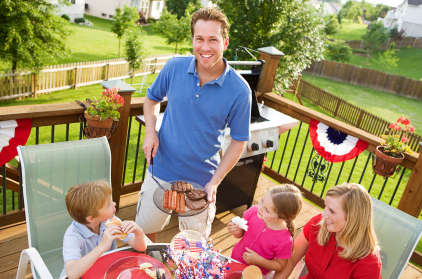 There are few things more American than celebrating Independence Day with a backyard barbecue. Unfortunately, food prices are at record highs and traditional barbecue fare—like hamburgers or baby-back ribs—are especially affected. According to recent news, meat prices are at an all-time high with ground beef prices increasing a whopping 76 percent over the last five years. Meanwhile, pork prices are up 10 percent from 2013 and dairy products have had six consecutive months of price increases.
What's a patriotic family on a budget to do? Consider these seven tips to slash your July 4th food costs without cutting out all the flavor.
1. Compare Fresh vs. Frozen
Many grocers will promote deals on ground beef just before the holiday to push sales, meaning fresh meat can cost less than frozen. Compare prices by reviewing circulars of surrounding grocery stores and don't be afraid to snag the manager markdowns, either; you can save up to 60 percent by shopping this way. Just make sure to freeze any meat with a quick expiration date if bought ahead of your barbecue.
2. Serve Buffet Style
Step aside, burgers and dogs! Buffets are all the rage these days because they're cheap and easy. A taco bar, for example, is an instant crowd pleaser especially when you add avocado and fresh cilantro to the mix. If you want to avoid paying for beef this weekend, consider chicken tacos served with the typical accoutrements like shredded cheese, lettuce, and tomato. If you need more guidance, this Chicken Soft Tacos recipe from AllRecipes is sure to be a hit!
3. Keep Starters Simple
It's easy to get caught up in hosting and have grand ideas of serving shrimp cocktail, vegetable crudités, and artisan antipasti before unveiling the spit-roasted pig. However, it's equally easy to over-serve in this department and end up with a ton of leftovers (and therefore wasted money). Keep starters simple and small, and stick with chips and dip, party mix, and seasonal fruit.
4. Skip the Bakery
Skip the bakery department at your grocery store and save over 100 percent by baking the sweet stuff yourself. You can even cut corners and save time by picking up frozen pie crusts and boxed cake mix, both of which cost less than pre-made cakes, cookies, pies, and other treats. Also, don't forget to look for grocery coupons on sites like CouponSherpa.com, where you can find manufacturer's coupons for dessert brands like Breyers and Hershey's.
5. Shop Sales for Soda
You may think buying soda in bulk from warehouse club stores is your best bet, but think again; soda goes on sale frequently, especially leading up to July 4. In fact, many grocery stores are offering their own bulk deals, like four 12-packs of soda for $11. Capitalize on these grocery store promotions by keeping your eyes peeled and stocking up on your favorite flavors as they go on special.
6. Make Your Own
When it comes to marinades, dressings, and refreshments, you can save anywhere from 30 to 60 percent by making your own. Lemonade and iced tea are popular beverages this time of year, both of which can easily and cheaply be made at home! What's more, all you need are pantry basics like garlic, vinegar, honey, olive oil, salt, and pepper to add mouthwatering flavor to grilled meats and vegetables. Check this list of marinade recipes for ideas.
7. Personalize With Printables
There's no sense in spending money on decor you'll toss out with the napkins and paper plates at the end of the night. You can find creative cupcake toppers, drink wrappers, table banners, and even printable art to make your July 4th celebration stand out among the rest. Check out this roundup of 10 sites offering summer party printables from InkjetWilly.com, a printer ink comparison site.
Andrea Woroch is a nationally-recognized consumer and money-saving expert for Kinoli Inc., who helps consumers live on less without radically changing their lifestyles. From smart spending tips to personal finance advice, Andrea transforms everyday consumers into savvy shoppers. She has been featured among top news outlets such as Good Morning America, NBC's Today, MSNBC, New York Times, Kiplinger Personal Finance, CNNMoney and many more. You can follow her on Twitter for daily savings advice and tips.