The only college preparatory high school in the Hunts Point neighborhood of the South Bronx, Hyde Leadership Charter School, will graduate its first senior class on June 29 with a 95 percent college acceptance rate.
Two years after breaking ground as the first high school to be built in Hunts Point, South Bronx in more than three decades—and the only college preparatory school in an area known as the nation's poorest congresstional district—Hyde Leadership Charter School (K-12) will celebrate its first graduating class with 66 seniors and a college acceptance rate of 95 percent this June.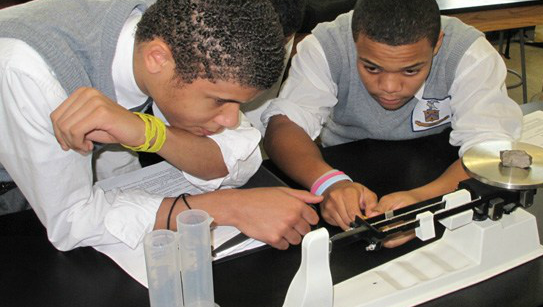 The commencement ceremony for Hyde Leadership Charter School's first senior class will be at 1 p.m. Saturday, June 29 at the Columbia University Roone Arledge Auditorium, Alfred Lerner Hall, 1st Floor.
Nearly 50 percent of the students, most of whom live in Hunts Point, NY, come from households earning less than $15,000 a year, and 95 percent qualify for free lunch. In a 2012 study by the Citizens Committee for Children, more than two-thirds of all area residents and three-quarters of children were found to live in extreme poverty.
On the academic front, the student population is significantly disadvantaged, often arriving at Hyde-Bronx two or more years behind grade level.
"The graduating class of 2013 marks a huge milestone for us," said head of school Betsy Olney. "Our students face challenges at the local, state and national level. Against all odds, they have overcome these obstacles with strength and character development. We have no doubt that the Hyde family-based character model will continue to prepare students for success in college and life."
This first commencement is an achievement for the class of 66 seniors and a testament of Hyde-Bronx's learning model, officially known as family-based character education, which was developed in 1966 by Joe Gauld, who founded the first Hyde boarding school campuses in Bath, Maine and Woodstock, Connecticut with this philosophy in mind. The education model calls for a rigorous academic structure with an intense focus on character development and parent involvement to instill and emphasize in students the qualities of leadership, courage, integrity, curiosity, and concern.
Unlike traditional public schools, Hyde-Bronx, as a public charter school, does not receive full government funding from the Department of Education. To maintain its successful supplementary programs, such as after-school programs, intervention specialists, a robust library, and college preparatoy classes, the school must raise $500,000 in donations in the next fiscal year, starting July 1, 2013. Previous fundraising efforts have attracted notable donors and programs, including the Roberta Flack School of Music.
ABOUT THE HYDE LEADERSHIP CHARTER SCHOOL
The Hyde Leadership Charter School (Hyde-Bronx) is a New York City public school, chartered by the New York State Education Department. It is a tax-exempt organization under section 501(c)(3) of the Internal Revenue Code.
Using the unique Hyde Process for Family-Based Character Education, the school unites families, educators, and students in helping children develop deeper character and recognize their individual potential. Hyde-Bronx believes character building is key to life preparation and allows them to become responsible, contributing, and fulfilled adults. Hyde-Bronx integrates leadership skills within a rigorous academic curriculum, instilling a dedication to socially conscientious behavior.

Founded in 2006 in Hunts Point, South Bronx, Hyde-Bronx first opened its doors to kindergartners and 6th-graders. It has since added two grades each year, and in 2013, Hyde-Bronx is home to nearly 1,000 students in grades K-12. Hyde-Bronx is the home of the Roberta Flack School of Music.
To learn more or to support Hyde-Bronx's mission, visit hydebronxny.org.
Contributions may be sent to: Development Office, 830 Hunts Point Ave., Bronx, NY 10474