A guide to kid-friendly activities and events in the suburbs of New York City and Fairfield County, such as Scarsdale, Westchester, Stratford, and Paramus, to help families of children with special needs, including sensory issues, have fun during these inclusive events and activities.
Children with special needs or disabilities can face challenges when it comes to connecting with peers and making friends, especially when many are uncomfortable or not able to participate in certain kid-friendly activities. Here, a list of kid-friendly venues, including the zoo and a bounce house, that dedicate time and space for children with special needs and all abilities to play, have fun, and interact with each other.
Enter a World of Sensory Wonder
WeeZee World of "Yes I Can!", at 480 Bedford Road in Chappaqua, is an 18,000-
square-foot indoor play center and gym for children ages 1-12 that uses sensory integration techniques to help kids grow academically, socially, and physically. The center has games, activities, and fitness equipment that stimulate kids' sense of touch, sight, smell, taste, and hearing, and their sense of self. Attractions include a Rainforest & Storm Zone, a music room with sound studio and karaoke, and a Cyber Action Floor, to name a few. All children can benefit from time spent at WeeZee World, especially those with sensory integration disorders.

WeeZee World is open 8am-9pm daily. It hosts daily classes and activities, offers an after-school program, and is available for birthdays. Membership options range from a six-class pass to a monthly family membership. Visit weezeeworld.com or call 914-752-2100 for more information.
Bounce Time for Special Needs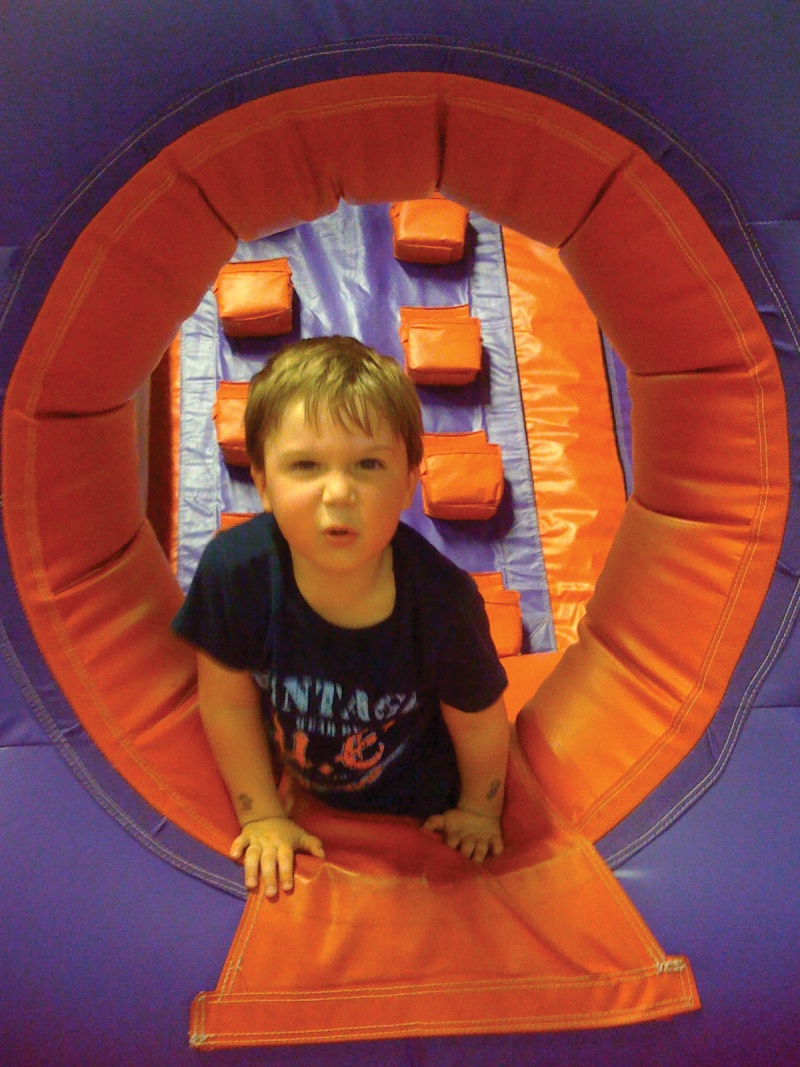 BounceU, a play space filled with giant inflatables, hosts a Sensory Bounce program for children and adults with sensory integration dysfunction, autism, and other disabilities with a sensory component. Teachers work on balance and coordination, auditory and tactile sensitivity, strength building, motor coordination, cooperative play, turn-taking, and social and verbal skills.
When: Wednesdays at 5:30pm and Sundays at 8:30am. $17 per session. BounceU is located at 305 Hathaway Drive in Stratford, CT. For more information: 203-375-2700 or bounceu.com.
Making Friends through Art, Music, Theater, & More
Kids with disabilities can face challenges when it comes to connecting with peers and making friends. With that in mind, the JCC of Mid-Westchester's Developmental Disabilities Enrichment Center hosts a Sunday/Funday program with an all-inclusive approach, allowing children who have learning disabilities, social or emotional problems, or are on the autism spectrum to join their typically developing peers once a week for a few hours of fun activities.
These activities include sports, computer time, art, music, and theater. There is a session for all ages (groups divided by ability and ages) and a session especially for teens. Kids ages 12 and 13 can participate in Sunday/Funday as a volunteer project for their bar/bat mitzvahs, and high school students can gain community service. All volunteers receive full training by the JCC staff.
For more information on this program, contact director Charley Moskowitz at 914-472-3300 x361 or [email protected] The JCC is located at 999 Wilmot Road in Scarsdale.
Open Arms Initative

The Stepping Stones Museum for Children in Norwalk, CT hosts a monthly Accessibility Day, usually on the second Saturday of the month, when it offers free admission to families who have children with special needs (no registration required).
It's an opportunity to enjoy the museum's engaging exhibits, mingle with other families, and learn with your child in a welcoming, ADA-compliant environment. The program is part of the Open Arms Initiative, which targets families who face financial, language, or special needs barriers.
To learn more about how you can experience the museum through Open Arms programs, call 203-899-0606 x299 or email [email protected]

Also see:
• Sensory-Friendly Films at Movie Theaters in the NYC Area
• Inclusive Activities and Events on Long Island for Kids with Special Needs
• Inclusive Activities and Events in NYC for Kids with Special Needs