The Personal Touch: Classroom Innovations for Personalized Learning
Get can't-miss family activities sent to you!
Get the Best Family Activities
Sent to You Weekly!
When students reach fifth grade, Avenues introduces a "1+1" initiative, which provides both iPads and MacBook Air laptops. "We don't have any textbooks," DeLo says. "All classwork is pushed out via the cloud, iTunes U Course Manager, Haiku Learning, and a variety of cloud-based tools." With digital coursework, students always have their work at their fingertips. Plus, sharing their ideas with classmates is easier than ever. Apps such as Subtext allow a whole class to share their individual annotations and ideas on a specific text with each other. The "1+1" initiative also gives students a choice when it comes to the delivery method of their learning. "Some students will use their laptop, some will use their iPad, and some use both," DeLo says.
All this connectivity is promoting rich, engaging conversations between peers on devices—and, incredibly enough, face-to-face. "In class, someone can present their work on the board without taking five minutes to write it up," says Geoffrey, a sophomore at Avenues. "Many people present things from their computer to the entire class, which is exceptionally useful when you are working on a visual project." The wired campus ensures that conversation does not get interrupted due to mundane scenarios like a teacher's absence, too. Geoffrey cites as an example the time his teacher traveled to China: "We were able to discuss the book we were reading with him over the Internet."
Catherine, the mother of another 10th grade Avenues student, has also noticed a positive correlation between technology and socialization. "The kind of learning students are doing is very collaborative. Rather than separating students from one another, using technology actually encourages sharing and communicating," she says.
Yes, human interaction is crucial even in such a technologically rich environment, and as such Avenues, like New Classrooms, has personalized the way students interact in the physical learning space. Many classrooms use Harkness tables, an oval setup where students and a teacher sit around the table rather than in rows with a lecturer at the front. Harkness tables deeply encourage group interaction, where equal discussion and participation is expected. "No one's in the back row. Everybody is participating," DeLo says of the layout. "You don't see teachers in front of the class here. They work with the students."
The Avenues model fully embraces the underlying need for change in today's educational system. "It's more of a student-centered learning model," DeLo says. Learning is "more collaborative." That collaboration, and a respectful relationship between teacher and student, is giving kids the confidence they need to take what they learn in their curriculum and apply it far beyond the walls of a classroom.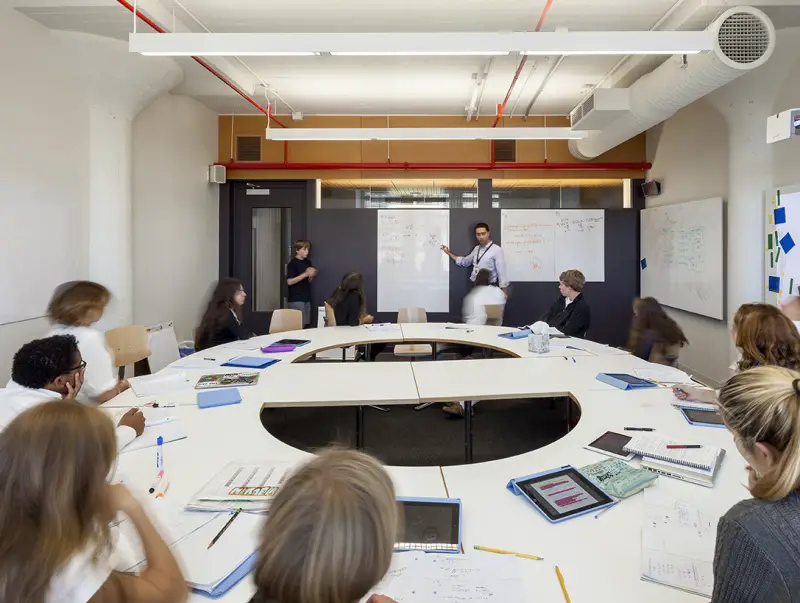 Students at the independent Avenues school in Manhattan engage with each other and a teacher around a Harkness table; the oval shape promotes equal participation and conversation.

All the World's a Classroom: Beyond School
Nothing's more personal than deciding what to be when you "grow up," so bringing personalization to kids in a way that takes heed of their passions and interests is an educational innovation that makes sense. Big Picture Learning, an organization dedicated to making real-world connections through personalized experiences, helps students channel their individual interests into internships within their local communities.
Jeff Palladino, former co-director and founding staff member of The Bronx Guild, the first Big Picture Learning school in New York City, and current assistant principal at Fannie Lou Hamer Freedom High School, a Bronx-based Children's Aid Society school within the Big Picture Learning network, understands the impact of teachers truly connecting with students to help them harness their passions.
"The idea of knowing your students and knowing what their interests are—what they're passionate about, how they're learning, and how their work connects to their lives—is important. It inspires kids but also inspires teachers to work with students," Palladino says.
Internships and community work are at the crux of Big Picture's mission. "Students learn inside and outside of the classroom," Palladino says of the teens who are "making continued connections between real-world learning and the academic life of a student" with after-school programs that connect to their curriculum. At Fannie Lou, ninth and 10th graders do community outreach one day a week, while 11th and 12th graders will benefit from new internship programs currently being implemented.
"I think when kids are working deeply on something that they're very passionate about—that focuses their academic skills around a passion, that is contextualized, and that has an impact on not only the student, but the place that they're serving and the people they're working with and for—it really helps students see that the work they're doing is valued," Palladino enthuses.
And how parents, teachers, and students relate to one another can make all the difference when planning for life after high school. "We think of the relationship as a triangle, with the student at the top and the parent and advisor at the bottom, holding the student up, communicating, and connecting about the student's life at school," Palladino says.

Also see:
The Common Core Effect: Resources for Parents