Julie Chu, a resident of Fairfield, CT, is competing on Team USA's Women's ice hockey team for the 2014 Winter Olympics in Sochi, Russia. Here, she talks about her career and family support.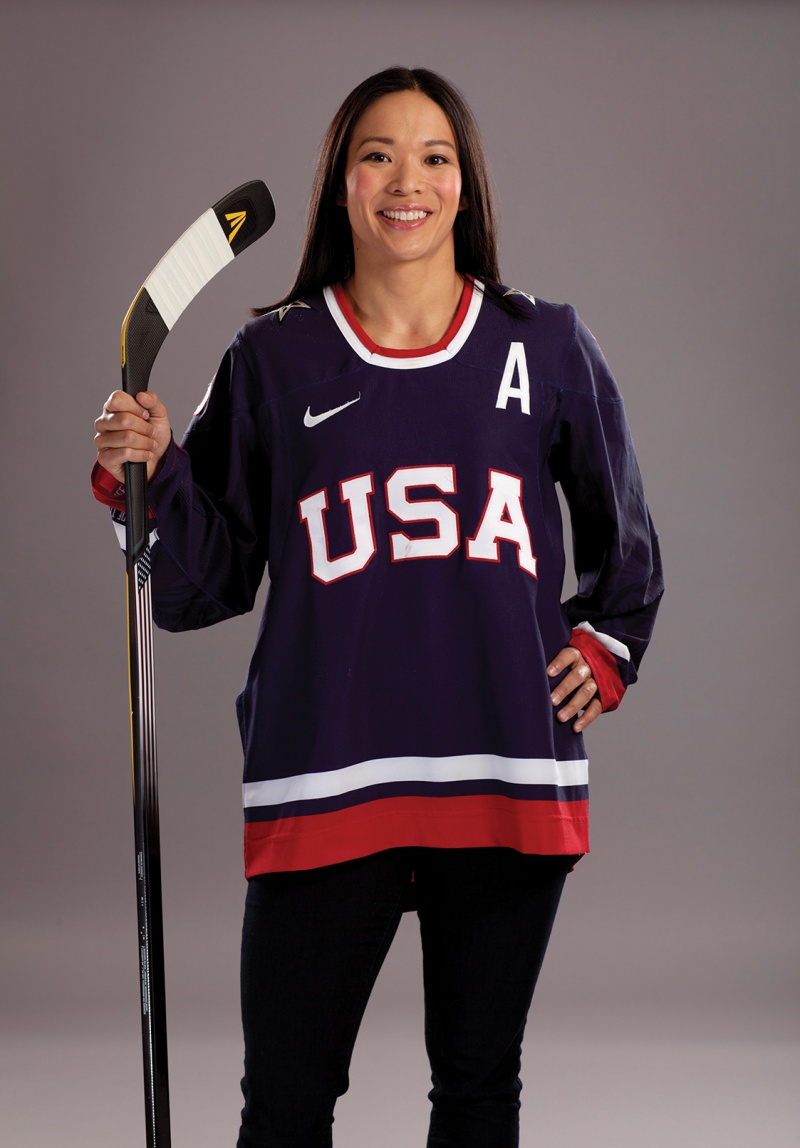 Julie Chu, proud member of the
2014 U.S. Women's Hockey team;
courtesy NBC Olympics/USOC
Julie Chu, forward on the U.S. women's ice hockey team, is headed to Sochi for her fourth Winter Olympic games, fulfilling her "dream and passion to play for her country," says her proud mom Miriam. Chu, who hails from Fairfield, CT, will be aiming for the gold on the ice alongside her teammates, doing what she loves best. "I saw a spark in her eyes every time she put on her hockey skates," Miriam recalls about Julie's earlier years.
We sat down with Julie and her mom for an inside look at how a hometown girl who played hockey on a youth boys' team for the sheer love of the game ends up on the world stage (let's just say family support had a heck of a lot to do with it!).

When did you realize you wanted to turn the sport you love into a career?
Julie Chu: To be honest, it wasn't until 1995 when women's hockey was announced as an Olympic sport. Before that, when I started in 1990 at 8 years old, it wasn't even a possibility. I just played because my older brother played. I liked being on a team sport and being active, and that was pretty much my world.

Your family and teammates have always supported your dreams. How has all of the love and support impacted you throughout this endeavor?
I was actually really fortunate that the boys' team I played on was so amazing, so supportive. They treated me like a hockey player, and that's what I wanted. I didn't want to be an outcast girl on the team. My family has been unbelievable, and we talk about this journey that I'm on as "our journey." There were three kids in my house and we were allowed to make messes. We practiced hockey all over the place and played soccer in the living room and my mom just allowed it to happen.

Miriam, how do you feel about knowing you raised an Olympian?
Miriam Chu: I thank God that I have this incredible daughter and all of my kids. There's something about [Julie] that just attracts people to her. She's selfless, she thinks about others first, and she's done that ever since she was a little kid. She's honorable and a great daughter.

Julie, what is your proudest moment from your career thus far?
JC: I think it's just being able to make it to four Olympics. I've had amazing teammates, coaches, and my family to help me get there, but just in this day and age, I know how great our national team program is. Being able to be resilient, working hard, not being complacent—those are things our team always pushes for.

What are you most looking forward to with the Sochi games?
Getting the chance to compete and hopefully earning a gold medal. We've worked hard the last four years to be ready for this time. All that work and dedication we've done as a group is going to pay off.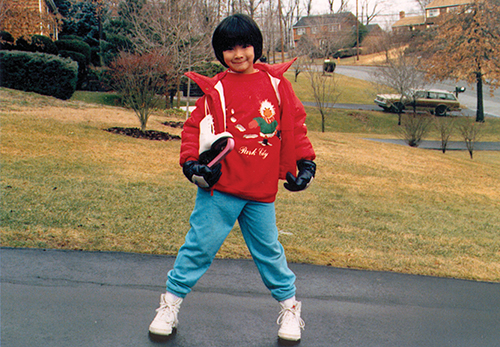 Julie Chu at age 7 on her way to figure-skating lessons; Courtesy Julie and Miriam Chu


Your entire family has tattoos of the Olympic rings and your hockey number, 13. Did that feel like the ultimate act of support and solidarity? Did you ever expect your parents to get tattoos?
Can I say, I never thought [my mom] would ever get a tattoo. Or my dad! I knew I wanted one, and then leading into 2002, I had just joined the national team and things were falling into place and my dad says, "If you ever make it to the Olympics, I'll get a tattoo of the Olympic rings on my arm." And he had been so adamantly against it, and I go, "Okay, deal!" So, once I made the team he goes, "Ow, ow, ow," and I said "What's wrong?" and he said, "I'm just getting ready for my tattoo." What's so great is that because our family was all about hockey, my mom decided to join, as well as my brother and sister, in this amazing celebration of our family's journey. They surprised me by putting my hockey number 13 underneath [the Olympic rings].

CHU is your family motto for Commitment, Honor, and Unity, and it's also your last name. Was it a motto you all began practicing because of hockey, or have you always believed in that as a family?
I think they were values that were always there, but it wasn't until 2005 and it was because of my parents' 30th anniversary that my dad came up with it. He wanted something to signify and unite our family. They were values that were instilled in us as kids.

Meet eight other local athletes competing in the 2014 Winter Olympics