When the weather keeps you inside, grab this handy list of fun activities—with items found in the house—to keep your kids from saying, "I'm bored."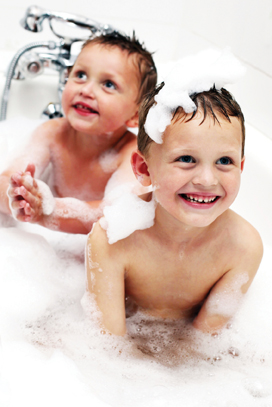 Ever have one of those days when the weather keeps you inside and you've simply run out of things to do? Before declaring "I'm bored" or turning on the TV, try these boredom busters for on-the-spot fun!
Egg Hunt
Your family probably has plastic Easter eggs tucked in storage, just waiting for spring. Why not break them out now? Fill the eggs with treats you'll find on your kitchen shelves (goldfish crackers, raisins, M&Ms, coins, etc.). Take turns hiding some of the eggs around the house, and then let everyone else go on the hunt. When all the eggs have been hidden and found, it's time to dig into the treats inside.
Mid-Day Sleepover
You don't have to wait for the sun to go down to gather your family for a sleepover party. Assemble all the essentials, including a movie, sleeping bags, pillows, and snacks. It's a great break for everyone, at almost any time of the year.
Make Dinner
This can be a lot more fun than you might think. If your kids like to help out in the kitchen, break out the crockpot and a favorite recipe and get to work. You'll find many simple dishes that can be completed almost entirely by kids (with adult supervision). They'll get to measure, mix, and even spice up the feast just the way they like it.
Flashlight Hunt
If it's getting dark early, take advantage of the sunset by holding a treasure hunt with a twist. Hide a few special treats (it really doesn't matter what's hidden—the fun is in the searching), turn off the lights, and arm everyone with a flashlight for hunting. The winner gets to reveal the hidden surprise and then share it with everyone.
Your Family Onscreen
You don't need to go to the video store to watch your favorite "actors." Pull out those old home videos of when you or your kids were born, first birthday celebrations, and vacations and sit down for an amazing show. It's lots of fun to see yourself, and your family, when everyone was so much younger. It will bring back great memories for everyone—and garner a few laughs.
Long, Hot Bath
If your kids love playing in the tub but never get enough time for it before bed, here's their chance to dawdle. Try out a daytime bubble bath that can last well beyond the pruney-finger stage. If you're feeling creative, try combining clear dish soap with a bit of washable paint. They'll be able to finger-paint in the tub!
Dance Party
Do your kids have a favorite CD, or a playlist with some great music? Just start it up and get dancing. Double the fun by having children and parents dance together. Try out all your new dance moves as you stretch your creativity, and your body, at the same time.
Book Making
That's right, kids can become published authors in one afternoon just by exercising some imagination. Gather a few sheets of 8.5 x 11-inch paper and one sheet of construction paper for the cover. Have them fold all the paper in half and they're ready to create their own book. Once the story is written, kids can add pictures, stamps, or whatever decoration they choose. As these homemade books collect over the years, you'll have your own little library of fun. (They also make great gifts for grandparents.)
Linda Kastiel Kozlowski is a freelance writer and mother of two boys who are only occasionally bored.
Also see:
Indoor Activities for When It's Too Cold Outside
10 Family Activites for Indoor Fun
Fun Indoor Activities for Kids