The Moms in Training program is an 8-week fitness group for moms that trains participants to run a 5-mile or 15K charity walk/run for the Leukemia & Lymphoma Society. The program will host several kick-off events in NYC and CT where new members can join.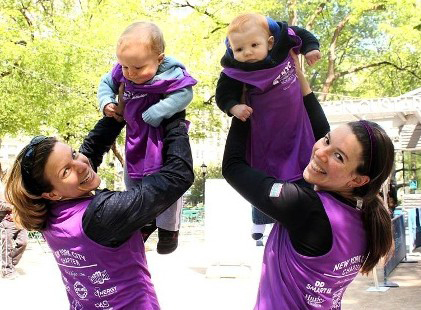 If you're a mom, you're inevitably a multitasker. The Leukemia & Lymphoma Society's Moms in Training program gives new meaning to multitasking, allowing moms to get in shape, meet new friends, and raise money for the fight against cancer all at the same time.
Moms in Training is an 8-week fitness program that culminates with either a 5-mile or 15K run/walk. It welcomes participants of all athletic abilities to workout together once a week and fundraise along the way for the Leukemia & Lymphoma Society, who's goal is to find a cure for blood cancers.
2013 Moms in Training Kickoff Events
This year's Moms in Training program kicks off Sept. 21, with kickoff events at the following locations in New York City and Connecticut:
- 92nd Street Y, Manhattan
- Battery Park City, Manhattan
- Kidville Union Square, Manhattan
- Prospect Park, Brooklyn
- Jennings Beach, Fairfield, CT
Members of Moms in Training meet once a week, on Saturday mornings, through Nov. 17 or Nov. 24. Training is led by experienced coaches (who are also moms!) and includes running, walking, and cross-training exercises.
Registration are asked to raise $500 by Nov. 8. There is a $50 registration fee to join, which is credited towards your fundraising goal. Upon registering, you will receive your own fundraising website in addition to fundraising support along the way. Last year, the average mom raised $1,500.
Learn More: Watch the Moms in Training Video
Join Moms in Training
To register, moms in Connecticut should contact Nicole Carrea at 203-665-1418 or [email protected] Learn more about the program at teamintraining.org/ct/moms.
New York City moms should contact Melissa Miller at [email protected] or call 212-376-4765. Learn more at teamintraining.org/nyc/moms.